As India proudly hosted the G20 Summit, it marked a significant moment in the country's history and a matter of immense glory and pride. The G20 Summit, an assembly of the world's most influential leaders, typically rotates among member nations, and holding it in India is a testament to the nation's growing prominence on the global stage.
India, with its rich cultural heritage, diverse population, and booming economy, has emerged as a formidable player in the international arena. Hosting the G20 Summit was a momentous occasion, signalling India's increasing role in shaping global policies and its commitment to addressing critical global challenges.
The G20 dinner provided a platform for leaders from various nations to come together, not only to discuss global issues but also to celebrate diversity and cultural exchange. The decision to embrace Indian attire was a testament to the respect and appreciation for India's rich cultural heritage.
This prestigious event not only put India at the centre stage of global diplomacy but also provided an opportunity to showcase its vibrant culture, world-renowned cuisine, and warm hospitality. For the Indian government and its people, the G20 Summit was an occasion to extend the hand of friendship to nations around the world.
[Read How To Import Banarasi Sarees From India]
Foreign leaders and their spouses who donned Banarasi and Chanderi sarees
The fusion of fashion and diplomacy at the G20 summit dinner showcased the power of clothing to transcend borders and foster understanding. Have a look at how foreign leaders and their spouses embraced the Indian sarees at the dinner.
[Meenakari And Banarasi Weave: An Exceptional Masterpiece]
Cultural Diversity at the G20 Dinner
The G20 dinner hosted by President Droupadi Murmu showcased a beautiful blend of traditions and cultures as leaders and their spouses arrived in stunning Indian attire. While sarees were a popular choice, some guests showcased the variety of Indian culture through different traditional outfits.
[Unlock the allure of traditional heavy banarasi sarees]
Our Honourable President Draupadi Murmu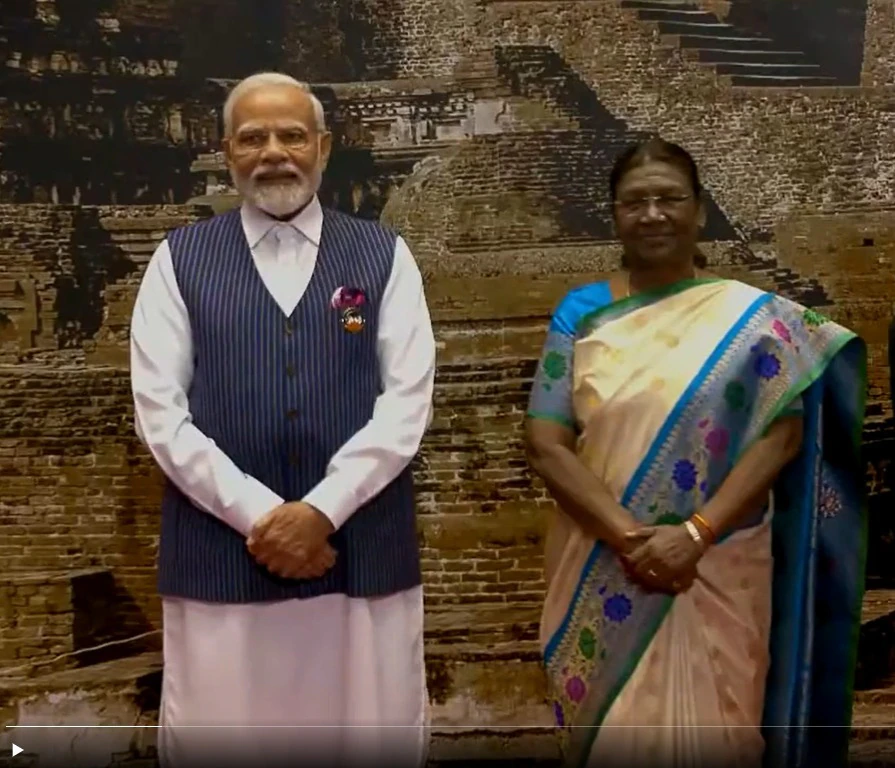 President Murmu looked resplendent in a beige saree with a contrasting turquoise border adorned with vibrant floral patterns, showcasing the rich textile heritage of India's eastern regions. She looked simple and elegant in this traditional saree.
[Khaddi Banarasi Saree: A Fantastic Combo For Your Next Event]
First Lady of Japan Yuko Kishida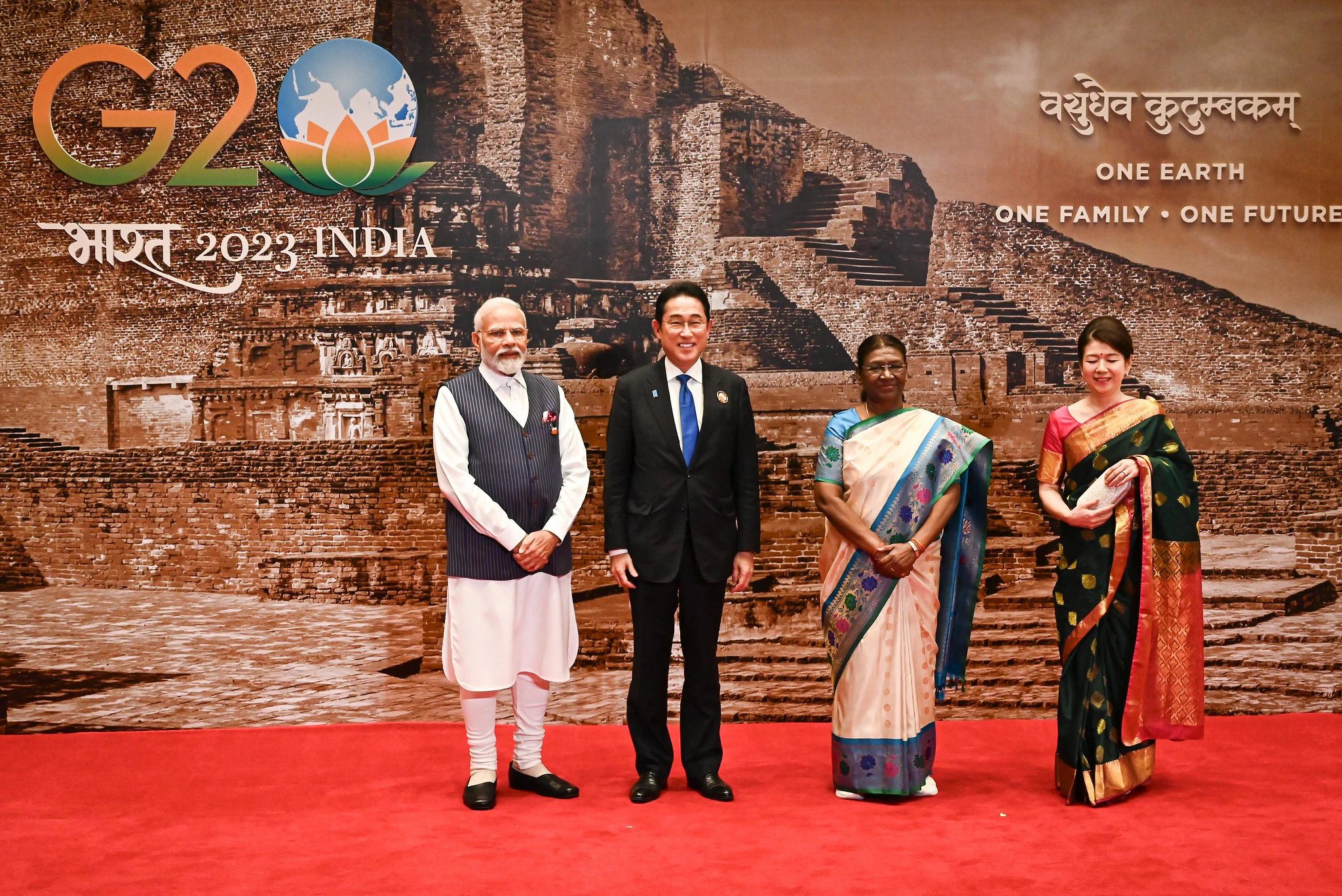 Japan's Prime Minister's wife Yuko Kishida, graced the gala event in a green Banarasi saree. Her Banarasi drape featured intricate golden details and was paired with a pink satin blouse, adding a delightful pop of colour to the ensemble.
[Discover The Banarasi Sarees Suitable For Casual Wear]
World Bank President's Wife Ritu Banga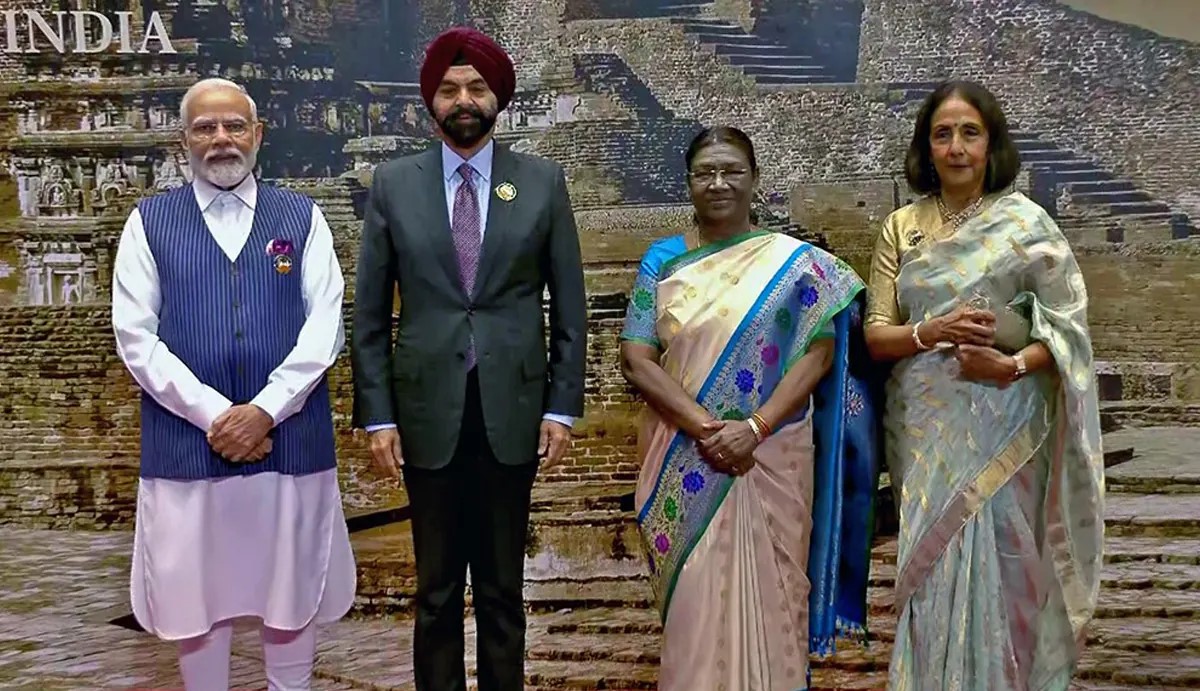 Ritu Banga, the wife of World Bank President Ajay Banga, donned a light grey Chanderi saree. These sarees are known for their lightweight, soft, and gauzy feel, often crafted from cotton or a blend of cotton and silk, adorned with intricate silver or gold borders.
[The Flawless Fusion Of Zari Art and Banarasi Brocade]
Prime Minister of Bangladesh, Sheikh Hasina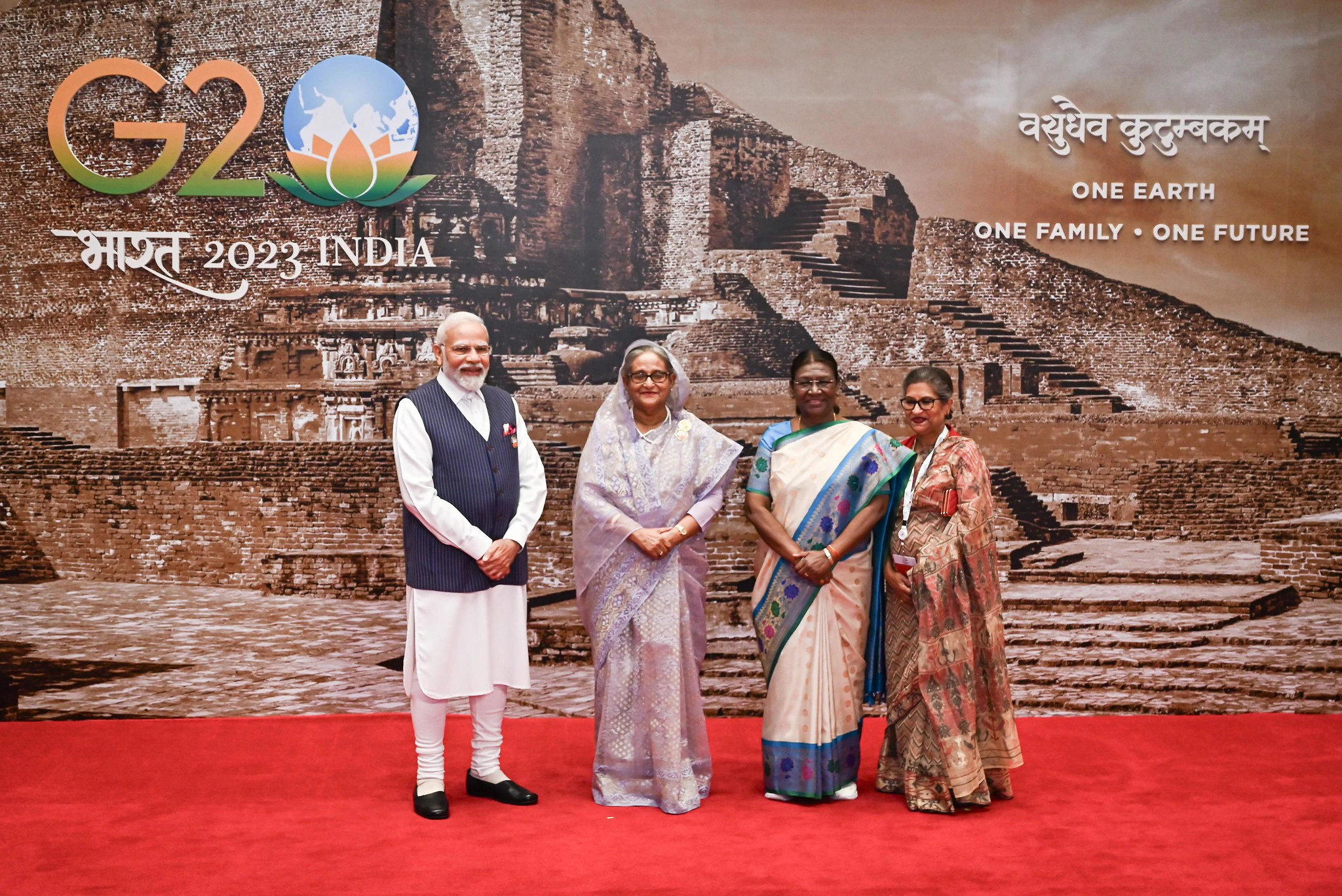 The Bangladesh Prime Minister, Sheikh Hasina, opted for a lilac Dhakai saree, named after the capital of Bangladesh "Dhaka". The saree is also known as Jamdani, which is famed for its intricate weaving techniques.
[Katan Banarasi Saree - An Evergreen Fashion Statement]
UK Prime Minister's Wife, Akshata Murty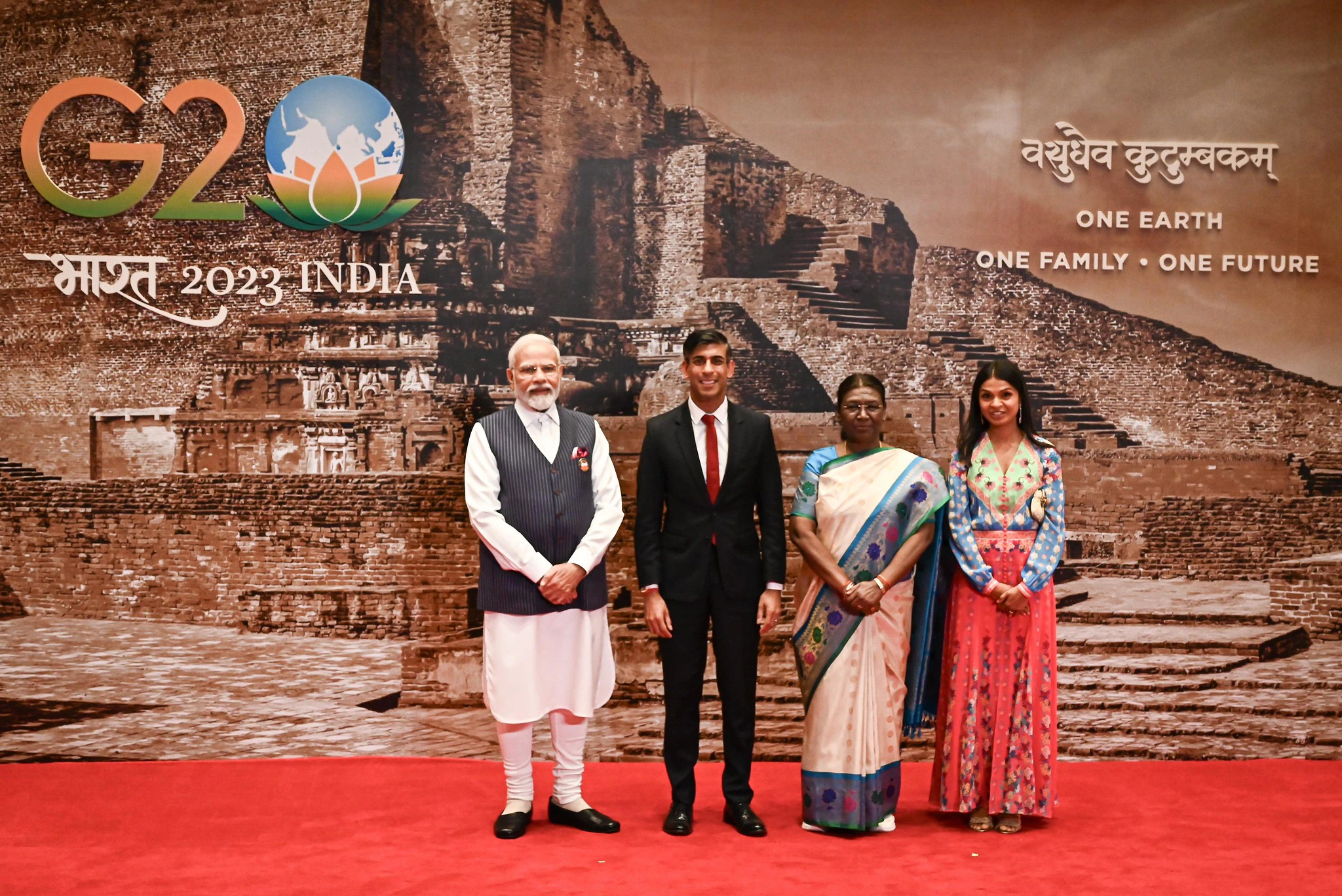 Akshata Murty, the wife of UK Prime Minister Rishi Sunak, made a fashion statement at the G20 dinner, with her bright and multi-coloured skirt and blouse adorned with ethnic motifs.
[Wedding Season 2023: Banarasi Grace and Celebration]
Prime Minister of Italy, Giorgia Meloni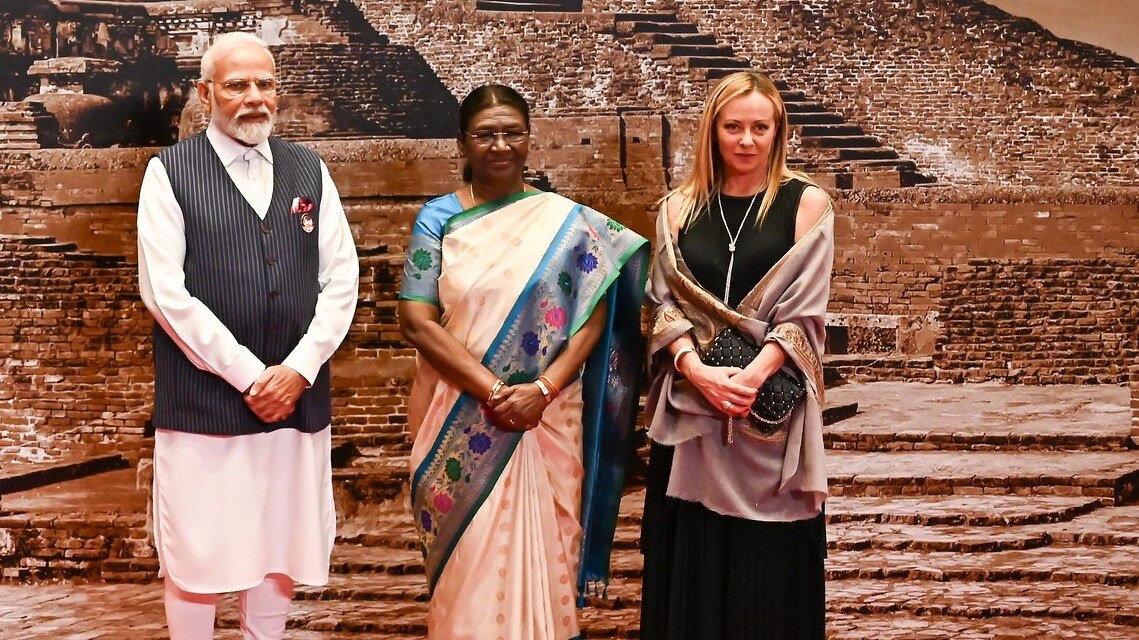 Giorgia Meloni, the Prime Minister of Italy, made a stylish statement at the G20 dinner, by wearing an elegant black kurta set with a mauve stole.
[What are the Lies About Banarasi Sarees: Know What Experts Say]
IMF Chief, Kristalina Georgieva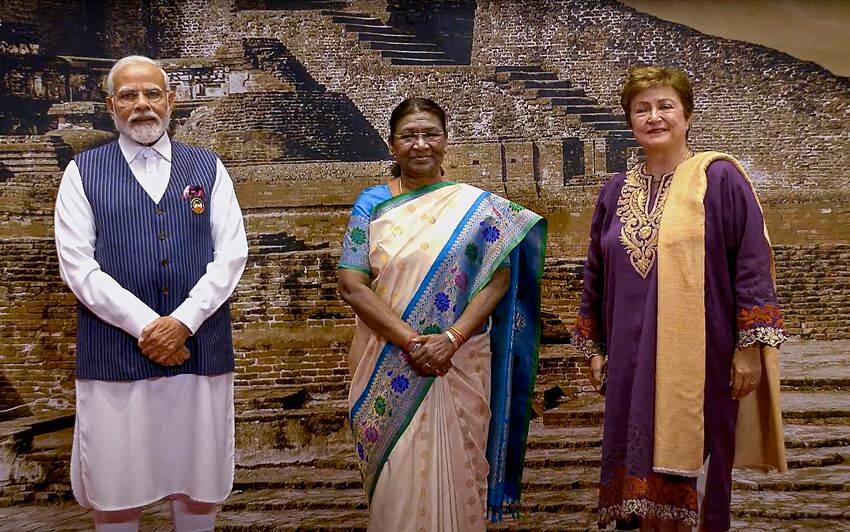 Kristalina Georgieva, the Chief of the International Monetary Fund, elegantly embraced Indian fashion with a dark mauve kurta adorned with Aari embroidery, complemented by a golden stole.
[Why are chiffon banarasi sarees so popular nowadays?]
Celebrating Global unity through cultural exchange
The G20 Summit held in India offered a remarkable glimpse into the power of clothing to promote cultural diversity and diplomacy. It was a moment that transcended politics and policies, demonstrating that fashion can be a bridge connecting people from diverse backgrounds and countries.
This dinner at the G20 Summit, having the theme of traditional Indian attire serves as a reminder that diplomacy can be as much about cultural exchange and understanding as it is about politics and economics.
These attire choices reflected the appreciation for traditional Indian clothing and diverse culture on a global platform. In a world where our differences often dominate headlines, it's heartening to see how simple choices in clothing can bring us closer together.
[Linen Banarasi sarees: Perfect to flaunt on any occasion]
Final Thoughts
As we reflect on these instances of foreign leaders donning Banarasi and Chanderi sarees, it becomes clear that clothing can be a symbol of unity and appreciation for the diverse cultures that make up our world.
If you're inspired by the beauty and elegance of Banarasi sarees, we invite you to explore Albeli's exquisite Banarasi saree collections right here in Varanasi. We are experts in manufacturing exquisite banarasi sarees that are of supreme quality and designs with a touch of traditional and modern fusion.
Visit at our banarasi saree shop in Varanasi or shop through our website to get a stunning Banarasi saree for yourself and don it with grace at various events.