Banarasi sarees are love. Absolutely! Every woman in India loves to flaunt a banarasi saree with elegance on different occasions. In our nation, the popularity of these six-yard draperies dates back to the Mughal era. These were mostly worn by women in royal palaces.
The regalness of the Banarasi sarees and their sheen has been passed down through the generations. Banarasi silk sarees have long been and will continue to be the best handloom sarees in India due to their adaptability, lovely motifs, and pure fabric.
Today, women of different age groups like to wear banarasi sarees on several occasions, like celebrations, parties, other people's weddings, or their own weddings!
Being a leading manufacturer of Banarasi sarees, we present here the point of view of our experts disclosing the truth about the myths or lies about banarasi sarees. Also, you'll discover why banarasi sarees are the most loved women's attire.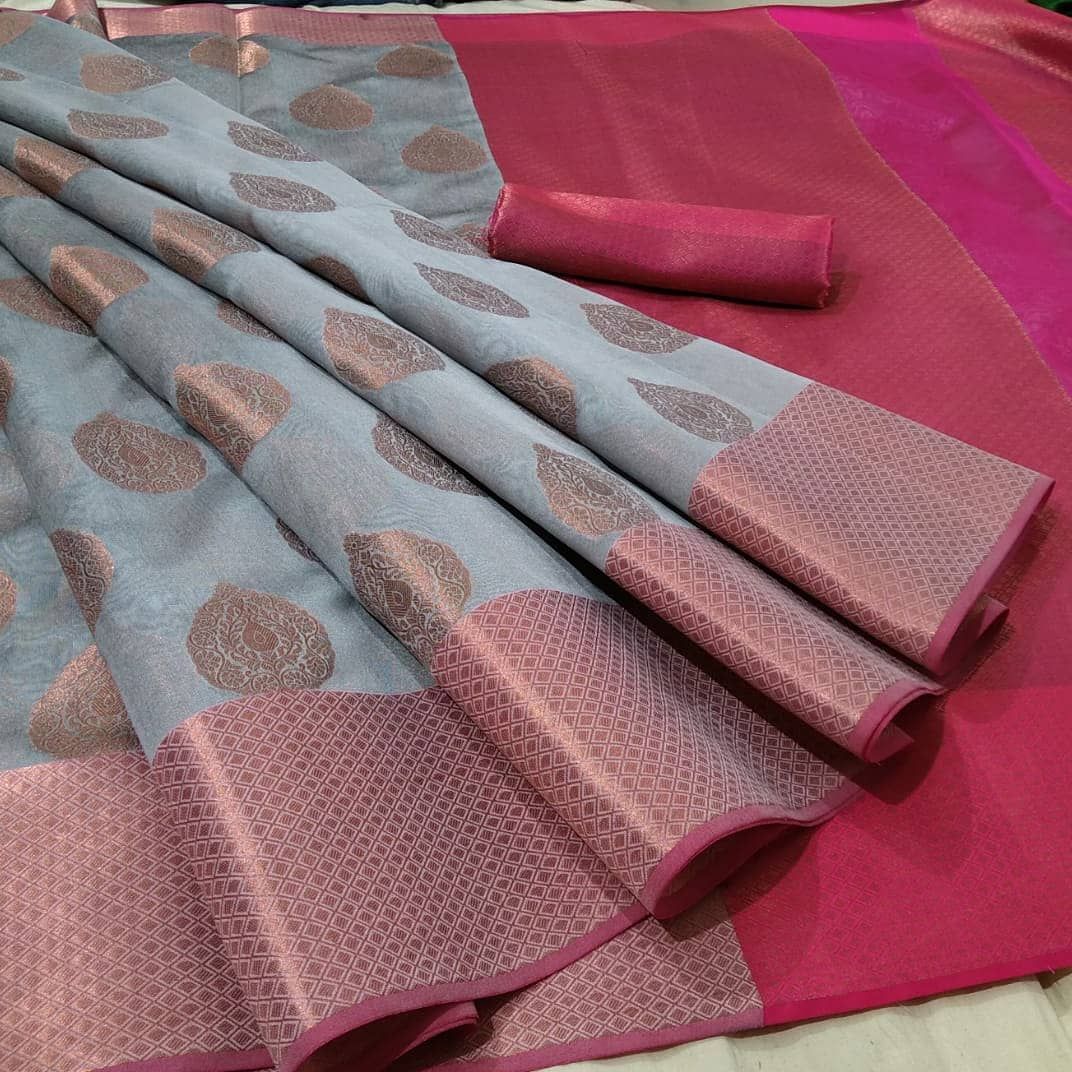 Popular lies we come across about a Banarasi saree
We come across various myths or lies about banarasi sarees that discourage us from buying them. Here are some common lies exposed so that you don't pass up the opportunity to add this fantastic piece to your wardrobe the next time.
They are stiff
There is a widespread misconception that banarasi sarees lack fluidity and are stiff, but not always. With the evolution of weaving styles, various other types of fabric have evolved that are soft and can be draped in an easy-breezy way.
Banarasi sarees, nowadays, are available in a variety of fabrics. You can opt for the banarasi fabrics, which are soft and smooth and drape well according to your convenience, and flaunt banarasi at any occasion.
They are solely conventional
It is untrue that banarasi sarees should only be worn as a traditional outfit. Banarasi sarees are extremely versatile and come in a variety of fabric types and designs.
You can conveniently show off your fashionable style in a banarasi saree at any event you want, including weddings, parties, celebrations, festivals, and social or family gatherings. Banarasi sarees are, in fact, perfect to showcase your cultural and stylish dressing sense simultaneously.
They are very expensive
Due to their exquisite design and hand weaving, traditional Banarasi weaves are expensive. A pure handloom Banarasi saree requires 3 weavers and about 15 days to be prepared; their prices speak for the artistry and hard work of the craftsmen who work on the sarees. However, these sarees also come in competitively priced weaves, especially machine-made ones, making them a great investment for your wardrobe.
They are extremely heavy
Yes, they are…but not all! There are fabrics like chiffon, georgette, organza, etc. that are airy, light, and elegantly enthral us in their beautiful banarasi weaves. Modern powerloom-made banarasi sarees are created on various fabrics with state-of-the-art designs that will make you stand out in the crowd.
Why do Banarasi sarees win almost every woman's heart?
Generally speaking, you can count on a number of reasons for that. Our experts tell us some exclusive specialties of banarasi sarees:
An exquisite blending of conventional and modern styles
Various designs are created on banarasi sarees, infusing traditional designs with contemporary patterns that are loved by new-age women. These treats still have lovely zari work, tasteful motifs, and intricate, heartwarming designs, along with geometric and natural patterns.
Bengalis already had made banarasi sarees a compulsory wedding attire in their marriage ceremonies for generations, however, brides from other cultures are also opting for banarasi sarees as their wedding dress due to their huge versatility.
[Know 12 Timeless Banarasi Sarees For Memorable Wedding]
Representative of Indo-Persian culture
Banarasi fabric and brocades are known to exist in Rigveda. Banarasi sarees became popular among the upper classes during the Mughal era because of the air of royalty they gave off.
Craftsmen in Banaras at that time started creating Mughal-inspired designs, including bel, kalga, patti, jhalar, and natural and wildlife patterns on them, embarking on a blend of Indian and Persian culture.
[Read History of Banarasi Saree]
Expansion of the country's handloom industry
A handloom Banarasi saree is ideal for weddings and other special occasions. The reason for this is the unparalleled elegance of their intricate designs, which are beautifully created by hand. These spellbinding draperies exemplify regality and charm, speaking of the wonderful artistry of Indian craftsmen.
The Banarasi weaves actually made Banaras stand out as a leading city for upgrading the handloom industry of the nation to such a great extent. Varanasi is now known for its exquisite Banarasi sarees.
Keeping up the generations-long tradition of weavers
These exquisite sarees, which stand as the height of Indian craftsmanship, are a testament to the ingenuity of our weavers and craftspeople. In Banaras, weaving Banarasi brocades has been a family-run business for many households for many generations.
Resemblance with the holy city Banaras
Banarasi sarees have their roots in the holy city of Banaras and exude purity and allure. Banarasi sarees look adorable on everyone and complement any skin tone and body type.
These sarees include the use of gold, tight weaving, pallus, jal, mina work, miniature figures, etc. inspired by the traditional Banarasi lifestyle. This is accompanied by pure fabric that has been hand-woven and prepared by weavers for generations, as well as exquisitely crafted Banarasi brocades.
Final thoughts
Any excuse or lie for we aring a banarasi saree would fall short of the spellbinding charm of banarasi sarees, which captivates every woman.
Don't you say that you still haven't fallen for these lovely delicacies? We have expert advice for you: You must try a banarasi, you'll know the magic:)