Every bride wants to appear her best in ethnic attire at her wedding reception. Sarees are timeless and a stunning fashion choice and Banarasi silk sarees are ideal for weddings. We all know Banarasi sarees for weddings hold a particular place in our hearts.
Wedding season is the finest time to look your best in rich, colorful, and designer sarees because it's acceptable to go miles for special occasions like this. Your motivation must be to fill your wardrobe with eye-catching Banarasi sarees. So, what are you holding out for?
This wedding season, steal the show with our carefully selected Banarasi silk sarees that will do all the talking
Traditional Banarasi Silk Sarees for Wedding
1. Small Blocks Banarasi Sarees
The self-embroidery on the exquisite tiny blocks is the essence of pure Banarasi silk sarees. Such wedding Banarasi saree is typically chosen by brides for morning weddings.
For brides who prefer a more subtle look, the mild color with an ultra-fine design is a nice alternative. You can wear it with a blouse of the same hue or contrasting color. Both will look fantastic!
2. Print with a Border Banarasi Sarees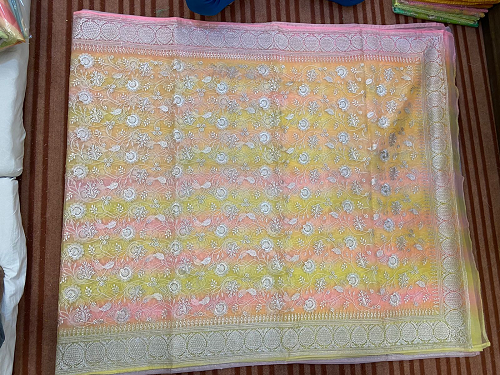 100% silk Banarasi sarees are also quite popular at South Indian weddings! It isn't simply Kanjeevaram sarees! This is the look that most women prefer.
All brides will fall in love with this border pattern on a Banarasi saree! For a night time event, brides choose deeper colors. Everyone feels that red is the color of the bride since no bride-to-be can ever go wrong with red sarees for a wedding.
Similarly, a bright red pure Banarasi saree for a wedding is the finest pick because it is both graceful and glamorous. The lovely saree with golden chakras is ideal for both morning and evening ceremonies!
[ Know The Difference Among Banarasi Silk And Kanjivaram Saree ]
3. Simple Design Banarasi Sarees for wedding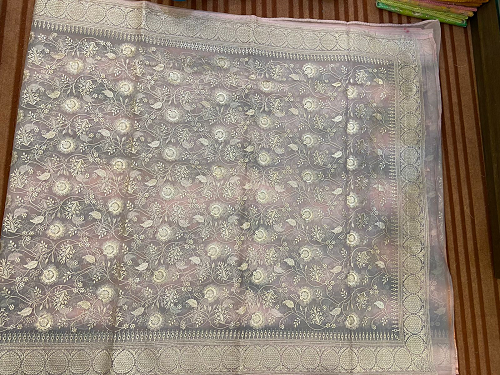 As they say, beauty is in simplicity, and if you agree, this could be the ideal choice for your wedding.
A plain Banarasi silk saree with golden Buti work on the pallu is a lovely combination. If you want to keep your wedding appearance as simple as possible, you know what to choose!
[ Read - Guide To Buy Classic Banarasi Silk Saree ]
4. The Bride in Red Banarasi Sarees
Among pure Banarasi saree for wedding brides prefer the Butidaar design as it is one of the most well-known. The core of these sarees is in the design of its motifs, which are positioned at a distance, giving the saree a gorgeous and clean aspect.
The Butidar Banarasi saree is every bride's favorite and the best decision a bride could make for her wedding day.
5. Jangla Design Banarasi Sarees
This Jangla design is quite adaptable, and it gives charm to both the saree and your bridal outfit. This elaborate design lends a hefty aspect to the saree, making it popular among brides.
A brilliant red Jangla pattern saree is a night-time wedding, and the greatest part is that it will flatter any skin tone.
6. Motifs in Red and Silver Banarasi Sarees
The motifs and designs you choose to go with your traditional red pure Banarasi silk sarees for the wedding have a huge impact on the bride's overall look and can make or break your bridal outfit.
As a result, you should wear styles that seem correct to you and make you feel comfortable on your wedding day.
[ Read - Tips to Style Banarasi Saree]
7. Banarasi Saree with a Net Pallu
Another bridal saree in the fortunate red color. The hue is associated with love, passion, and romance. In addition, red is associated with the rising sun, which might be equated to the bride entering a new period of her life. The net Pallu lends a graceful touch to this pure Banarasi saree.
8. Banarasi Saree with Thick Golden Border
The following type of pure Banarasi saree in the wedding Banarasi collection is the exquisite bridal saree with a thick golden saree that adds a decent amount of glitter to make the bridal look to the next level.
You don't get to be a bride every day, so make the most of your time!
9. Pashmina Banarasi
Because of the variety of hues available, Pashmina Banarasi has captivated the hearts of all ladies. Almost all Pashmina Banarasi sarees contain gold buti work in the body and a beautifully designed border.
Because colors are important in wedding clothing parts, Pashmina Banarasi is a suitable choice for every wedding occasion. These bridal sarees have an attractive texture thanks to authentic silk weaves and metallic artwork.
[Explore the best Banarasi saree shop in Varanasi ]
10. Tanchoi Banarasi
Tanchoi Banarasi is a well-known weaving technique that uses a single or double warp and two to six colors of thread, frequently of the same hue, on silk cloth.
Small weaving patterns over the fabric and unusual hand-stitched flowers, peacocks, Sun, and other designs set these Banarasi sarees for weddings apart.
Tanchoi sarees are popular for ceremonial occasions, wedding ceremonies, and festivals throughout India. Tanchoi sarees are very popular among women during the winter season.
11. Banarasi Sarees with Cutwork for wedding
These are the sarees that are less expensive than the ones stated before; they are essentially the less expensive variant of Jamdani sarees. This one was created utilizing the cutwork technique on plain texture with some cotton and silk added in. Jasmine, marigold flowers, creepers, and leaves are the most prominent themes seen in cutwork sarees.
12. Tissue
These have the most delicate appearance and artistry of any of them. These are finely woven tissue sarees with golden zari weaving that imparts luster.
Popular motifs for tissue sarees include a golden zari woven lotus floating in a radiant pond, with water drops made using a cut-work technique. The sari's border and pallu are designed with self-woven floral prints.
Final Takeaway
Indian weddings are known for their pre and post-wedding customs, so why not embrace these celebrations by wearing these beautiful wedding Banarasi saree? Even as a visitor, you can browse through the Banarasi saree selection and choose a fantastic look for a Sangeet!
If you want to be a traditional bride with little effort, you know where to look! Choose this look for your wedding attire and be the center of attention! You can contact Albeli, Pure Banarasi Saree Manufacturer in Varanasi, to buy 100% banarasi silk sarees at factory price.