The popularity of beautiful pure banarasi sarees has always been captivating for women and is continuing to be the reason for ecstasy among them. There are uncountable reasons to fall for this beautiful weave crafted originally in the spiritual city, Banaras.
Its aura, elegance, and richness of crafts are all admirable qualities that automatically attract women from all over the world.
With its increasing demand, there is a great rise in experiments and renovation in the crafts of these lovely sarees to make them evergreen for centuries.
Now a days, many women are curious to know what new ranges have been launched in the market which will enthrall not only their eyes but also their mind and soul.
Let's explore the must-have collections of banarasi sarees for this year:
Cut-work banarasi silk sarees
As the name indicates, cut-work banarasi sarees are crafted using cut-work techniques on plain silk fabric after the removal of its extra threads. The specialty of these sarees is the motifs on the sarees are woven together.
Once the complete weaving process takes place, a large chunk of silk thread is collected at the back of the sarees which is then cut at the end of the process. These sarees are crafted using all kinds of silk yarns and mostly in all patterns.
The reason behind the popularity of these cutwork sarees is the fact that women all across the nation really adore these sarees. Whether it is an Indian festival or family gathering, these handloom sarees are perfect wear.
[ Also know- Difference between Banarasi saree and Kanjivaram saree ]
Patola banarasi sarees
Patola is a double ikat woven silk saree and is named patola after the 'patala' silk which is used in the creation of these lustrous sarees.
The technique of double ikat includes the procedure of knitting using the process of warp and weft. The geometrical designs of these patola banarasi sarees look quite alluring.
They are often called the queen of the silk sarees because of the sheen and delicacy it reflects. For adding some more impression to your persona, you can pair some elegant jewellery with these eye-catching banarasi sarees.
Zari banarasi sarees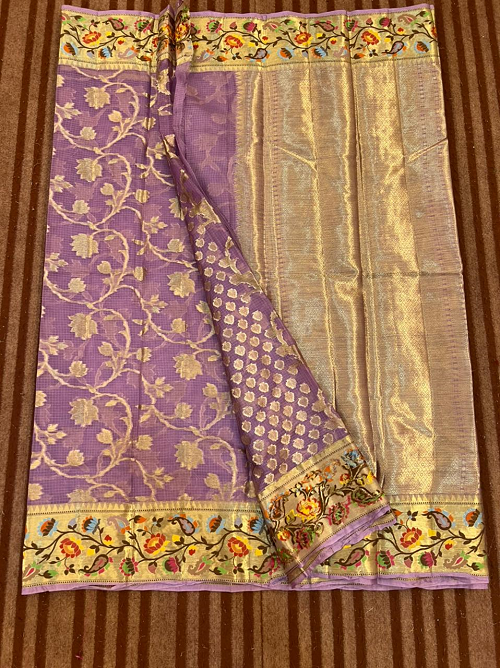 Probably one of the most adored and distinctive among the banarasi sarees because of their border that contains big tassels.
The threads used for crafting these graceful sarees are made of gold and silver, which make the fabric represent a neat and attractive appearance.
Craftsmen twist these threads several times to attain the durability that these sarees require and thus making them stronger in terms of their lifespan.
[ Read- History of Banarasi Saree ]
Net banarasi sarees
An evergreen fashion trend that always gives a refreshing look is net banarasi sarees. The ladies who desire to flaunt the banarasi sarees with an edgy twist, always choose the net banarasi sarees.
They are highly suitable and recommended for summers because of their breathable and lightweight characteristics.
The highly adorable features of these sarees attract the women and make it really impossible not to go for them.
To avoid transparency you can select the dark colour sarees that drape the pallu in folds.
Jangla banarasi sarees
When discussing the classifications of banarasi sarees, the jangla banarasi sarees are known to be one of the distinguishable kinds.
Jangla sarees are believed to be one of the earliest existing illustrations of these banarasi sarees which are woven with vivid colored threads incorporated with intricate designs and patterns.
The word jangla has been derived from the word jungle which can be clearly seen in their prints which represent the vegetation of various kinds.
Various flowers like marigold and jasmine are crafted beautifully along with the various animals and birds that give a touch of ancient designs.
These jungle-inspired banarasi sarees are crafted with heavy motifs and embroideries that use gold and zari work.
Tanchoi banarasi silk sarees
Crafted by weaving patterns with colorful silk threads, tanchoi banarasi sarees are a type of brocade that doesn't use any kind of zari work. Tanchois is well known for featuring multicolored patterns, with plain borders.
Sometimes the borders are designed crisscrossed in order to complement the extensive work done on these silk sarees with the satin finish in the background.
The amazing weaving pattern on these fabrics and the handstitched designs of natural things like flowers, peacocks, and other animals.
Being light in weight, these magnificent sarees are really easy to drape. Satin tanchoi, atlas or gilt tanchoi, and musabbar tanchoi are some of the types of tanchoi banarasi sarees that are always in demand, especially during the festive seasons.
[ Know About The Best Banarasi Saree Shop in Varanasi ]
Butidar banarasi sarees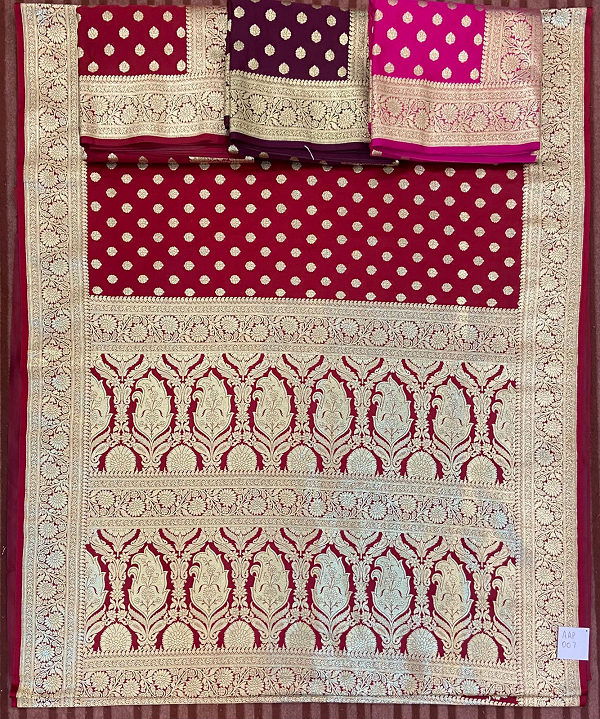 A very richly woven banarasi saree that has brocades of gold, silver, and silk that is an important part of its crafts to give a vibrant look to these luxurious butidar banarasi sarees.
Various traditional patterns and motifs are combined to form this expensive piece of craft. These are the most distinctive among all banarasi sarees and are also called the amru brocade sarees.
Butidar banarasi sarees are created using a pure form of silk but without any zari work incorporated in it.
The floral motifs designed on these sarees multiply the beauty of these lustrous sarees. These beautiful sarees incorporate high traditional patterns and motifs of the design
Final Words
Pure Banarasi silk sarees are unbeatable when it comes to the ranges and designs they offer. These highly demanded finely woven sarees are incomparable because of their broad characteristics and classifications.
So with these newly launched ranges of banarasi sarees, add complement to your looks and have a great celebrated year ahead. Also you can contact Albeli, Top rated pure Banarasi saree manufacturer in Varanasi, to buy these sarees at affordable price.