Varanasi has always been a significant craft and textile centre and is very famous for its attractive fine crafts. Banarasi silk sarees, traditionally made in Varanasi, are among the finest and best-made sarees in India. They are known for their excellent quality silk and opulent zari patterns depicting floral motifs.
The graceful banarasi silk sarees are the symbol of royalty, charm, elegance, and class. Indian weddings are incomplete without these lustrous designer sarees.
These banarasi silk sarees have a very broad and close connection with Indian history and have been stated in the epic Mahabharata, and also in some Buddhist scriptures. Ancient people used to wear these elegant sarees to represent royalty. In those olden days, sarees were created using real gold and silver threads and could take up to a year to create. Although these sarees have been adored in India since very old times, it was the Mughal Emperor Akbar who made Banarasi silk sarees more famous.
During the time of the Mughals, the motifs were generally Islamic in style, inspired by floral patterns, leaves, and the use of techniques such as jali, traces of which can also be found in their architectural legacy. During the British era, the motifs diversified into geometric patterns. Today, images of Hindu gods are also engraved on these banarasi silk sarees.
First of all, the metal strips are extracted from pieces of gold alloy that are flattened with machines. They are then passed through a polisher to increase their shine.
The designs to be applied on a saree are first created on paper, with perforations reminiscent of a braille script.
Hundreds of patterns are created for just one saree, either in the form of floral motifs or some other patterns. Sarees can take anywhere from 15 days to a month to be finished. In some cases, it can take up to six months. Banarasi sarees come in a myriad of colours and beautiful patterns.
Different Types Of Banarasi Silk Sarees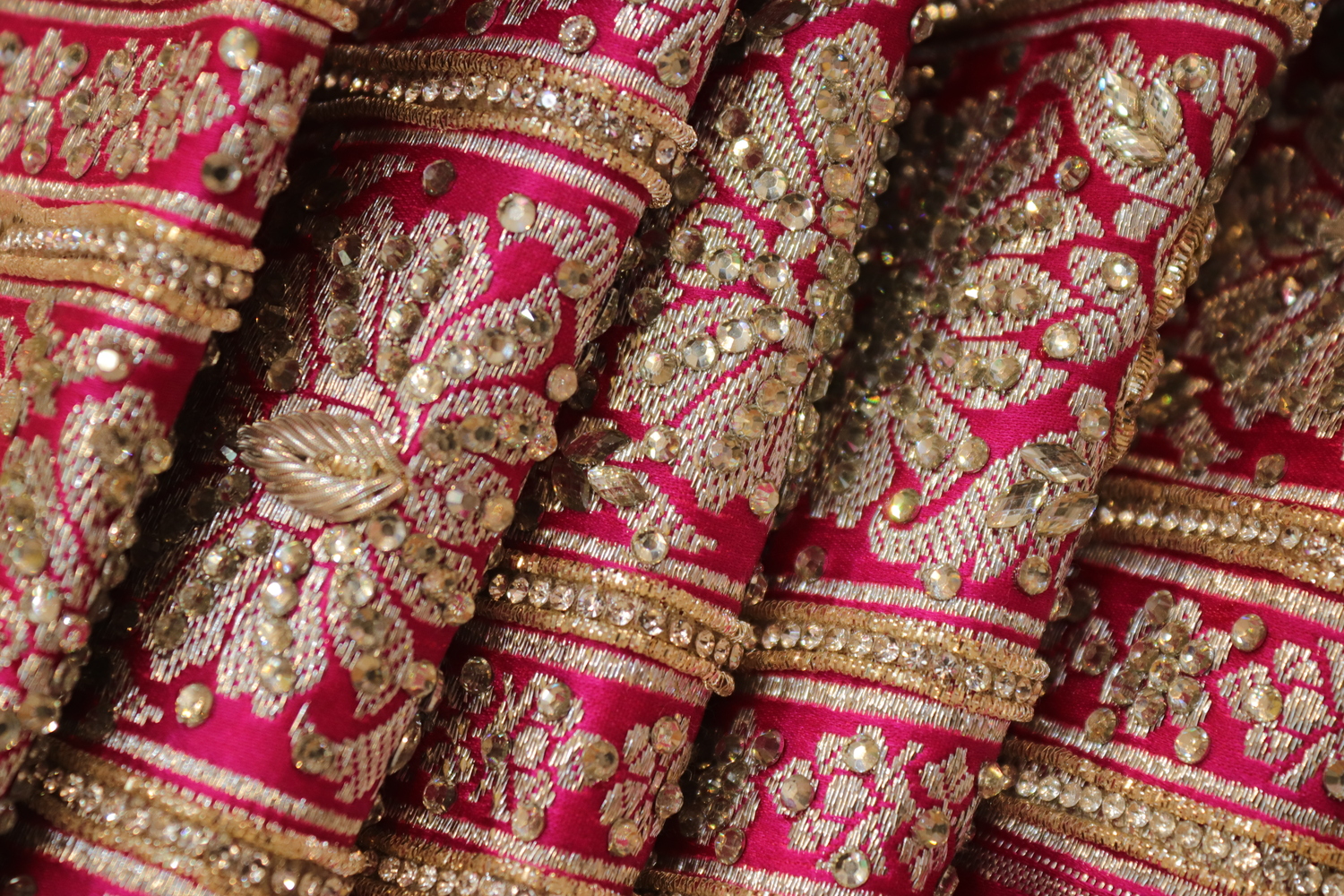 Banarasi sarees are highly preferred and adored for weddings and celebrations. Depending on the types of occasions, there are unlimited options of banarasi silk sarees to choose from. People always get confused why are banarasi sarees so popular and always in demand in india? They are generally expensive but are worth buying as they create a high and elegant look. Below details will help you to understand the charm of banarasi sarees -
Shattir
If you want a banarasi saree which can be draped very easily and can be worn for frequent occasions, no other option is better than the shattir banarasi sarees. These sarees are light in weight, very fashionable, and provide a casual look.
The main advantages of these shattir sarees are that they are pocket friendly and can be worn on regular days.
Katan
Katan banarasi sarees are specially designed for special occasions and events. These sarees are lustrous, durable, and elegant. By twisting pure silk threads very finely and delicately, these beautiful Katan sarees are created. Because of these pure silk threads, the saree reflects a special gleam.
Traditionally the process of creating the Katan banarasi saree, was a very lengthy and time-consuming process as it was carried out using handlooms. But, these days, the handlooms are replaced by rapid looms and power looms.
Georgette
If you are looking for something glamorous for any event but want to avoid the heavyweight, then definitely you should go with the georgette banarasi sarees. The fabric used for the creation of these beautiful sarees is made of creepy yarn.
S twisted and Z twisted yarns are designed in such a way that it provides a very fashionable look to the saree. Though the saree looks super fashionable but is very comfortable while draping.
Shikargarh
Shikargarh is a nature-inspired banarasi silk saree. It has motifs inspired by different elements of nature consisting of animal prints as the base designs. On the borders and pallu side, zari work enhances the beauty of these banarasi silk sarees. Shikargarh is not considered as only a saree but a complete form of special art in itself.
Butidar
Butidar banarasi sarees are the best option when you want to add a royal touch to your looks. Along with silk, these sarees are also woven with golden and silver shimmering threads which give the saree a more lustrous look.
With the special combination of golden and silver threads, the sarees reflect a unique charm and hence hold the name - Ganga Jamuna sarees.
Metamorphosis of Banarasi Sarees
Banarasi fabrics are increasingly being used for embellishment as a result of innovation. The variety of banarasi fabrics has increased. Banarasi brocade has long been associated with bridal dresses, but now it can also be used for decor, potli-gifting bags, curtains, upholstery, brocade jewellery, seat cushion covers, table runners, drapes, ceilings, gift wrapping, and wedding cards.
Since the basic soul of the craft is its real identity, it will remain the same but in styling and way of presentation, it has to be evolved.
The colours are modified into neutral colours. Banarasi silk fabric has a lot of scope in various types of accessories. One of them is a scarf but it must be designed and modified in such a manner to be accepted by the foreign market.
Conclusion
In this era, old crafts need to be modernised in order to survive the trendy lifestyle. Since the lifestyle of people has changed drastically, hence it becomes compulsory for crafts to adjust accordingly. It totally depends on the designers, how they can better evolve the colours and designs so that they can be made appreciated by people all over the world. Designers and manufacturers around the world are constantly evolving banarasi sarees conforming them to ongoing trends and the increasing demand of making banarasi saree a comfort fit. Banarasi sarees have come a long way through history and will continue to evolve and please all the women around the world.