Our country is well-known for many crafts, and the Banarasi Handloom is one of them. This ancient craft originates from the city of ghats - Varanasi, and is partly responsible for putting us on the world map.
Saree lovers across the globe fondly appreciate this craft form and know the work that goes into making these fine beauties. A pure handloom Banarasi saree speaks volumes about the intricacy of design, sheer artisanship and superiority of craft.
The Banarasi Handloom was introduced in India by the Mughals. Banarasi sarees personify refined elegance and lasting beauty. It is hard to take your eyes off these precious draperies. When one sets eyes on these magnificent delicacies, they are left spellbound by the spectacular designs and overall aesthetic.
Banarasi Handloom and sarees have been in trend for centuries now. They were once adorned by women belonging to the royal family. And today, they have become a wardrobe mainstay of every woman.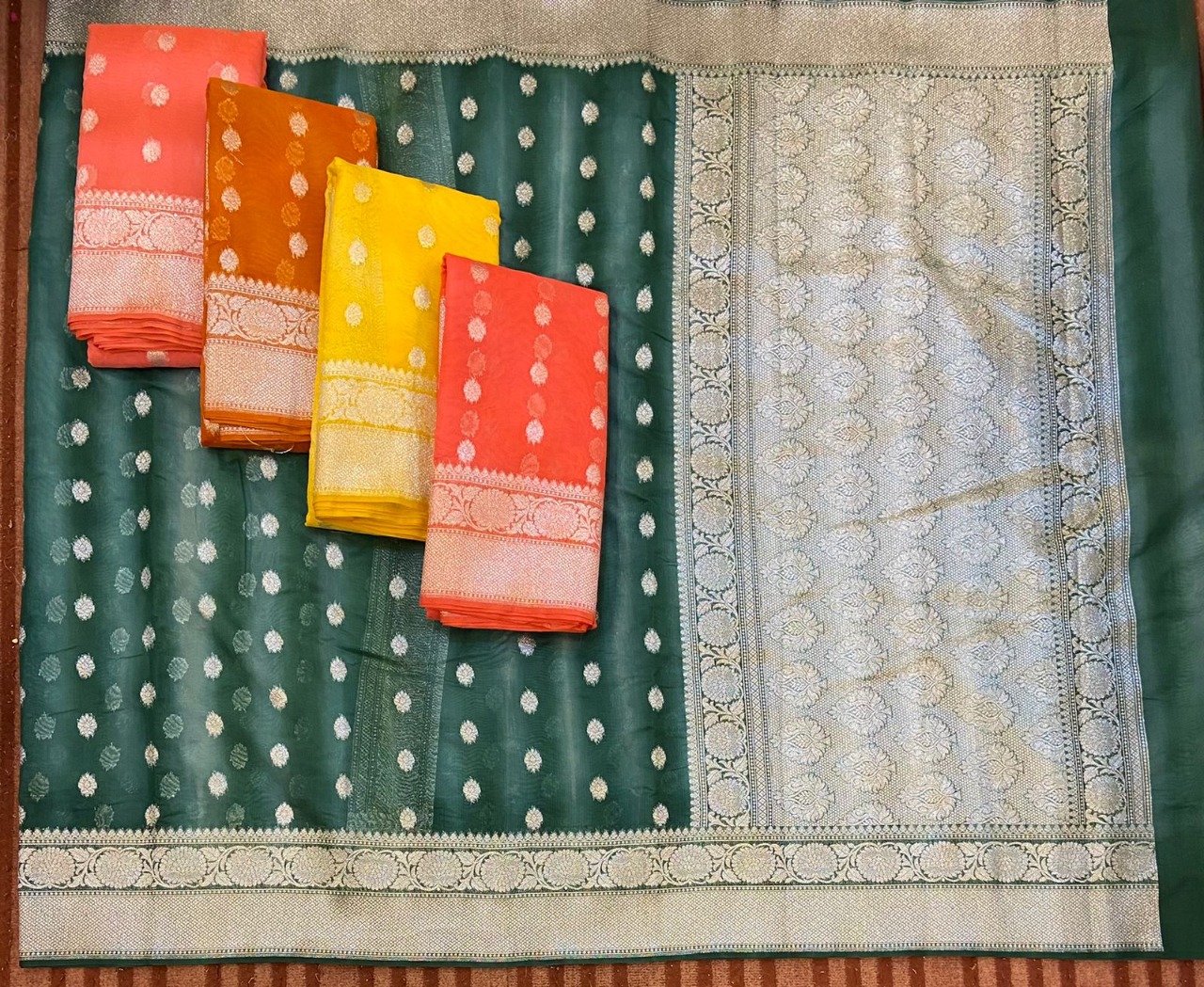 Banarasi Sarees And Their Origin
The origin of Banarasi sarees dates back centuries ago. The Banarasi Handloom craft came into existence during the Mughal reign. Since then, there have been countless changes and shifts in the designs, styles, and weaving techniques.
A pure handloom Banarasi saree is ideal for weddings and other festivities. The unparalleled elegance and grace of these beauties are the reason. These spellbinding draperies are the embodiment of regality and charm. The intricate and heart-winning designs, delicate zari work and tasteful motifs remain a fixture in these delicacies.
Since the Mughals introduced these beauties, one can see traces of both Persian and Indian cultures. Motifs like Butis, Paisleys, Bel, Jhallar, Shikargah and Jali are a staple to look for. The city of ghats/Varanasi has always been a significant weaving center, even during British rule.
Ancient Weaving Technique - Banarasi Sarees
The time that goes into weaving a pure handloom Banarasi saree depends on the complexity of the design. It takes at least a team of 3 weavers to bring these beauties to life and into your wardrobe.
One weaver weaves the primary part, the other handles the ring to make bundles, and the third one works on border design. The desired designs for the saree are drawn on paper, copied to graph paper, and then hand-punched on the stencil.
Let us now study the native manufacturing process in detail.
Choosing the right yarn: Pure handloom Banarasi sarees are crafted using pure silk. The first step involves finding a suitable quality and range of yarn.
Dyeing of yarn: Once the yarn is chosen, it is processed, dyed into the desired color, and then dried.
Yarn reeling: After the yarn is dried, it is wound on reels and fed into handloom.
Drawing saree design: The next step in the native manufacturing process entails drawing of desired design on normal paper. This design is then copied on graph paper, and it will become clear why in the next step.
Stencil Creation: The next step involves stencil creation. The desired design copied on graph paper is hand-punched on the stencil so that it can be copied on the fabric.
Weaving: This is the last step in the manufacturing process and entails the warp and weft process. Designs are transferred to the fabric by attaching the jacquard cards to the machine.
And so ends the native manufacturing process of a pure handloom Banarasi saree. It is believed that it may take weeks or months to complete a single saree.
Even today, the weaving techniques followed are ancient and passed down from generation to generation. A fully ready Banarasi saree beautifully appreciates the hard work and efforts put in by the weavers. One can feel a thousand feelings when one looks at a Banarasi saree.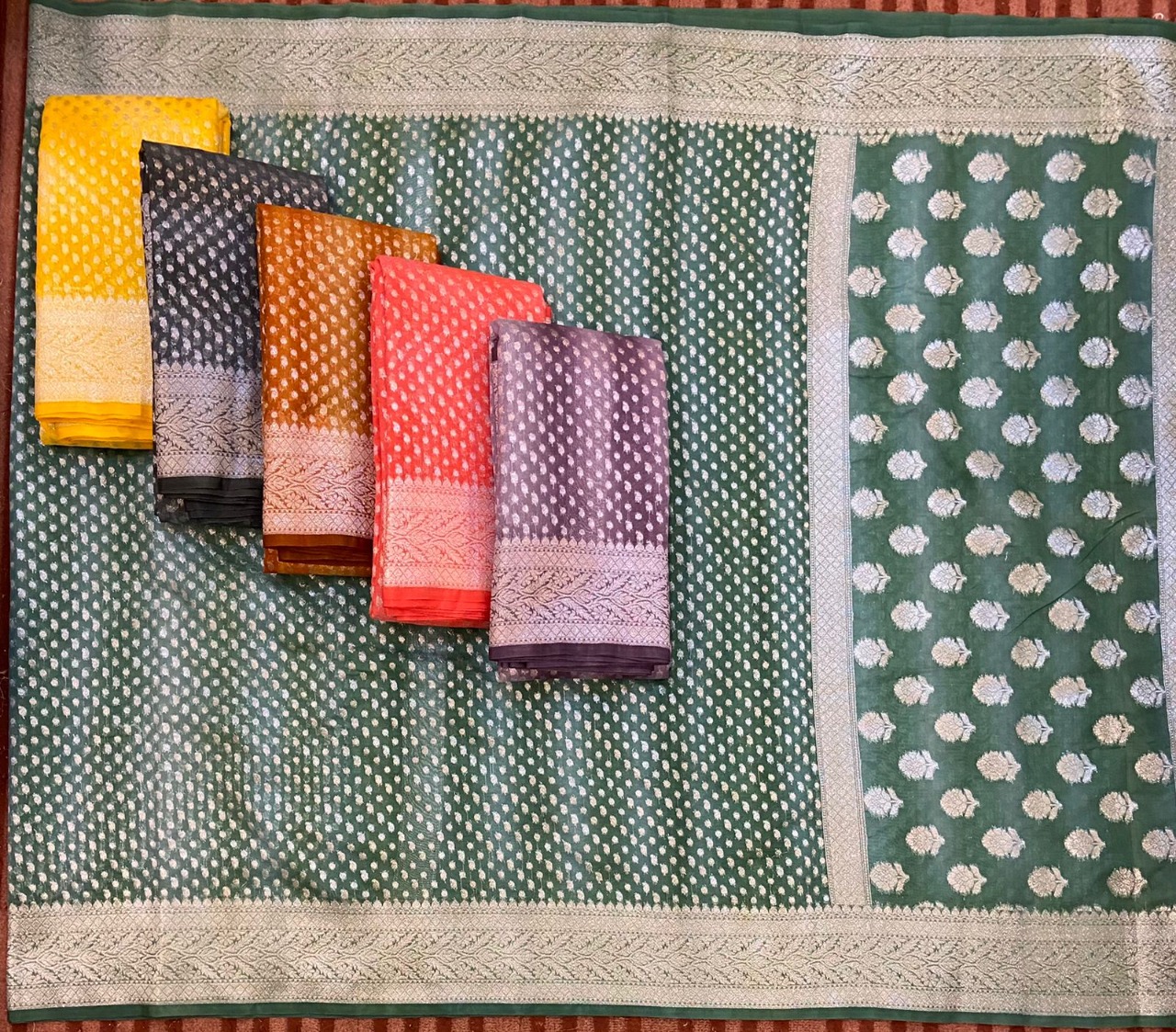 Why Are Banarasi Sarees Evergreen and A Wardrobe Mainstay?
Because of their lasting beauty and richness, Banarasi handlooms rule the handloom world. There is something about them that sets them apart from others. Here are why Banarasi sarees are considered evergreen and timeless and remain a wardrobe mainstay.
Banarasi sarees are an ideal choice for weddings and receptions. The richness of the fabric is unmatched and makes one look regally decked up. It is so elegant that brides-to-be across the globe choose Banarasi handlooms.
Banarasi sarees are available in the market in diverse colors, designs, styles and types. One can choose from a wide range of options and relish their versatility.
A pure handloom Banarasi saree does not need much maintenance. With a few preventative measures, these remain as new as ever.
Banarasi sarees are so elegant and timeless that they often get passed down as family heirlooms.
Contrary to popular opinion, Banarasi sarees are available in various price ranges. Their price essentially depends on the quality of the fabric, complexity of the design and pureness of the silk.
How To Keep Banarasi Sarees Evergreen?
Banarasi sarees are elegant draperies. It is important to take a few preventative measures to keep their luster and shine intact. Here are some tips you must follow to preserve these prized possessions.
Never wash your Banarasi saree at home by hand or machine. Always get them dry-cleaned. Washing these yourself can damage the quality of the fabric and design on the handloom.
The best way to store these sarees is by wrapping them in a cotton or muslin cloth bag. Doing so keeps them away from dust and allows easy air passing.
Do not expose your Banarasi saree to direct sunlight, moisture or any harsh environment.
If you like, you can keep them hung on wooden hangers. Hanging these on steel or metal hangers would cause rust damage.
Final Thoughts
Banarasi sarees are timeless and evergreen draperies. These have ruled the hearts of women for centuries and will continue to do so. This native craft of weaving Banarasi sarees by hand makes them special and a must-have in our wardrobes. Do yourself a favor and buy an elegant Banarasi saree that matches your style, preference and taste!