Bengalis and the lal Benaroshi (red Banarasi) is an everlasting love affair. If you walk in at a traditional Bengali wedding, you may be in for a ride. Their culture and traditions have so much beauty that it is almost unparalleled.
For the longest time, Bong brides have put their fingers on a red Banarasi saree. Whether their big day, festive celebrations, or any other celebratory gathering, red Banarasi is the choice of these beautiful women.
Banarasi sarees have roots in the city of ghats - Banaras/Varanasi, but they are widely worn throughout the country. West Bengal and Kolkata are two places where one can find women embracing these timeless beauties the most.
Banarasi sarees have found a special and nearly permanent place in the hearts of Bengali women. They never skip on wearing their forever-favorite lal Benaroshi saree.
A Bengali wedding is a celebration of the rich Bengali culture. A red Banarasi saree worn by the bride is, in fact, the only non-Bengali thing. However, Bengali women and brides swear by these draperies' beauty.
Bengali Brides and Their Love For Red Banarasi Saree At Wedding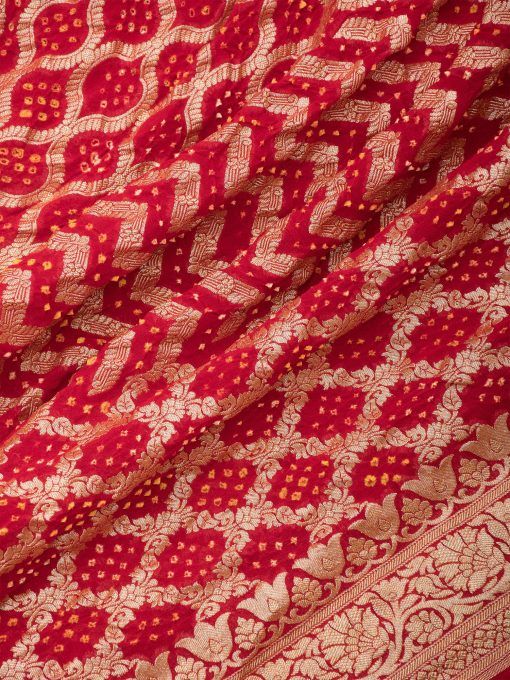 Bengali culture is full of age-old customs, traditions, and beliefs. But, like every other culture, there is a certain way the bride has to look. The bride is beautifully decked up from head to toe in Bengali culture.
Ethereal and eye-pleasing jewelry, heart-winning ornaments, and the unmissable red Banarasi saree. Let's throw light on why a red Banarasi saree is the top choice of Bong brides.
Nothing makes a bride look as beautiful and elegant as a saree. Speaking of sarees, the Bengalis have figured it out. A Banarasi saree is regal and luxurious. Personifying utter perfection are Bengali brides wearing a red Banarasi saree on their big day.
Red is associated with weddings, celebrations, and auspicious ceremonies in our country. The color is bright, deep, and rich. Red bridal attire is beautiful, but a red Banarasi saree? There is no competition!
Bengali brides are aware of the eternal charm of red Banarasi sarees. The luster and shine of these tasteful draperies are unbeaten. A red Banarasi saree, beautifully crafted with gold zari or buta work, is totally heart-winning!
Bong brides prefer a red Banarasi saree with ethereal and alluring gold work. When styled with exquisite jewelry pieces and quaint ornaments, this drapery looks like a dream. This makes the bride stand out and shine apart from the crowd.
Besides being beautiful, Bong beauties are brainy. They choose a red Banarasi saree for their big day and use it afterward. These spellbinding draperies can be styled on various occasions after being worn on the wedding day. Be it festivals, ceremonies, or other weddings; a red Banarasi saree is their go-to choice!
Bengali people are huge on culture and traditions. They place their beliefs on the auspicious wedding day. A pure silk handloom red Banarasi saree is widely available in the market.
Bengali brides place their trust in the beauty of silk. Their red bridal Banarasi saree is mainly made of pure and high-quality silk. One may find a Bong bride dolled up head to toe in a mesmerizingly gorgeous red Banarasi saree with exceptionally beautiful designs and motifs.
Other Beautiful Elements That Make The Perfect Bengali Bridal Look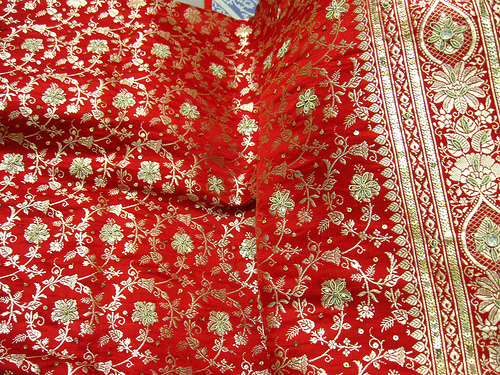 Besides a red Banarasi saree, one may find many other elements as fixtures in a Bong bridal look. Some of them are mentioned below.
A red Banarasi saree is the first and foremost in making the perfect Bengali bridal look. Lal Benaroshi saree and alluring gold jewelry are the ideal and tasteful elements of this look.
Bengali brides flaunt beautiful artwork with Alta. Applying generous amounts of Alta on hands and feet is a must. They even use it to make elegant designs.
There are diverse kinds of ornaments that a Bengali bride wears. These are beautifully crafted using gold. Gold is the choice for these staple accessories because it is considered auspicious.
Bengali brides wear beautiful and bright shades of red lipstick on their big day.
To make the bride the center of everyone's attention, a Bengali bride also flaunts a huge bindi. This gives her face a tastefully defining look.
Besides the bindi, the relatives of a Bengali bride make her face even more beautiful with small white and red dot work. The bride can choose any design she desires. This design work starts near the bindi and ends near the end of the brows. It may also extend a little.
A Bengali bride also has to wear many types of bangles. These are called nowa, ruli, etc. These beautiful bangles are very traditional and customary for the bride to wear.
Heavy and beautifully crafted necklaces are also what a Bengali bride wears. These necklaces flaunt stunning peacocks, butterflies, drops, and semi-circles. There are several other ornaments that these brides wear, including gold chains and gold ringers.
Bengali brides also tie their hair in a bun. This bun can be embellished with sparkling accessories if the bride likes it. A veil goes over this bun. What completes the look is the headgear or the mukut. These headgears are available in stunning designs and shapes. They are also compulsory for brides.
Final Thoughts
Bengali women are natural beauties and look even more elegant on their big days. A red Banarasi saree plays a massive role in Bengali weddings, ceremonies, and festivals. Bengalis fondly adore the richness and lasting beauty of these pure silk delicacies. The other elements beautifully complement this saree and further enhance its beauty!