In India, saree is considered the national attire for all Indian women. A majority of Indian women embellish the saree for any major event due to its grace and intricacy. Banarasi saree is a prevalent part of bridal attire in Bengali weddings, but women from every part of the country and community adore this type of saree.
Banarasi saree comes in various intricate and complicated designs intertwined into 6 yards, making this ethnic wear look fabulous.
Banarasi Silk Sarees: The History
Banarasi sarees were initially introduced to the country by the Mughals. The artisans during the Mughal era used complex weaving and designs to make this saree. At the moment, this saree comes with a blend of two distinct cultures (Indian and Mughals). Earlier, the silk that was used for making it was imported from China. Currently, it is obtained from South India.
The two categories that divide Indian sarees are the designer and the traditional bridal segment.
[Know more about the History of Banarasi Saree ]
The Great Features of Banarasi Sarees
Banarasis are designed in the city of Varanasi. These are among the best traditional Indian dresses. They are very weighty because of the rich embroidery that they have, making them perfect for weddings, celebrations, and festivals.
Banarasi sarees are typically designed in 4 versions, which include Kora, Shatir, Katan, and Georgette. Its various versions are jangla, satin borders, Brocades, Resham Butidar, cut work, tanchoi, and organza. All of these have intriguing patterns of floral, human figures, animals, geometric patterns, etc.
Banarasi Saree Manufacturing
It generally takes about 15 days to 1 month to complete a Banarasi. But, this totally depends on the design's intricacy. It usually requires three weavers to get the work done. One for weaving, one for handling the spinning ring in making bundles, and one for designing borders.
In an ideal world, a Banarasi consists of about 5600 thread wires, each having a width of 45 inches. The craftsmen create a foundation of about 24 to 26 inches in length.
A sketcher makes design boards by drawing the designs on a graph sheet together with colour ideas. Later on, the punch cards are made prior to the selection of the final design. After that many punctured cards are made for lodging one design for a saree. For weaving the punctured cards on the loom, distinctive threads and colours are employed. The punctured cards are later on paddled steadily for making sure that the core weave selects the ideal designs and colours.
Variety of Banarasi saree
Cutwork, Jangla, Tissue, Butidar, and Tanchoi are all Banarasi saree varieties. A Tissue Banarasi saree is intertwined using Gold zari Brocade for incorporating sparkle into the saree.
The pallu and borders of the saree are decorated using self-woven paisleys. Butidars are intertwined using brocade thread silver, gold, and silk.
Cutwork sarees are produced from the cutwork technique. Common motifs that are featured on this variety of saree are creepers, marigold flowers, leaves, and jasmine.
The patterns of Tanchoi sarees are interlaced using multi-coloured weft silk yarns. The decorations done on a Tanchoi saree are big-sized paisley motifs and the borders are in criss-cross patterns.
Jangla sarees are interlaced using silk threads of multi-coloured. It is adorned using a complex design of Jangala motifs and foliage that drop along the saree.
Brocades
Brocade is a speciality of Banarasi saree cloth. It is a Latin word which means to prick. It is a weave wherein designs are made by driving the zari thread amongst the warp at planned intermissions to create a new design.
Kinkhab or Kamkhwab are the terms that locals of Banaras use for the word brocade. The term Kinkhab means Golden dream, whereas Kamkhwab means scarcely dream.
Various Fabrics Used In Making a Banarasi Saree
1. Organza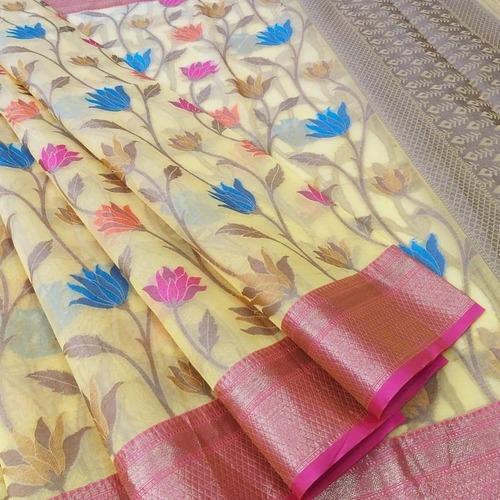 This fabric is splendidly intertwined using the most attractive brocade patterns and designs made using weft and warp. For making zari brocade silver threads having gold layering are interlaced around the silk yarns.
2. Shattir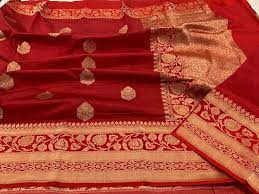 Shattir is employed for making lovely modern-day and unique Banarasi saree designs.
3. Katan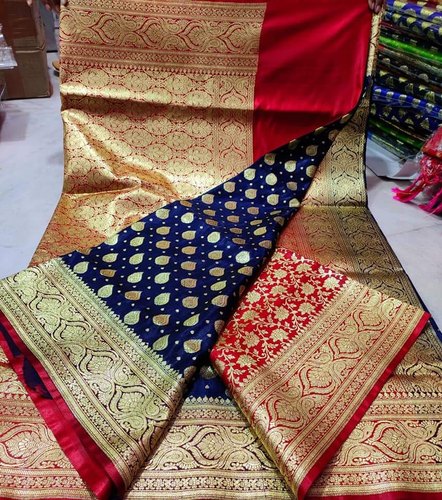 This plain fabric has interlaced pure silk threads that produce pure silk sarees. In earlier times, in the sarees made using this Katan, the patterns and motifs were interlaced with handlooms. However, at present, they are made with power looms and rapid looms.
4. Georgette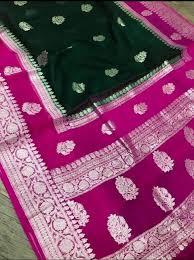 This is a superbly intertwined fabric prepared from crepe yarn inter-woven using weft and warp. This fabric is common in making designer sarees, Bollywood sarees, and salwar kameez designs.
[Know What is Organza Silk Fabric? Explained in Detail]
What Are The Problems That Weavers Face While Making A Banarasi?
There is barely any fine-quality yarn available at affordable rates. The yarn's cost is somewhat greater and government intervention hasn't still assisted.
The competition of power looms is the main issue. We have witnessed a remarkable progression in the figure of power looms despite regulations. According to some weavers, a Banarasi saree takes about 2 months to get completed using a handloom.
Traders usually put the power loom-made sarees on sale as handloom-made. An inexperienced procurer is not generally aware of the distinction between a power loom and a handloom-made saree.
[Explore the Best Banarasi Saree Shop in Varanasi ]
Summing Up
Whatever Banarasi silk sarees we have discussed above are recognized all across the world. This is primarily because of the distinctive patterns and complex designs on the saree. Many popular film stars and eminent personalities prefer to wear Banarasis for several occasions such as weddings, parties, or any big function.