Among the various types of Banarasi sarees, such as Tanchoi, Vaskat, Cutwork, Tissue, Butidar, etc., Jangla Banarasi sarees are easily distinguishable. These sarees are made in the type of design 'Jangla' which means "jungle." It is inspired by the Jungle vegetation representing the lives of wildlife through motifs and patterns which include animals, birds, trees, hunting scenes, etc.
Jangla Banarasi sarees are considered to have the most ancient Banarasi brocades which are woven using colourful threads. You'll love to behold the dense intricately woven brocade work on Jangla banarasi sarees which enhances their appearance.
Jangla is now known as "Katan Jal Set," thanks to minor improvements and influences from other materials over the years. The dense and delicate weaving all over the length in the form of jaals of these sarees is what really sets them apart.
What is Jangla banarasi saree?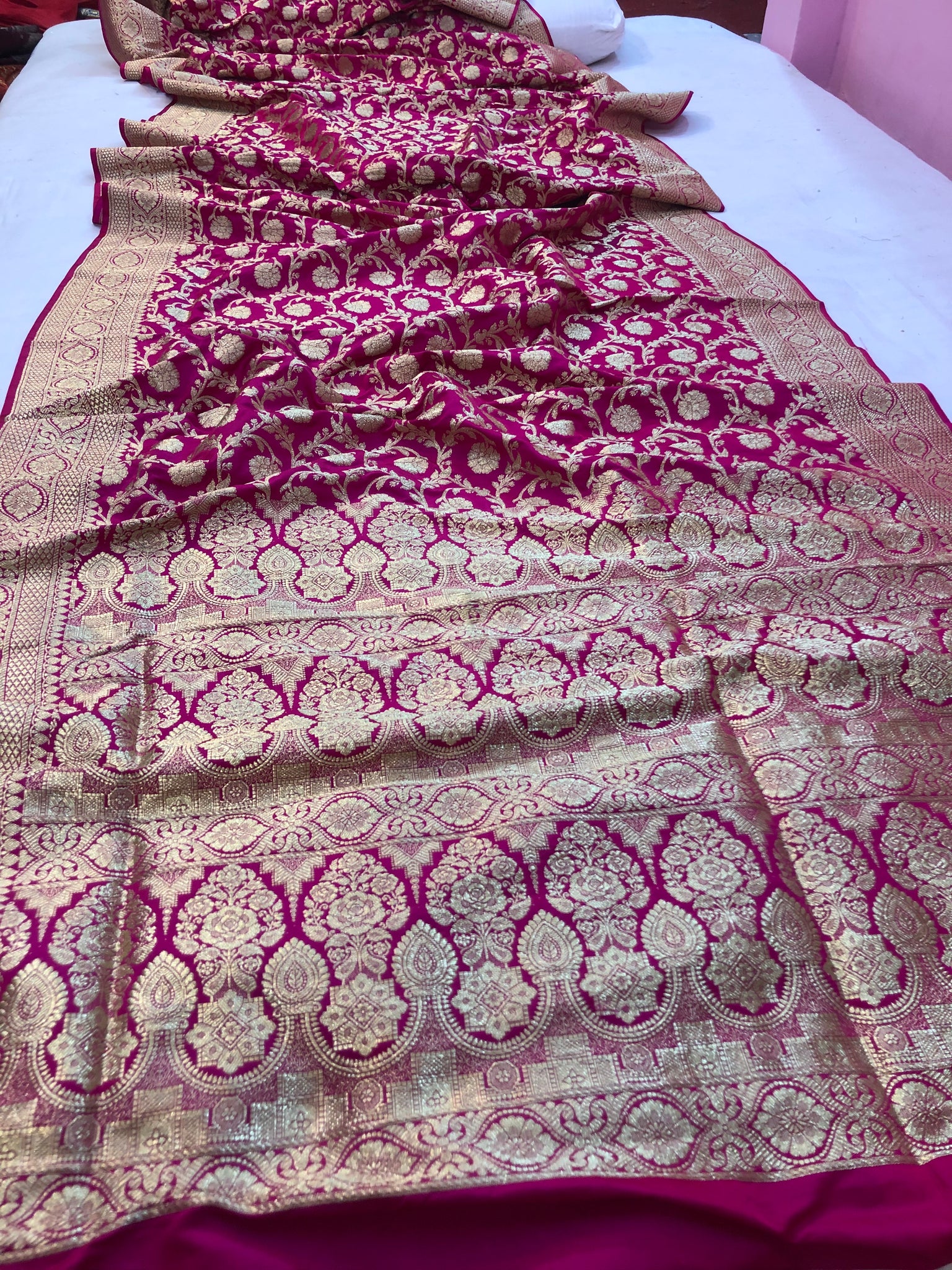 Jangla banarasi sarees are woven in kadhwa or kadhiyal style, in the intricate patterns of floral motifs, betel leaves, paisleys, etc. A jaal or creeper covers the entire length of the banarasi saree.
The jaal is also sometimes adorned with minakari designs, creating traditional jewellery designs on the banarasi saree. These sarees are the best to wear on festive occasions or family gatherings.
Indian women's special affection towards banarasi sarees
The Banarasi Saree is one of the Indian traditional garments that symbolizes elegance and the pinnacle of a bride's beauty. This is one of the exquisite varieties of silk that comes from Varanasi in the Indian state of Uttar Pradesh.
Using top-notch silk, we have been weaving this lovely Banarasi saree, which is very well-liked throughout the entire nation of India. The rich cultural heritage of India can be found in the origins of banarasi silk sarees.
Each Banarasi saree of the period was crafted with royalty and made with genuine gold and silver threads. One piece required the craftspeople nearly a year to complete.
Therefore, it is among the most expensive saree materials that women desire to own. There are tales of owning a handcrafted, authentic Banarasi saree from all around the world, not just from India.
Know more about the varied types of magnificent Jangla banarasi sarees here.
Types of traditional designs on Jangla banarasi sarees
The designs on Jangla banarasi sarees depict the moments from the wildlife of vegetation, animals or trees. In earlier times, craftsmen had Mughal-inspired designs or patterns on these sarees which included scenes of hunting by the beasts or Kings, wildlife, vegetation, etc.
Jaal- a geometric and floral pattern-infused trellis made using Kadhwa or Kadhiyal weave.
Latifa Buti- a floral design that is inverted or swaying called Latifa buti. It is sometimes enclosed inside geometrical patterns inside a jaal; created all over the length of the banarasi saree.
Meenakari- These designs are created on the fabric using multiple coloured threads including zari in the weft forming a jaal which imparts a royal charm to the jangla banarasi saree.
Shikargah- a hunting scene that combines vegetal, floral, animal, bird, and human figures. The jangla shikargah banarasi sarees woven by hand are exemplary.
How to take care of your Jangla banarasi saree?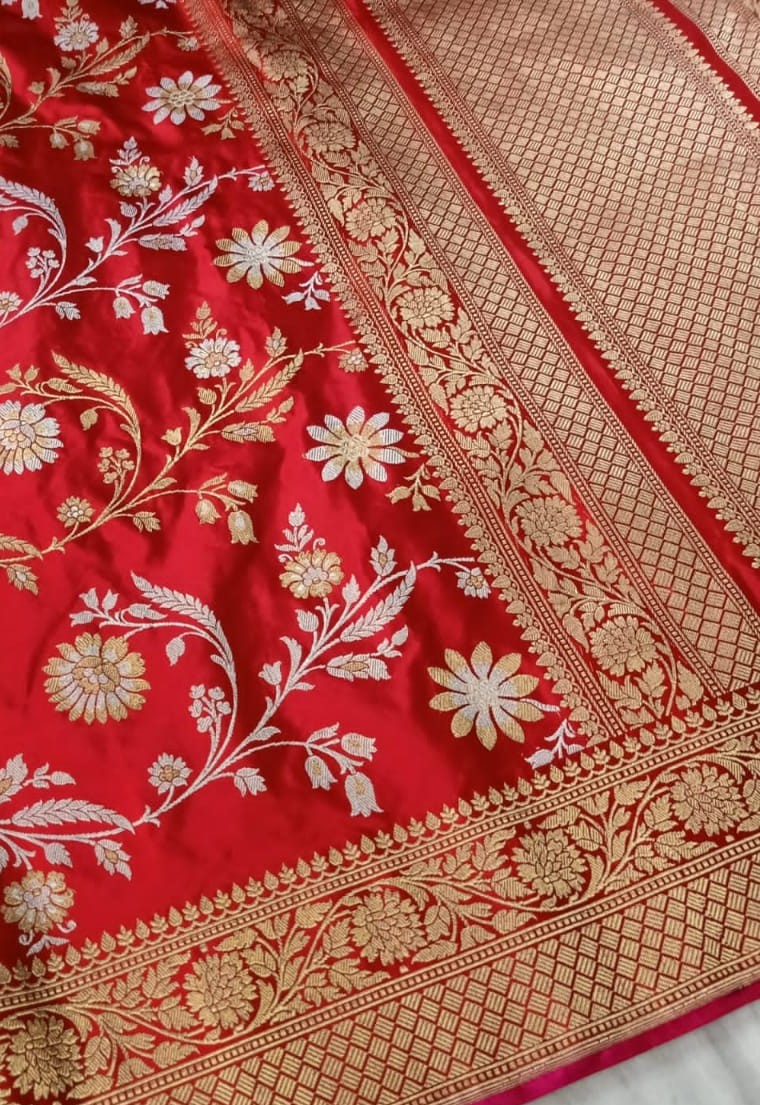 Jangla banarasi sarees are prone to wear and tear so they should be maintained carefully to maintain their glamour for years.
Store the saree hanging in your cabinet or wrapped in a muslin cloth and away from direct sunlight. In either case, you must occasionally alter the folds.
Deodorant should not be sprayed directly on your beautiful saree as this could damage the fine thread work and cause lasting stains.
The saree should always be dry cleaned, but if you decide to wash it at home, be careful to dip it many times in cold water before hanging it outside to drip dry. Otherwise, detergent could ruin the entire saree's design, appearance, and glitz.
How can you tell if a Jangla Banarasi saree is genuine?
An enormous amount of thread work can be seen going through a Jangla Banarasi saree when you look at its patterns. It would be surprising to know that a Banarasi saree made to perfection has 5600 threads.
You can check the authenticity of Jangla banarasi sarees with the GI (Geographic Indication) tag. Customers and craftspeople are protected by this official sign.
It is simple to tell the difference between authentic Jangla Banarasi and hybrid versions. The primary characteristics of a Banarasi saree are mostly Islamic motifs, such as floral designs, stylised foliage, and the usage of jali work. So, keep an eye out for these qualities when buying a Jangla Banarasi saree online.
[Explore the manufacturing of Banarasi saree]
Final Thoughts
Banarasi sarees are among the most popular and elegant sarees. Jangla banarasi sarees are the kind that comes with an excellent fusion of traditional designs or patterns with a contemporary touch.
Jal Jangla design is one of the many designs used to make Jangla banarasi sarees, and it is frequently used to make fashionable work on the sarees. Meena work is also used to decorate fabrics which look completely magnificent. You can sway them at any festive occasion, family function, or social event and stun everyone with your looks.
Now, do yourself a favour and make sure to include this wonderful artwork in your wardrobe!