In Indian culture, sarees are without a doubt the best option for women's clothing. Additionally, among all types of sarees, Banarasi sarees are known as the queens of the sarees. Among the different types of Banarasi sarees, Katan silk sarees are unquestionably the best.
These luxuries come in a variety of elegant hues, patterns, and textures. They simply encapsulate sophistication and elegance. They captivate with their rich texture and wonderfully complex artistry. Every woman's first preference is a Katan Banarasi silk saree due to its unrivalled beauty.
Katan Banarasi sarees have a long history and will endure for millennia, making them an evergreen fashion statement in the world of fashion. But why does the Katan banarasi saree enjoy so much popularity among Indians? Discover why here.
What is Katan silk?
It is known that Katan silk originated in Persia and was brought to India during the Mughal era. People from royal families adored wearing Katan silk clothing because it looked so elegant and regal.
Banarasi handloom Katan sarees demand a lot of labour and skill. An entire Katan banarasi silk saree can be woven anywhere between 15 and 30 days. The number of days needed, however, may vary depending on the type and complexity of the pattern being weaved.
The foundation of the saree is typically woven by one weaver, the bindles are typically handled by a second weaver, and the borders are made specifically by a third weaver. Depending on the complexity of the designs involved they may cause a further delay in the process to complete.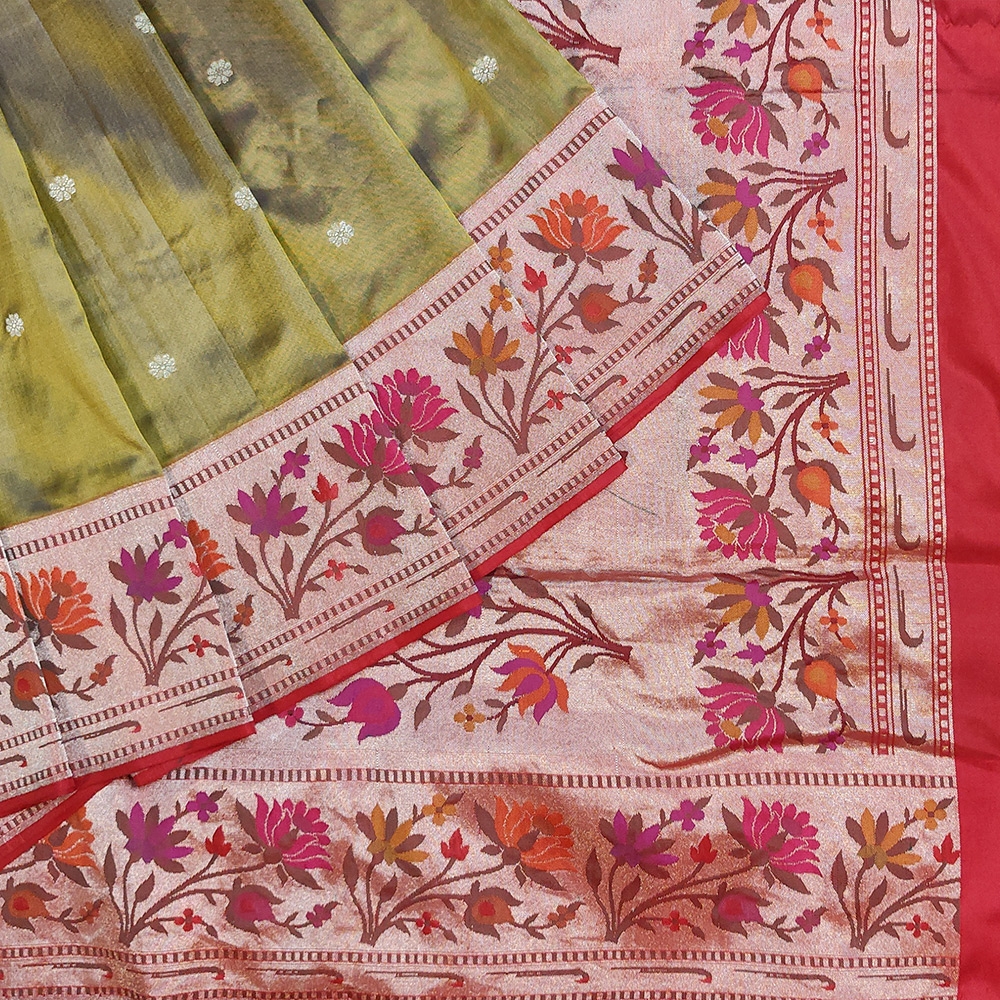 What distinguishes Katan silk as being elite?
Being the best form of pure silk and its ability to complement any style, the Katan silk has acquired such an elite status worldwide. Katan silk is a gifted material, especially for banarasi sarees which make a great combination and it can't be substituted by any other material. In earlier times, banarasi sarees were only made using pure Katan silk.
Katan Banarasi sarees have undergone numerous changes over the years. The weavers have used a variety of designs and weaving methods that have been passed down through the generations.
On special occasions, women adore wearing these breathtakingly gorgeous silk sarees. Below are some reasons that perfectly clarify the popularity of the most preferred Katan banarasi sarees.
They are perfect for every season:
Every type of weather is suitable for a handcrafted Katan banarasi silk saree. It is ideal for summer because of its soft texture and lightweight material. The low conductivity property also aids in keeping one warm in the winter. This silk fabric is used to create high-quality, weather-appropriate clothing.
They are extremely durable:
The durability of the pure, premium Katan silk fabric, which makes clothing made from it continue to look fashionable and brand-new even after many years, is one of the best features of Katan banarasi sarees. With the proper cleaning and maintenance, this pricey material can also easily maintain its elegance.
They have been exceptionally enduring and radiant for ages.
Pure Katan silk still has an unrivalled sheen and gloss today. The fabric is so luxurious and lovely that it doesn't need to be enhanced by anything else. It is frequently used for bridal attire because of its unmatched opulence and grace.
Available in affordable ranges
All price levels are available for pure Banarasi Katan silk sarees. The majority of people think that fabric-based clothing is expensive. However, it depends on the material's quality and other elements. As a result, affordability is a major benefit.
What kind of Katan banarasi saree do you prefer the most?
The pure Katan Banarasi saree is truly a wardrobe gem. Learn about the various styles of Katan banarasi sarees that are currently on the market before investing in a piece that you might later decide doesn't suit you.
The elegant traditional Katan banarasi sarees
The elaborate and decorative patterns on these sarees, which are often handwoven using silk yarns and gold or silver threads, are what make them so well-liked. The traditional katan banarasi sarees are regarded as a symbol of richness and elegance since they are frequently decorated with exquisite patterns and motifs, including flowers, animals, and religious symbols.
Katan Banarasi sarees are renowned for their silky, smooth texture and comfortable fit in addition to their appealing appearance.
The chic & contemporary Katan banarasi sarees
Contemporary Katan Banarasi sarees are sarees that are inspired by traditional Katan Banarasi sarees but have modern updates or variations. These sarees are incorporated with newer colours, patterns, or styles, while still maintaining the luxurious and ornate aesthetic of traditional Katan Banarasi sarees.
They are a popular choice for women who want to add a touch of traditional elegance to their wardrobe while also incorporating modern trends and styles. These are made using a variety of techniques, such as handwoven or machine-woven methods, and may be made from different types of materials, such as silk, cotton, or other fabrics.
They may also be adorned with a range of embellishments, such as beads, sequins, or embroidery, to add a touch of glamour and sparkle. These chic sarees can be worn on a variety of occasions, from formal events to casual gatherings, and can be paired with a range of accessories.
Final thoughts
In this era of styling and fashion, don't hold back if you're a saree lover. Katan banarasi sarees are the most opulent, and no woman can deny that wearing them truly makes a difference. The elegance this regal attire possesses is incomparable to any other outfit.
Do yourself a favour and change your saree look by making a style statement in a gorgeous Katan banarasi saree the next time you attend an event.