What is a Katan Banarasi Silk Saree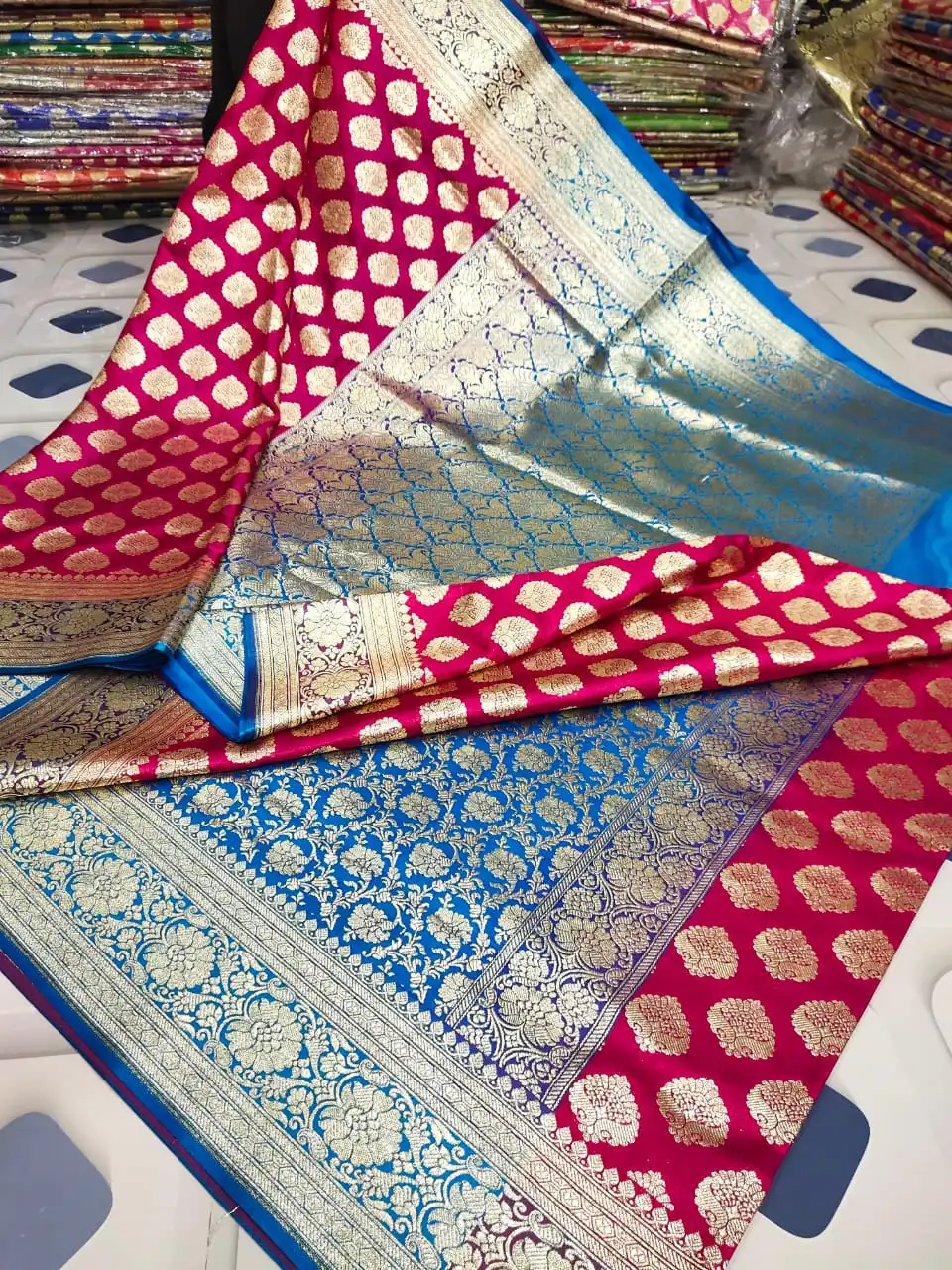 Katan Banarasi silk sarees are one of the most famous sarees in the country. Their luster and elegance make them a popular choice among women. They are traditionally woven and are widely worn in Varanasi, Uttar Pradesh. The yarn of a Katan banarasi silk saree is prepared by twisting and turning the weave threads. This turns the saree sturdy, and the fabric remains soft. What makes these sarees one of the finest ones in the country is the fact that they are made from the purest silk. The sheer elegance that these sarees exude is awe-striking.
The design work and timeless embroideries on a banarasi Katan silk saree are a staple. The gold, meena, zari, and foliate work offer these sarees a very enriching look. One can never go wrong with these. No wedding trousseau is complete without a Katan banarasi saree. If you are ever confused about your outfit for an event or function, go with a Katan banarasi saree and look appealing and dolled up in the most elegant way ever.
Additionally, a pure Katan silk saree showcases true artisanship through its unique and perfect design. The beauty of these sarees lies in their simplicity, and the richness that they add to a look is unmatched. If looking elegant and subtle is all you are looking for, a Katan banarasi saree should be your go-to.
[Read Why Should One Shop Red Banarasi Silk Saree For Wedding?]
Types of Katan Banarasi Silk Saree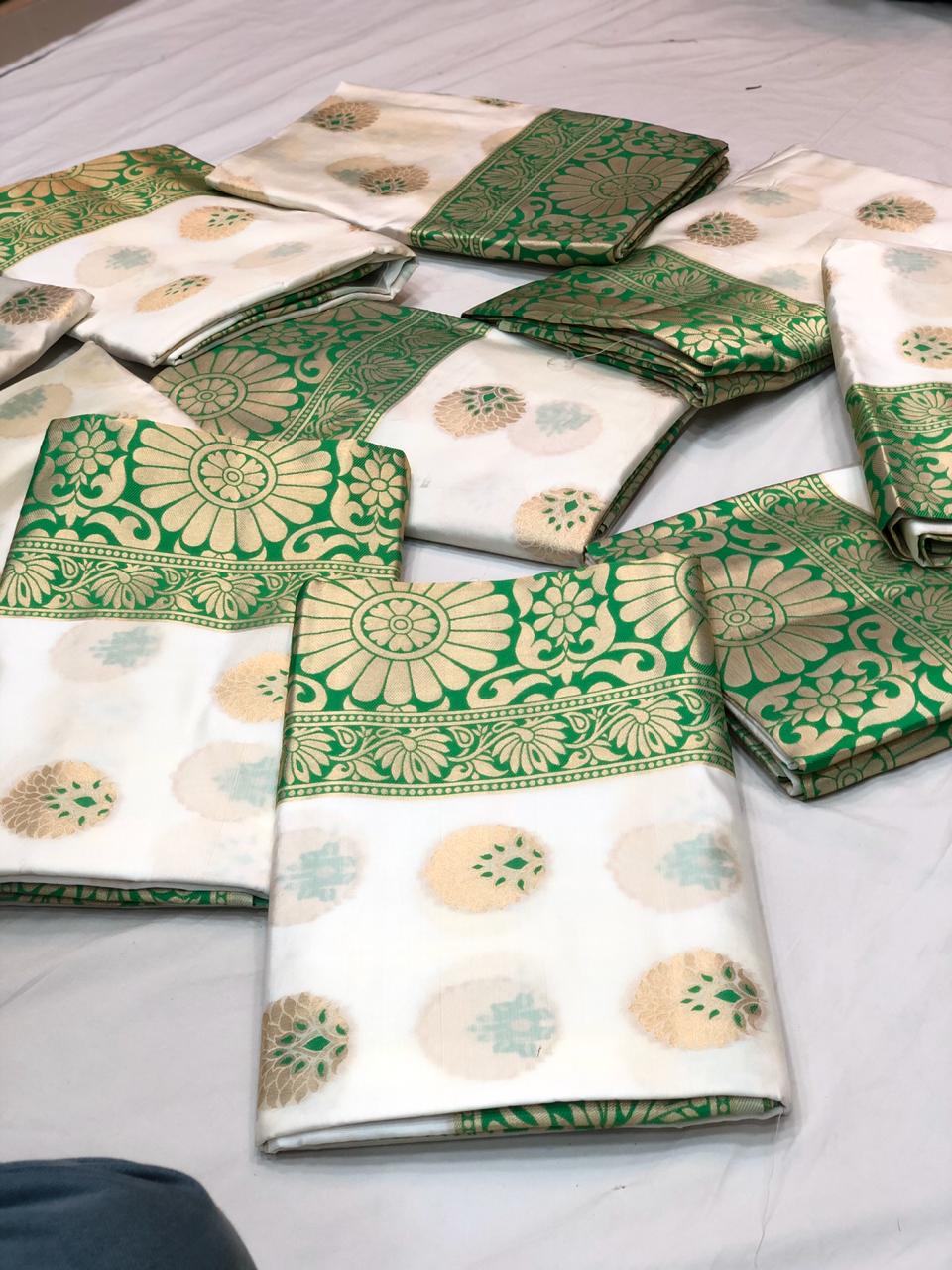 There is a wide variety of Katan Banarasi sarees available in the market. They can be broadly categorized into:
Traditional Katan Sarees: If you love classic and statement pieces that are evergreen and timeless, then you fall in this category. It is rightly said one can never go wrong with the classics. These sarees have a traditional touch and showcase quaint zari work and designs from the Mughal age, including bel, peacocks, paisley motifs, and jhalar. Traditional banarasi sarees are widely chosen as a bridal outfit, too, if one is looking for a very Indian and earthy look.

Modern Katan Sarees: Modernisation and improvisation take over everywhere, and in recent years, modern Katan sarees have become a popular choice. These stylish sarees are made by integrating modern designs into traditional sarees. Modern designs and bright colors offer a very contemporary hint to these sarees. Modern Katan Sarees are perfect for various occasions and are chosen by people who love mixing it up with decking up.
Tips on Styling a Katan Banarasi Saree
When your outfit is styled right, it can give you a complete makeover. Here are some valuable tips for styling a Karan Banarasi saree for an enhanced look.
If your saree showcases rich and appealing design work, wear or drape it in a way that the pallu is visible.
Enhance the beauty of your pure Katan silk banarasi handloom saree by wearing it with an embellished blouse. If you want your saree to steal the spotlight, consider pairing it with a subtle blouse.
If you aim for a form-fitting look, consider wearing underskirts beneath your sarees.
If you want to magnify the elegance of a light-shaded silk saree, opt for a colorful silk belt embellished with beads and tassels.
Swapping regular blouses with stylish and trendy ones can completely turn a look 360 degrees.
For an all-out retro look, pair your Katan banarasi saree with a flutter-sleeve blouse. Add defining finish to your overall look by adding a satin hairband and a charming handbag.
Pair your saree with high-neck blouses for a refined look, and add a small choker.
For an edgy and modern look, throw a jacket on your saree.
Wearing a saree in a lehenga style is also a great idea.
[Know the Trendy Colour Combinations in Banarasi Saree]
Origin of Katan Silk
Katan Silk was birthed in Persia, and the women of the royal family during the Mughal empire were known to wear elaborate and luxurious clothes made using Katan Silk. The elegance and regalness that this fabric offered were the reasons why it was chosen and popularized by the women of the royal family. They used to wear intricately-designed clothes made from this enriching fabric.
Nur Jahan Begum is always remembered for her unique sense of style and for popularizing this royal fabric.
[Know the history of banarasi silk saree]
Advantages of Wearing a Katan Banarasi Silk Saree
There are many reasons why these sarees are still chosen for most occasions and remain a top favorite among them. These include:
Suitable choice for every weather: With its lightweight material and airy texture, it is famous for summer. And due to its low conductivity feature, it is chosen in winter as it keeps one warm. The liberty that comes with styling these in any weather is excellent.

Enriching look: These sarees are lustrously and elaborately designed to offer the wearer an elegant and subtly grand look. When styled and worn right, they can make one look effortlessly beautiful and feminine.

Durability: One of the best advantages of owning these sarees is that they are durable. This means, with proper maintenance, they can still look as new as ever, even after years.

Affordability: Contrary to popular opinion, these sarees come in all ranges. The price of these sarees depends majorly on the design and quality of silk.
[Also Read What is Organza Silk Fabric]
Final Thoughts
Even after thousands of years since their origin, Katan Banarasi Silk sarees are a popular choice among saree lovers. They are comfortable and elegant and can easily bring out the feminine side of any woman. If you are looking for a unique Katan saree collection of the most radiant and beautiful Katan Banarasi silk sarees shop in Varanasi, you can find them at Albeli. Albeli is a leading fashion house in the city that is proud to be a banarasi saree manufacturer and wholesaler of these timeless and tasteful sarees. If these fascinating delicacies encapsulate you, buy them from Albeli at factory prices. You can also visit us at our Varanasi store. We would be happy to serve you.