Nothing can match the gorgeousness and prettiness of a red Banarasi saree. This is one of the dresses that every bride wants to wear. Banarasi sarees originated in Banaras (now Varanasi) and this traditional garment has evolved ever since then into beautiful colours and designs.
These sarees have gained tremendous popularity in many different parts of the country and across the globe. No matter what wedding function it is, the bride and her other female companions can be observed putting on the rich apparel with sheer self-reliance and stylishness.
[Read Why Banarasi Sarees Are Popular In India?]
Banarasi Silk Sarees That Can be Worn in Weddings
Although there is a diverse range of banarasi sarees that have evolved since its origin, following are the few varieties that have become a popular banarasi sarees for weddings:
Shatir
Katan
Organza
Georgette
Advantages of Wearing a Red Banarasi Saree for Wedding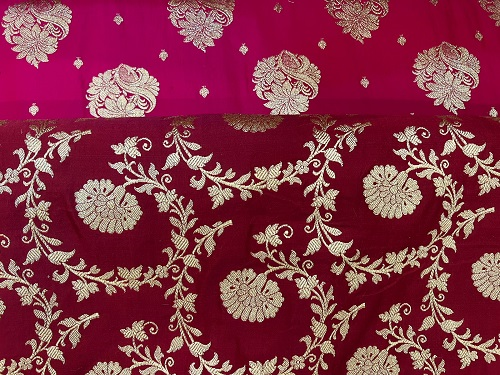 Banarasi sarees are such a magnificent garment which can be found in several colours but considering the aesthetic appeal of the red colour in wedding ceremonies red banarasi sarees have been a very popular choice as a wedding ceremony dress. This has many reason such as:
Gives a rich and splendid look
Suits every weather
The bride gets maximum attention
Goes well with any kind of jewelry
Increases confidence
Available in a great variety of designs and patterns
[Know What Are Trendy Colour Combinations in Banarasi Saree?]
Why Do People Love Red Bridal Banarasi Saree So Much?
Banarasis are made with silver or gold thread weaved with the silk fabric of the best quality. Owing to this, this is called the queen of Indian sarees.
With the combination of Indian and Persian styles, Banarasis are adorned using small booties or motifs around the complete length. No Indian wedding is complete without a ravishing red-coloured Banarasi saree. The colour red denotes both love and passion. That's the reason red Banarasi sarees are the most preferred sarees among Indian brides.
Red bridal Benarasi saree is highly appreciated in various parts of the country. These include Delhi, Mumbai, Pune, Kolkata and Varanasi.
At the time of the wedding, people deem that the beautiful red Banarasi saree is the perfect and the most gorgeous apparel for the bride out of all her other sarees.
Red Banarasi silk sarees are available in both online and offline markets. A lot of retail shops and stores are also there where you can encounter a variety of stunning Banarasis. Some possess online services so that their customers can shop at their convenience. The best quality is always assured whether selling online or offline. Thus, the customers can purchase sarees from them without bothering about the colour, sturdiness, and texture of the apparel.
At the moment, it might not be too out of topic to talk about Albeli, which can comply with the satisfaction of a buyer with its huge stock of Banarasis. One can always go to their site as well as their store to explore their services. They enforced a quality check on their Banarasis, and these sarees are designed using the fabric of the best quality, dazzling colours, and newest designs.
How Can We Say Whether A Red Banarasi Saree Is Fake Or Real?
Numerous factors indicate the pureness of a Banarasi red wedding saree: Make sure to follow atleast the following checks to confirm if the saree that you are selecting is 100% real and authentic.
Don't get attracted by the look
Even if you want to carry out the appearance test to know whether the saree is real or not, you can do this when window shopping. During online shopping, this might not be possible.
While doing window shopping, exploit the flashy lights within the store for testing the pureness of the apparel. Silk possesses its own delicate pearlescent shine. Therefore, if you check the fabric in the brighter lights, you'll witness a flicker of its own. Based on the way you hold the saree in front of the light, the shade of the flicker will look to differ.
Fake silk is likely to thicken on the body, so do check that while shopping for a Banarasi silk saree. Whereas, pure silk is flowy and sleek.
Use a ring to check its pureness
The ring that you are wearing is not only an ornament or jewelry piece. It can be utilized for many other things, as well. Checking the pureness of the silk fabric is among the unimportant but helpful ways. If you want to purchase a light-weighted silk attire, you must use a ring and attempt to pull the fabric through it.
The silk that is real is light in weight and supple. Also, it gets through with ease. On the other hand, the fake silk is heavier in weight and would not get through this test.
Burn test
The burn test is not preferred much since it incorporates the damage to the fabric because of burning. But, if you don't have any problem performing this test, you can burn a portion of the fabric to check its pureness. You should be extremely careful when doing the burn test as it can be hazardous.
The ones that are not fake burn with the smells of burning hair and leave stiff ash once it is burned. Once you take away the lighter, it stops burning. Fake or synthetic silk will give a smell of burning plastic and not halt burning even after removing the lighter.
Jewelry That Can Go With a Red Banarasi
Jewelry that can go incredibly well with red Banarasi saree are temple jewelry and oxidized jewelry. The Banarasis having golden margins can be complemented with pearl or gold jewelry pieces.
To have a graceful look, you can put on Kundan jewelry with your red Banarasi silk saree. Banarasis are shimmery; thus, an eye-catching Kundan jewelry piece will augment the look. A Kundan necklace or a set would be perfect for embellishing your apparel.
An emerald necklace can also be a perfect choice to get a royal red banarasi saree look for a wedding. Prefer wearing green emerald jewelry with your gorgeous red Banarasi.
Summing Up
Do you want to shop for a top-notch Banarasi saree in Varanasi? Then you can count on Albeli, the leading manufacturer of red Banarasi sarees in Varanasi. A red Banarasi silk saree is every woman's dream and with Albeli it can be fulfilled. We have a huge bridal red banarasi saree collection, from Katan to Satin Banarasi sarees.