The silk weaves conceal the intriguing weaving history of the magnificent Banarasi sarees. These sarees were created from the purest and most authentic gold and silver threads thousands of years ago.
Incredible kora banarasi sarees feature a variety of fine needlework techniques to create stunning designs. The intricate and lavish embroidery with fine silver threads throughout the length makes them stand out from all the types of sarees.
Women adore wearing these sarees to formal occasions and traditional festivals because of their exquisite craftsmanship and delicate weaving. Therefore, Kora banarasi sarees are a beautiful addition to any woman's wardrobe
There are several different types of fabrics on which banarasi sarees are woven, like pure silk (Katan), Kora or organza, shattir, georgette, etc., in which kora banarasi sarees have their own identity and women love their fabric.
What is kora fabric?
Kora is a plain-woven fabric. It is also known as "organza." It is woven at a low density, which makes it transparent and lightweight. That's why women find it more comfortable to wear these sarees on various occasions.
Kora fabric is sheer and used to create a variety of clothes for the fashion industry, including sarees and dresses. Its use is also popular in sectors like furnishing and interior design. It's a highly delicate fabric and needs special care for maintenance.
Kora/Organza has a variety of distinctive qualities, such as:
Transparency
Thinness
Sheerness
Stiffness
Breathability
Simple to crease and rip
[Read more about Organza Silk]
How is Kora fabric made?
The technique of making kora fabric and weaving it makes Kora Banarasi sarees special and unique. It requires a lot of time and labour as kora or organza fabric is still made by hand. It's possible to make it with machines; however, it may produce low-quality fabric.
Kora fabric can be made using either pure silk or by blending it with synthetic fibres like polyester or nylon. The steps followed in making kora fabric include:
Production of materials: The production process may vary depending on the type of fibres (silk or synthetic) used to make kora fabric.
Fibre twisting: Two fibres are twisted contrary to each other in both cases whatever fibre is used.
Fibre combing: The fibres are then combed and treated with acid to make them stiff. If synthetic fibres are used in the manufacturing of fibres, fibres already become stiff.
Yarn spinning: The resulting yarns are spun into fabric.
Weaving the fabric: The last step involves weaving. However, for a fabric to be called kora, it should have a seam appearance and texture. It's also a little stiff in texture.
Types of Kora Banarasi sarees
Certain variations are found in the fabric if it is made from silk or synthetic fibres like polyester or nylon.
The main types of Kora/Organza Banarasi sarees are:
Kora silk/Organza: These sarees are made with pure kora silk fabric with plain weave. This is the best material for kora banarasi sarees which comes with heavy pallu and sheer texture.
Printed Kora/Organza: The lightweight and transparent kora banarasi sarees come in contemporary and conventional prints all over the length. It makes them very comfortable to carry with style.
Embroidered Kora/Organza: This type of kora banarasi saree with embroidery is the most stylish. In Kora banarasi sarees, the silver embroidery and contrasting colours work best to accentuate your beauty.
What is special about Kora Banarasi sarees with silver work?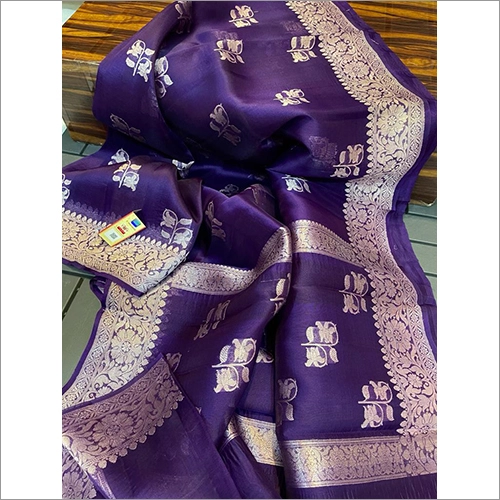 As said above, in earlier times, only silk strands and filaments were used to twist kora silk, also known as organza silk. Nowadays, a tiny amount of other synthetic forms, such as those created with a combination of nylon and polyester threads, are also used to boost its tensile strength.
The fabric's sheer, nearly transparent quality helps it keep its weightlessness, and when combined with the sheen it gets from the silk threads, it gives an ensemble the necessary amount of glitz.
Kora Banarasi sarees with silver work are special due to their crispy texture, lightweight, and glam look. They are comfortable while looking stylish due to the special silver work done all over the length. They can be worn at parties, weddings or celebrations, etc.
How will you measure the quality of a Kora Banarasi saree?
The quality of fabrics is mainly measured by thread count. Since Kora is a very lightweight fabric, its quality is checked by measuring holes per inch (HPI). HPI gives the number of holes per square inch of fabric.
The HPI count of 7-18 is ideal for a good kora fabric. High HPI accounts for the high quality of the Kora Banarasi sarees.
Final Thoughts
Looking for a beautiful kora banarasi saree? Find everything you're looking for in a banarasi saree here!
Explore our wide range of collections of kora banarasi sarees in vibrant colours, kora banarasi sarees with silver embroidery, etc., and get your favourite sarees with top-notch quality guaranteed.