Banarasi silk sarees have been the choice for centuries of every Indian woman disregarding her caste, religion, status, or age. What makes Banarasi sarees a popular choice among women for ethnic wear is the sheer elegance and graceful looks of these sarees. These are heavier than most other types of sarees, but it doesn't let the popularity of Banarasi silk sarees fall, instead, these are becoming more popular due to their versatility of colours and designs.
Origin of Banarasi sarees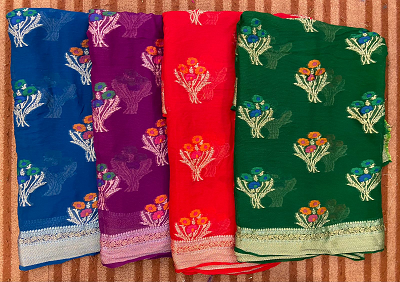 Banarasi sarees have their origin in the holy city of Varanasi.
While there is a remark about Banarasi sarees from ancient times since the era of Ramayana and Mahabharata, the reasons for their popularity come from the Mughal era. At that time, people started seeing it as a symbol of royalty and due to their soft silk fabric, these became the most preferred choice of women from different parts of the country to wear on their special occasions.
The Britishers also had an impact on the trend and introduced modern and geometrical patterns on Banarasi sarees. These sarees have come a long way of transformation through the ages and represent our beautiful composite culture and the rich artistic talent of the country's craftsmen.
[Know the history of Banarasi saree]
These splendid sarees are made of pure silk fabric with intricate works of golden and silver threads which gives them a luxurious and royal look. It used to take three to four artisans and a period of months to one year during those times, to make a Banarasi saree with the complex zari work consisting of heavily embroidered borders. Now, this work is done by power looms, yet, artisans of Varanasi have made their mark in producing the best quality Banarasi sarees with their inherent artistic approach.
How are Banarasi sarees still so popular?
In today's era, where women look for light-weighted garments and lavish designer dresses to get for their special occasions, artisans have attuned to the contemporary demands of the Indian fashion industry. Nowadays, you can easily find a varied range of Banarasi saree for any occasion be it a gift for someone, any festival, a big celebration at home, or banarasi saree for the wedding!
In fact, famous fashion divas also love trying Banarasi sarees at different events or on the red carpet itself. Banarasi sarees come in distinct combinations of intricate brocade designs, motifs, and a wide array of vibrant colours. This makes them literally perfect to carry for any occasion.
[Explore the manufacturing of Banarasi saree]
Types of Banarasi sarees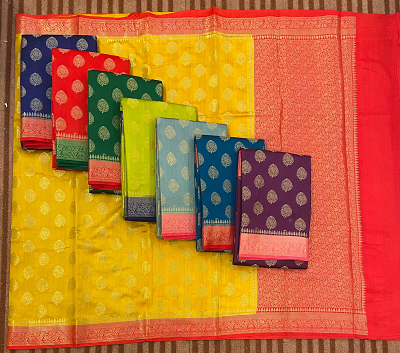 There are various types of Banarasi sarees in terms of designs and fabrics and can be worn on different occasions. You can opt for any Banarasi saree either consisting of heavy or subtle motifs depending on the occasion.
Listed below are some of the types from which you can choose that best suit your style!
Types of Banarasi sarees based on variant fabrics
There are mainly four types of fabrics used for Banarasi sarees, which are-
Katan- Katan is the softest and purest type of fabric among all types. It is durable due to the use of fine silk threads. It's readily preferred for its significantly elegant and luxurious looks.
[Read more about Banarasi Katan Silk Saree]
Organza(Kora)- Organza(kora) with zari and silk is made by using multiple warps and weft techniques. This fabric is extremely thin and allows fresh air to pass through.
[Read more about Banarasi Organza Silk Saree]
Georgette- This is a soft and light silk fabric that is prepared by weaving different threads in the form of intertwisted Z and S yarns. It is known for its smooth textures which form beautiful draping in sarees and is a popular choice among today's generation of women.
Shattir- This is a unique fabric on which any design can be crafted, whether traditional or contemporary. This is mostly picked by brides for their D-day.
Types of Banarasi sarees based on variant designs
Jangla- The design is inspired by nature and the word 'jangla' comes from the word 'jungle'. This includes artworks inspired by the wildlife and vegetation like peacock and parrot motifs, bel, Patti, etc.
Tanchoi- These designs prominently include the work of large paisleys on the saree's pallu and the same small paisleys on its borders.
Cutwork- The designs made with the cutwork fall into this category but they are made on silk fabric mixed with some cotton. This increases their durability and makes them fit into the present time choices of women.
Butidar- This form of artwork includes designs in the form of buti such as Ashrafi Buti, Jhari Buti, Latifa Buti, Patti Buti, Jhumar Buti, Angoor Bail, etc. This looks really beautiful and is often opted as a subtle choice for various occasions.
Whatever the type of saree you choose, just the ethos of a Banarasi saree makes you look graceful and noticeable! The distinctive looks and their elegance has made Banarasi sarees the most readily opted ethnic wear for women for different occasions.
Pairing ideas for Banarasi sarees
Banarasi sarees come in a plethora of colours and a varied range of heavy to moderate embroidery on them. Banarasi saree in red colour is the top pick for most brides or women attending family functions and its aura is still unmatched.
However, some women like to go for distinct colors, nowadays. For them, vibrant colour combinations paired with subsequent jewellery will do well. The combination of pink and blue colours also gives a royal look. Yellow, green, and purple colours are also chosen. Apart from these, plain sarees can be paired with golden temple work jewellery giving a classy finish to your looks.
For blouses, Banarasi silk sarees are best paired with blouses of plain or solid colours. Or, blouses with heavy embroidery work can be well paired with half-half style sarees.
It's said that fashion changes with time but style endures.
Banarasi saree is such a style that has remained unraveled through times and fairly proves this statement.
So, go pick your favourite style and flaunt gracefully in a splendid Banarasi saree on your special occasion. You can visit Albeli, one of the best Banarasi saree shops in Varanasi, and satiate yourself with the most graceful collection of banarasi silk sarees at best-offered rates.