Everyone is looking for a saree that can be worn differently on every occasion in all seasons. Along with being a natural fabric, linen has one of the best compositions in the vast textile business. It is a promising fabric thanks to its opulent appeal, fantastic features, and biodegradability.
Banarasi sarees come in a variety of colours, designs, and fabrics. Linen banarasi saree is a popular type among them. These are made of linen fabric which is very lightweight and comfortable. If you love to wear sarees, you'll definitely fall for these delicacies.
Linen banarasi sarees can be comfortably worn in every season. Both in the winter and the summer, they keep you comfortable. These are appreciated among young women for their decent drapes. So, if you're going to attend your cousin's wedding or any family gathering, you can sway in style in your lavish linen banarasi saree.
Know about the linen fabric
Whenever you want to purchase any dress, what's the main thing you check…fabric quality, right? Know here about the characteristics of linen fabric.
Linen is actually made using very fine fibres of the flax plant. To create long sheets of comfortable, long-lasting linen fabric, these fibres are carefully extracted, spun into yarn, and then woven.
It is known for its high durability, breathability and absorbing capacity. It is really soft and comfortable and dries much faster than cotton. That's why it is used to make bedsheets and dresses, mainly sarees.
[Know Story Of Banarasi Silk Saree Manufacturing]
How is linen banarasi perfect for every occasion?
Know about the special features of linen which makes linen banarasi sarees suitable to wear on every occasion.
Durable and long-lasting
It is highly durable and extremely long-lasting even more than cotton. Due to the higher moisture absorbency rate of linen fibers, it gets softer with each wash and doesn't wear out as quickly.
Easy to care for and carry
It is lightweight and comfortable to carry. People often assume linen needs dry cleaning because of its regal appearance.
However, linen clothing can actually be machine-washed and tumble-dried. Utilizing starch while you wash really helps you avoid routine ironing.
Eco-friendly and sustainable
It is made of flax fibers which use less water for irrigation and waste is recyclable. It is simple to store because it is antibacterial and anti-allergic and lasts longer.
For which season, a linen banarasi saree is suitable?
When buying a saree, this question definitely concerns many of us. What if we answer that you can wear a linen banarasi saree in all seasons? Yes, you got it right. Clothing made of it can be worn in any season because it is a skin-friendly material and has fantastic characteristics. Let's see how.
In summer-
It has built-in antibacterial properties and is hypoallergenic.
Soft and highly breathable.
Absorbs sweat.
[Know Which is The Best Banarasi Silk Saree For Summers?]
In winter-
It is temperature regulating fabric hence keeping you warm in winter.
Its fibre is equally eco-friendly.
Durable and comes in various styles for winter clothing.
Learn about the production of linen fabric
Banarasi Linen Silk Sarees are woven using pure silk yarn. The following steps are followed to produce linen fabric from flax fibre.
Step 1- The first step in the manufacturing process is the hunt for the ideal yarn.
Step 2- The dyer prepares the yarn and applies the desired colour after choosing it.
Step 3- Dried yarn is wound onto reels and set on the handloom to prepare it for weaving.
Step 4- The desired designs are first sketched out on regular paper and then copied onto graph paper when designing sarees.
Step 5- A graph paper design is hand-punched into a stencil to be used to transfer it to the fabric.
How to maintain your linen banarasi silk saree?
Take care of certain factors and you can shine in your linen silk banarasi saree again and again:
Storing: Store your banarasi saree in a cool and dry place. Don't keep it hung or folded and wrap it in cotton or muslin cloth.
Washing: Don't wash your banarasi sarees by hand. Always have them dry-cleaned to not lose their lustre.
Ironing: Always iron your banarasi saree at a low temperature or set the temperature according to the fabric of the saree.
Note: Don't expose your linen banarasi saree too much in the sunlight. Also, keep changing the folds of your saree from time to time to avoid wear and tear.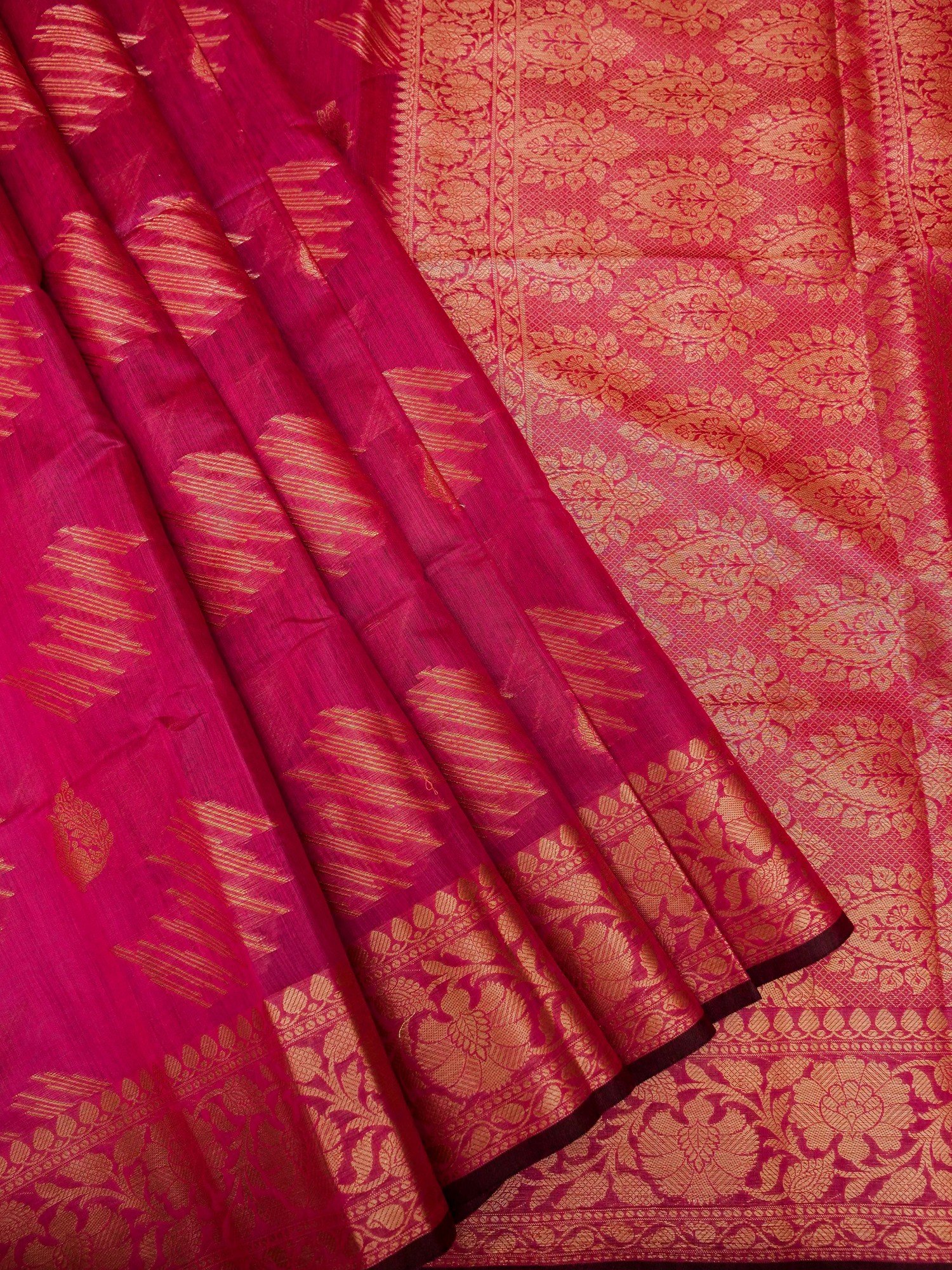 What's more interesting about linen banarasi sarees?
These are light both in weight and price.
Due to the perfect combination of soft silk and comfortable linen, linen banarasi silk sarees are comfortable and stylish at the same time.
As said above, they are suitable to wear on every occasion whether at weddings, parties, festive occasions or in the office in any season.
What more are you looking for? Don't you think linen banarasi sarees meet all the criteria we look for in a saree to be perfect?
Now, don't wait and give yourself a linen banarasi saree- a perfect outfit to flaunt on every occasion.