About Banarasi Sarees
Banarasi sarees were initially introduced in the Mughal period, when Muslim artisans decided on Varanasi (then Banaras) as the city that was fully into their culture and began making Banarasi silk sarees in Varanasi. The key traits of the Muslim artisans were designs that were inspired by Mughals, kalga and bel, for example.
It can take about 15 days to one month to fully create a saree; however, it is entirely based on the complexity of the saree patterns and designs. At times, it can take up to 6 months, as well.
The summer season in our country is known for a couple of things; sizzling heat and weddings. A majority of wedding months experience the sizzling heat of the summer season. I would suggest reading about Banarasi Sarees For a Memorable Wedding.
No matter the temperature outside, all the Indian ladies are seeking comfy dress in typical Indian sarees. Since the Banarasi silk saree is popular in the country for many things, like its style, royalty, and prettiness, they are even popular for being a comfy typical Indian wear in the summer season.
[ Read- History of Banarasi Saree ]
Banarasi Sarees That Are Comfortable To Wear During the Summer Months
Delicate, soft, and handwoven Banarasi sarees designed with care make a saree well-suited and comfy for a typical Indian wedding in summer. Banarasi sarees give a graceful look, and they, too, bring comfort during the sizzling heat of the summer season. So, it would be not wrong to say that these sarees give you the best comfort and grace.
Best Banarasi Saree for Summer Months
Banarasi silk sarees come in various designs, colours, and styles. But, if you are seeking the ideal Banarasi silk for the various summer events, here is a list of the best options:
1. Tissue Banarasi silk saree
Although the summer is on the top, you surely wish for a typical Indian saree that'll give you a feeling of being a gentle wind. A tissue Banarasi silk saree is best for an Indian summer wedding. They are both comfy to wear and lavish in look. These sarees give you some of the perfect looks, making sure you get a lot of attention during the event. Also you can select best Banarasi saree from our Shop in Varanasi.
2. Banarasi Georgette saree
The best features of a Banarasi Georgette saree are that it is breathable and light in weight. This is an ideal attire for both the winter and summer months. Wearing it will emphasize your profile and create a magnificent wrap.
3. Kora Banarasi silk saree
Kora Banarasi silk sarees are also lightweight. Kora fabric is pure and is formed using silk. The Banarasi saree made of this fabric seems incredibly classic and graceful when wrapped.
4. Butidar Banarasi saree
Butidar may be the most widespread and unique of all the other sarees. These are ornately interlaced and brocaded using silk and gold/silver threads.
Gold threads are darker than silver, so the weavers of Banaras call this brocade pattering style "Ganga-Jamuna." The motifs used in Butidar Banarasi sarees are popularized by the local people as Latiffa Butti, Baluchar Butt, Patti Butti, Angoor Bail, Resham Butti Jhummar Butti, and so on.
5. Cutwork Banarasi Saree
A Cutwork Banarasi saree is a saree that is not much pricier compared to the ones as mentioned above. This Banarasi silk saree is designed with a cut work method over a plain surface using some cotton blended with silk. Marigold flowers, jasmine, leaves, and creepers are the most prevalent motifs presented in this variety of Banarasi saree.
6. Jangla Banarasi Saree
"Jangla" is adapted from the word "Jungle" (forest) which one can explain in this specific print scattering a foliage motif around the saree. This is a variety of brocade categorized with complicated weaving.
[ Know The Difference Between Banarasi Silk And Kanjivaram Saree ]
Best Fabric for Summer Season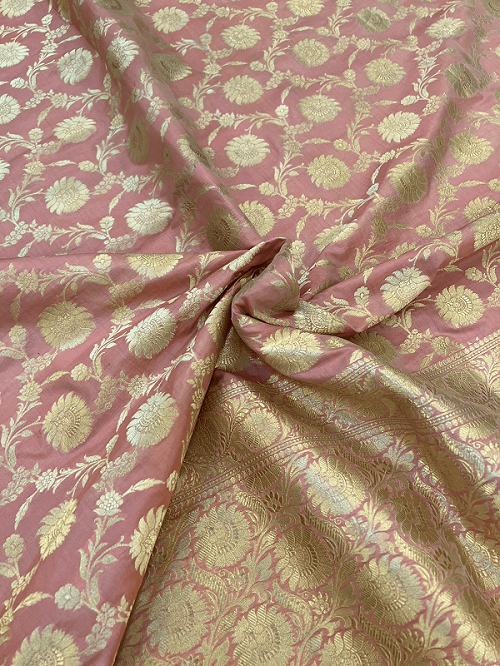 1. Cotton
Cotton is among the most popular breathable natural fabrics. It is extracted from the cotton plant. Currently, cotton is among the most prevalent and versatile materials utilized worldwide. It is considered a breathable natural fabric due to the tiny hollow gaps that it has. These gaps let the fabric soak up and release moisture swiftly.
2. Linen
This is a natural fabric as it is taken out from the flax plant. The flax plant requires ample care during its development stage as a shortage of fiber elasticity can make it hard to knit. Compared to cotton, linen is pricier and is considered one of the eldest materials.
3. Sheer
This is among the preferable materials during the summer season. It was first introduced by the Britishers. The fabric later made its way to the US. It helps in averting sticking to your body during the hot, sizzling summer day, not like other thick materials. There is some connection between sheer and cotton, which makes sheer a great choice for summers.
4. Khadi
This fabric is created with handspun yarn. It boasts of an incredible intertwine. It brings utmost coziness to the wearer and breathability within the material. To beat the scorching summer heat, you can go for this fabric. You can prefer buying classy and stylish khadi sarees online for summer.
7. Chambray
Chambray is the ideal saree fabric that one picks for the summer season. This is a must-have summer fabric in your closet. Owing to its impression of denims, the fabric is seen as a common saree fabric option during the summer months. If you are looking to buy breezy sarees staples, you can think about buying something of the same fabric.
[ Read - Guide To Buy Classic Banarasi Silk Saree ]
Final Words
Nobody can beat the scorching summer heat, particularly if you wish to put on a typical Indian saree during the summers. Try out some of the Banarasi sarees discussed above as your ideal wedding attire to wear in summer.