Every woman aspires to appear her best on special occasions. Chiffon fabric is sheer and transparent and is used to make various garments, especially for women, like gowns, evening wear, or blouses for special events. This fabric completely enhances your appearance at an event by giving your clothing a delicate and opaque texture. That's why it is the most popular fabric for women's outfits all over the world.
Banarasi brocade on this delicate fabric is the perfect combination for elegance and style. Chiffon banarasi sarees can significantly boost your sense of style if you're going to a special event. Once you wear a chiffon banarasi saree, you can turn your style statement from simple to elegant.
For all occasions, chiffon banarasi sarees are now a top choice for women. Be it a wedding, a celebration, a social gathering, or an office party, females from all parts of the country love to flaunt chiffon banarasi on all occasions. Due to its fabric, it has become their ideal saree type, especially for the winter.
Learn about chiffon fabric
The word chiffon originally came from France which literally means cloth. It was made using pure silk for years. Today used chiffon is made from pure synthetic material-polyester. It is sheer and semitransparent.
The first non-silk chiffon available for consumer use was made of nylon, however, serious problems with nylon as a chiffon textile emerged, and it was again replaced by silk.
After some time, a new type of chiffon was developed from purely synthetic material, which is now a popular material used in the production of chiffon fabric. It resembles the shine and softness of silk, however, it is slightly coarse in texture.
Manufacturers are also trying to make chiffon from rayon or cotton. Although chiffon is also made of silk, it is now considered a rare and expensive luxury textile.
Chiffon fabric is created in a variety of ways depending on the material used to weave this one-of-a-kind textile.
Silk production, for example, includes the breeding of silkworms, softening of cocoons, and reeling of filaments.
Polyester, on the contrary, is made entirely from synthetic chemicals prepared in a laboratory and contains no organic components.
Chiffon is unique from other fabrics because of its manufacturing process rather than the material used to make it. The weaving technique used to make chiffon is known as the alternate S-and Z-twist.
The S-shaped yarn is woven with Z-shaped yarn to create a slightly crinkled fabric that promotes increased flexibility and gives a more textured appearance to the cloth. The way chiffon is woven also gives it a quite coarse feel.
[Know Must Have Banarasi Sarees for Indian Beauties]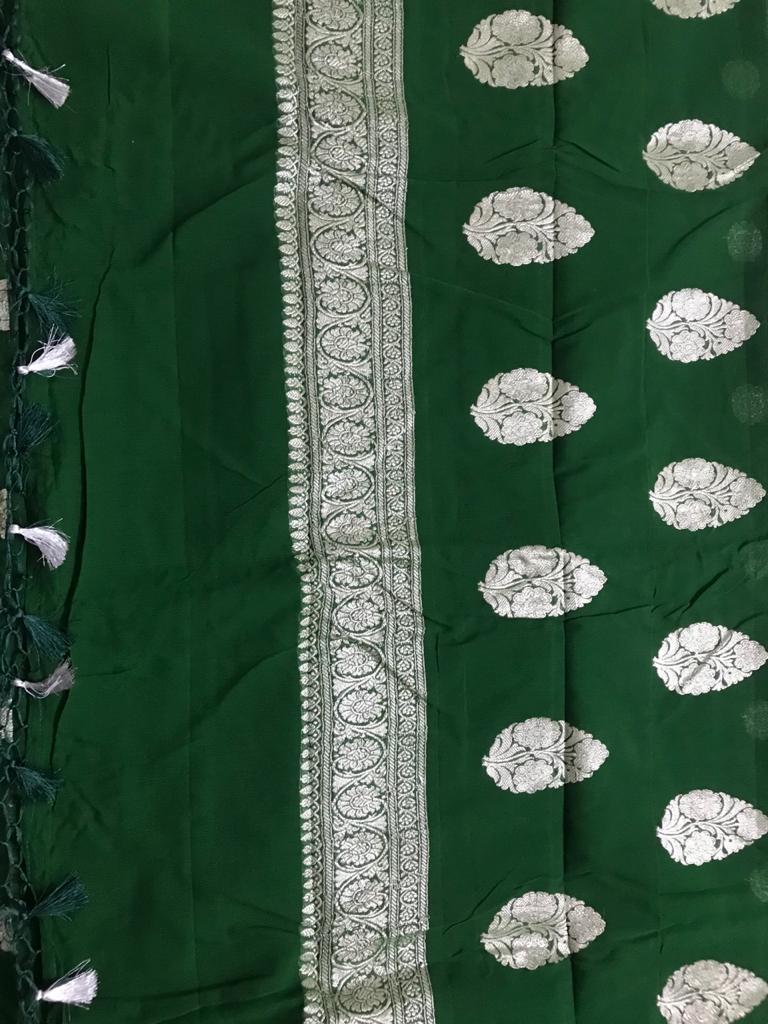 How can your chiffon banarasi saree be styled differently?
Chiffon has a delicate feel and a continuous gloss with complex ornamentation and distinctive designs. Aside from that, they can be styled in any way you want, and their fabric is very supportive of all types of accessories.
Here are some essential tips to help you style your chiffon banarasi differently:
Pair it with flawless jewellery
Enhancing your look by wearing the ideal jewellery with your lovely chiffon banarasi saree is a superb idea. Women typically pair heavy gold and silver jewellery with gorgeous banarasi sarees. However, you can also opt for oxidised jewellery or boho jewellery sets for a stunning look.
To improve the aesthetic of your saree, add a belt
A distinctive belt can help you stand out from the crowd, but a saree that has been draped artistically will help you develop a signature look.
Use a basic saree drape and a belt or Kamar bandh to hold your pallu in place at the waist to achieve the right appearance.
A blazer is an excellent option to pair with
The elegant blouse with a jacket-like pattern will create a contrast in style while enhancing your appearance and looking attractive.
You can try among the various options available like short jacket blouses, high-collared full-sleeved jacket blouses, belted jacket blouses, etc.
Pair your saree with an elegantly embroidered blouse
The quantity of stone, beading, or zari embroidery work applied over an embroidered blouse, done with gold and silver threads, is what gives it its allure. You can even style it with mirror work, Gota Patti work, and stones and pearls.
Even if your saree is basic, these blouses nonetheless look stunning and add grace, making you seem great.
[Read Tips to Style Banarasi Saree]
Benefits of wearing chiffon banarasi saree
You can just count on the benefits you get with the chiffon banarasi saree and know why is it so popular nowadays among women:
These sarees really drape well.
Highly breathable
Are incredibly comfortable to wear
Are suitable for every occasion to flaunt on.
Can be worn for extended periods of time outdoors without worries.
Final Thoughts
Chiffon is considered the most convenient fabric since it is light and airy, does not stick to your body, and offers you a wonderful drape. However, chiffon is somewhat sheer, you need to drape many layers of material. So, you've to look for this characteristic while purchasing a chiffon banarasi saree.
You can buy your chiffon banarasi saree in pastel shades as chiffon works nicely with pastel colours which gives a calm feel. Delicate hues can easily be dyed on outfits because of this quality. Being beautifully polished, chiffon banarasi sarees retain their shine and look glitzy and fashionable for a longer time.
Get yourself a chic chiffon banarasi saree and add this distinctive piece to your wardrobe now.