Banarasi sarees are those graceful, conventional Indian attires whose lasting beauty is mesmerizing. They are so elegant, magnificent, and uniquely crafted that they often get chosen for bridal attire. Banarasis have been worn in our country since the beginning of time.
Fashion trends may come and go, but these gorgeous draperies are always trending. Banarasi handloom gained recognition when the Mughals took reigns and ever since got popularized. The most special part about a Banarasi saree is these beauties never fade away. They always look as exquisite as ever.
Made with pure silk fabric, these elongated draperies are crafted with gold and silver threads. The luster and shine of these luxurious attires are unparalleled. It is inevitable to fall in love whenever one sets eyes on these delicacies.
The overall aesthetic appeal of these stunning sarees has also gained international recognition. A banarasi saree is always the top choice of brides all across the globe. Rich fabrics, heart-winning designs and motifs, lovely zari thread work, and native weaving techniques - this is what perfectly summarizes these delicacies.
It is rightly said that sarees are the identity of Indian women. So let us now look at a list of 9 must-have Banarasi sarees for Indian beauties.
Silk Banarasi Saree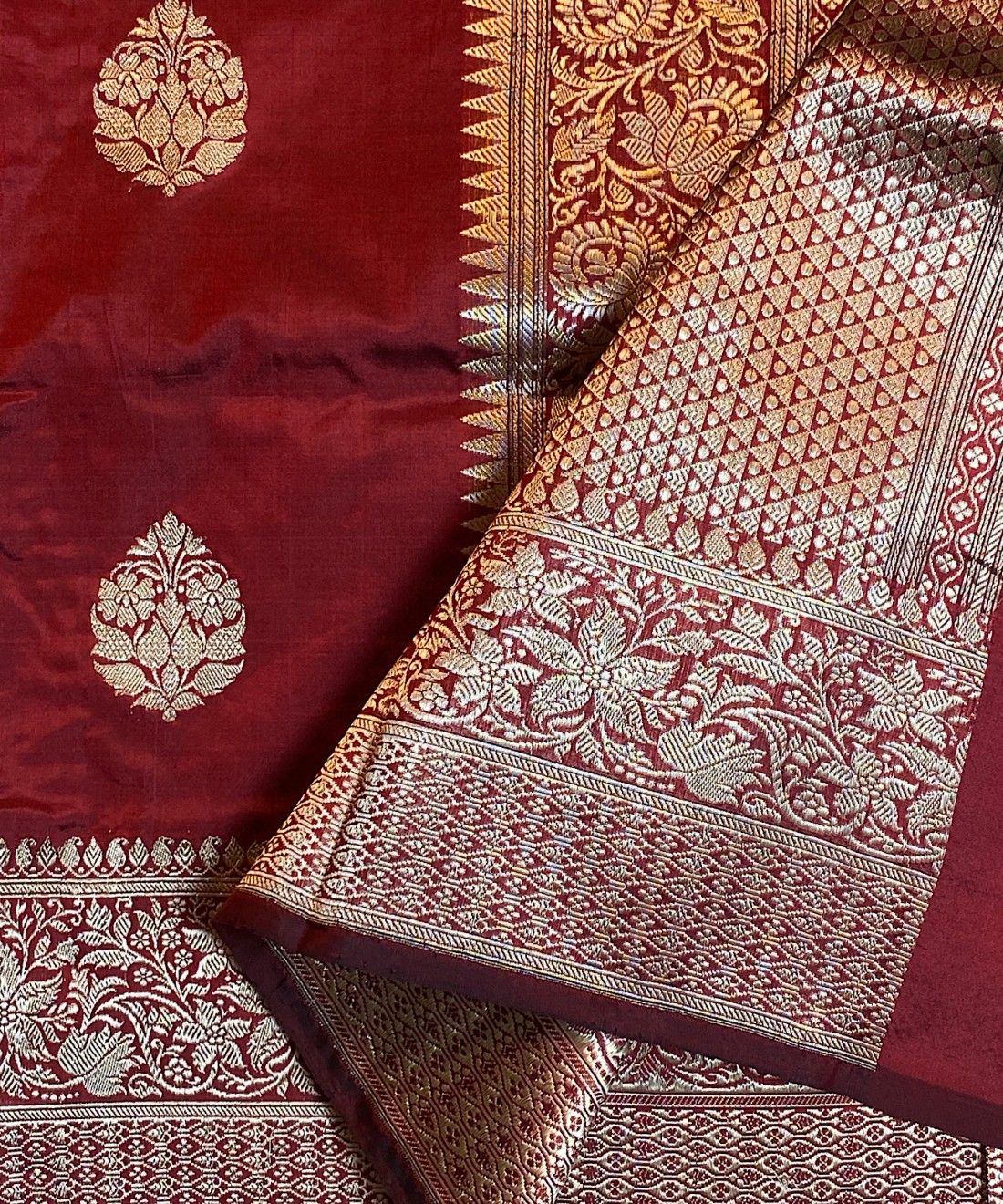 The charm of a Silk Banarasi saree is timeless and lasting. Banarasi sarees are often crafted with pure silk qualities. These gorgeous and tasteful drapes are adored for their spellbinding luster, shine, and grace! Their sheer elegance makes them perfect for various occasions, including weddings and festive celebrations.
In addition, these beauties are available in diverse, vibrant hues. Choose any bright-colored Banarasi saree with eye-catching design work. Style with alluring minimal accessories and relish everyone's undivided attention.
Cotton Banarasi Saree
For those who love comfort paired with style, a Cotton Banarasi saree is the perfect pick. The breathable and lightweight material makes these draperies a top choice among women. This can be your ideal and gorgeous choice for long and busy work days ahead.
Cotton never goes out of style and lends one an effortless look. You can choose to style your Cotton Banarasi saree at any summer event. Be it brunch or important meetings, flaunt chicness with comfort.
Chiffon Banarasi Saree
Nothing enhances the charm of a woman like a Chiffon Banarasi saree. These draperies get widespread love from celebrities and are also their top choices. The way a Chiffon Banarasi saree compliments the body is mesmerizing.
Lightweight material and lasting sophistication are staples of these delicacies. Style yours with a blouse flaunting a stylish cut. Complete your look with statement jewelry pieces and look exceptionally dolled up!
Georgette Banarasi Saree
Georgette Banarasi sarees are perfect for tall and slender Indian women. These tasteful drapes flaunt magnificent borders with antique work. The fabric of these beauties is light and comfortable. These sarees do not require any special maintenance and have an elegant appeal.
Flaunt yours on any occasion, including anniversaries, intimate social gatherings, or anywhere else you like. Give your overall look a defining finish with equally lovely jewelry pieces.
Net Banarasi Saree
If you love and feel confident flaunting your beautiful figure, opt for a net Banarasi saree. The exquisite and voguish net Banarasi sarees are always in trend. The chicness and style they lend to the wearer are unmatched.
These delicacies are available in beautiful colors and designs. Pair yours with any elegant gold or embellished blouse, and look fine! These draperies are perfect for various occasions, including wedding and anniversary celebrations.
Butta Banarasi Saree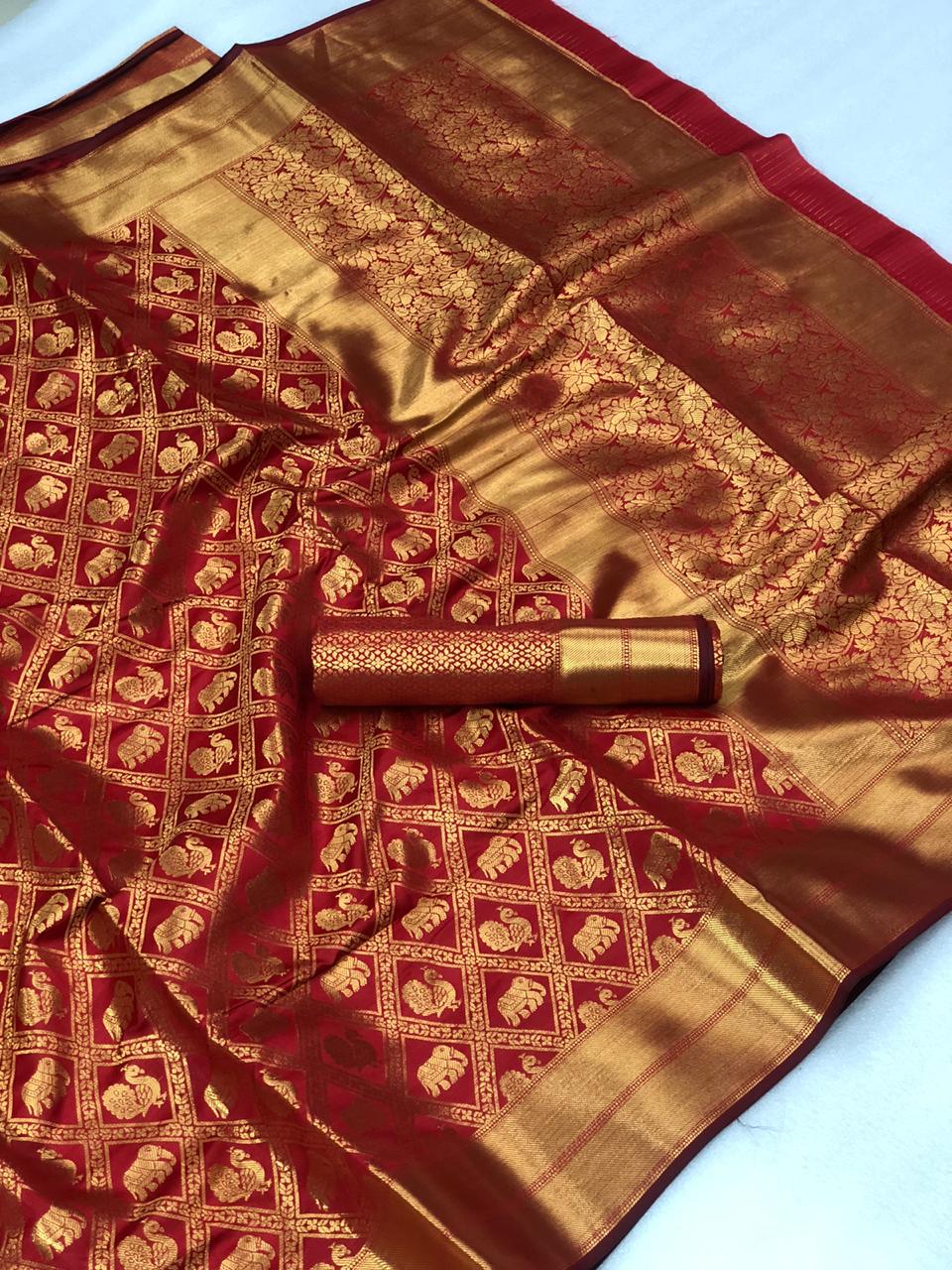 This must-have Banarasi is spellbindingly crafted with tasteful design and motifs. Latiffa, Ashrafi, Jhumar, Jhari, Patti, Angoor, and Baluchar motifs are found on these beauties. These traditional sarees are woven using gold and silver threads.
The richness of these sarees makes them perfect for wedding ceremonies and other festival celebrations. Style these with any subtle blouse, so your saree shines!
Cut-work Banarasi Saree
These sarees are cheaper versions of a Banarasi saree. These draperies are woven with the cutwork technique. Art silk threads are woven with cotton to create beautiful and unique designs.
Marigolds, creepers, jasmine, and leaves are the motifs one may find on these draperies. Pair with stunning accessories and statement pieces and flaunt at social gatherings!
Patola Banarasi Saree
This type of Banarasi saree is known for its unique animal and floral designs. These sarees also feature geometrical motifs and vibrant colors. If you love flaunting exceptionally precious designs and elegant colors, opt for a Patola Banarasi saree.
Style with a contrasting-color blouse and add mesmerizing jewelry pieces. Look timeless as you step in at functions and celebratory occasions.
Zari Banarasi Saree
The specialty of these delicacies is that they are crafted using silver and golden threads. These threads are twisted several times to make the fabric durable and strong.
The borders of these sarees are designed with big tassels, which make them stand out. The luster and shine of these elegant sarees are unbeaten. This is also why they get passed down as heirlooms from generation to generation.
These 9 Banarasis are perfect and a must-have for every Indian woman. Nothing enhances the beauty of the body like a saree. The way these sarees accentuate any figure is praise-worthy.
Final Thoughts
These 9 types of Banarasi sarees are renowned for their lasting beauty and enriching elegance. These sophisticated and tasteful draperies are perfect for various occasions such as weddings, festivals, anniversaries, ceremonies, and even daily wear.
Banarasi handlooms are loved and fondly appreciated in the handloom world. So take cues from this blog and get started on collecting heart-winning Banarasis. Flaunt them oh-so-proudly!