The handloom weaving of Banarasi brocades on Indian looms has had its centre in the sacred city of Varanasi since ancient times. A variety of weaving methods that have been adapted from various cultures and passed down through the ages are used to create banarasi brocades.
Zari embroidery employs metallic threads to produce elaborate and ornate patterns, whereas Banarasi brocade is a fabric style distinguished by its elaborate and intricate patterns, frequently woven with gold or silver threads. These two components would combine to create a gorgeous, opulent fabric that is ideal for special occasions or as a decorative element.
These brocades use a distinctive form of embroidery known as zari, which adds stars to their overall appearance and is adored all over the world. This combination is used to make sarees, lehengas, dupattas, etc which are mainly traditional attire in India. However, these are also employed in the creation of fashionable tops, dresses, and jeans, which speaks volumes about how well-liked they have become in the western world.
[Read along to know everything about this wonderful fusion]
What is Banarasi Brocade?
Banarasi brocade is a fabric renowned for its exquisite patterns, many of which are woven with gold or silver threads. The fabric, which consists primarily of silk, is used to create a variety of other garments, including sarees, lehengas, and dupattas.
Banarasi brocade is frequently worn and gift at special occasions like weddings and other festivals because of its opulent aura. It is valued for its elegance and craftsmanship and is frequently used to make traditional Indian clothing.
What is Zari?
Zari work, commonly referred to as "zari embroidery," is a traditional form of needlework used in India to produce elaborate and decorative patterns using metallic threads. The gold or silver threads are frequently used to adorn fabrics like sarees, dupattas, and lehengas.
Using a special needle and various embellishments like beads, sequins, and pearls, the metallic threads are woven into the fabric to form intricate designs. Zari work is a highly skilled art that calls for a lot of patience and focus on detail, and it's frequently employed to make expensive, elaborate clothes for special events.
Classes of Banarasi Brocades
Banarasi brocades are classified into two types- silk-cotton blend brocades and zari brocades.
Silk and cotton blend brocades: Mulberry silk thread serves as the primary raw material for many different styles of brocade. The fact that silk brocades were manufactured from non-native materials increased their worth in addition to their intrinsic beauty. The exceptional smoothness and lustre of Japanese and Chinese silk threads were well known.
Zari brocades: The gold and silver thread known as zari is used to make Indian brocades. There are two different kinds of zari: Badla and Kalabattu. The former is made using flattened gold and silver wire while the latter is made using gold or silver wire wound around silk/cotton/rayon thread.
The demand for zari brocade has increased due to its traditional appearance, widespread use, and status as a celebrity brand fabric with a number of unique attributes in the fashion industry. Following their fusion with other contemporary patterns and the development of fresh ideas, the fashion industry has begun to emulate these designs.
History of Zari Brocade Weaving
The 19th century is when Banaras' brocade and zari fabrics are first mentioned. It is assumed that silk brocade weaving began in Banaras in the seventeenth century and reached its pinnacle in the eighteenth and nineteenth centuries, thanks to our skilled weavers.
It is believed that the mortal remains of Buddha were also wrapped in banarasi brocade. The lovely floral motifs, patterns, and geometric shapes found in the Gupta-era and murals at Ajanta are similar to those seen in banarasi brocades of the time. The Jamawar shawls of Kashmir and the brocade of Banaras share a surprising similarity since they both used the same pattern motifs.
It was woven in ancient times in the regions of Banaras, Delhi, Agra, Gujarat, and Murshidabad. Royal families favoured banarasi zari brocades because they were so incredibly shiny, opulent, and regal to wear. During the Mughal era, banarasi zari brocade rose to prominence, and weavers began to draw inspiration from one another to create spectacular designs.
Over time, the popularity of zari embroidery spread beyond India and it became a popular technique in other parts of the world, including the Middle East and parts of Europe. Today, zari embroidery is still a popular form of decorative art in India and is widely used to create traditional and contemporary garments and other decorative items.
[Know history of Banarasi Saree]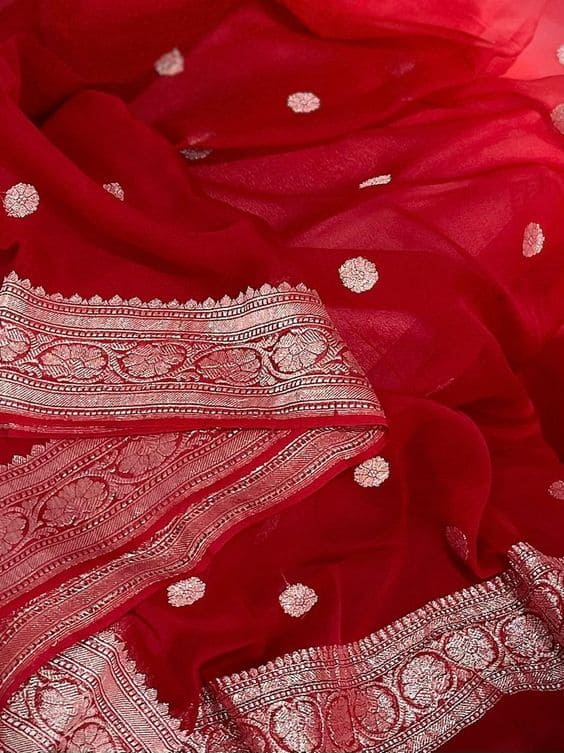 Zari Brocade fabric types
Zari brocades are made using two types of fabrics:
1. Loom finish - Examples of fabrics with a loomed finish include saris, odhani, patkas, pankhas and curtains.
2. Yardage- Yardage is typically used for curtains, upholstery, and dress materials.
Kinkhab or kamkhwab were the most widely used brocade fabrics. Gold and silver thread are used so liberally in this design that the silk background is hardly noticeable. It is mostly utilised for traditional outfits, decorations, and furniture. The world over, sarees and zari brocade from Banaras are quite popular.
Final Thoughts
You now have a better understanding of the story of the banarasi brocade and the zari embroidery on banarasi sarees, which create a beautiful fusion that unites two different worlds- modern & traditional. The exquisite fabrics that have become so popular around the world are made by weaving together warp and weft threads of various colours and frequently different materials. This kind of fusion can also be seen in global trends.
Albeli offers banarasi sarees, suits, and dupattas in pure and distinctively designed banarasi brocades with breathtakingly beautiful zari embroidery for all of your prestigious occasions. Find everything you're looking for right here!