Banarasi sarees have their origin from the city of ghats - Varanasi. From ancient times, these have been popular among the women of different parts of the country due to the unique work of fine gold and silver threads on pure silk.
The intricate brocade designs and motifs not only represent the artistic approach of artisans but also our culture. Earlier, these had been woven by craftsmen themselves and it took months to prepare one saree!
The unique and elegant embroidery on Banarasi silk sarees has made them flourish in the markets with a long range of varieties available. That's why these have been a popular choice of Indian women to wear on their special occasions, especially on their wedding day.
Here Is A Quick Guide For You To Know Everything About Banarasi Silk Saree:
Types Of Banarasi Silk Sarees
The designs on Banarasi silk sarees such as bel, jhallar, kalgi, are inspired from the Mughal period. The artisans use fine silk fabric and weave it by using silver and golden threads, which also make these heavy; the work of zari is also quite complex but beautiful.
These sarees have witnessed various transformations through decades but have remained eternal with their grace. From north to south or east to west, the Brides-to-be prefer wearing a Banarasi saree for their wedding as it makes them stand out from the crowd due its unique designs and gorgeous looks.
Here, are given a few types of Banarasi silk sarees to help you choose the best one for your special day.
Ektara- Ektara meaning single thread is a type of saree weaving technique that uses a single thread to weave the complete saree. It uses multi warp and the five treadle technique. It takes hours of human labor and expertise to create desired designs on its muslin fabric.
Kadhwa-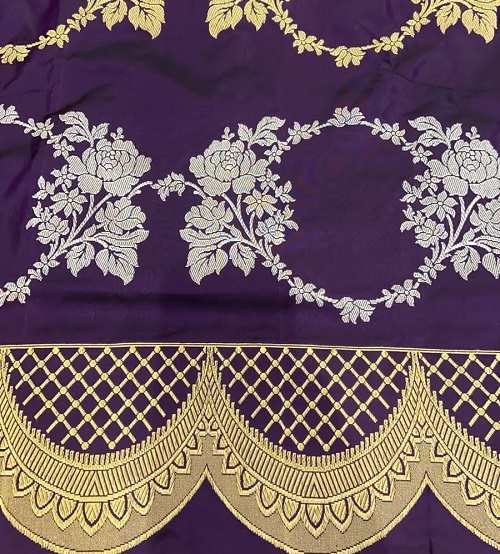 This type of weave really takes a lot of effort, labor and techniques. It requires deep artistic knowledge of artisans and time of months. The base warp fabric is woven by adding extra wefts on the surface. No loose floats come out of the fabric.
Kadhiyal- Its a traditional technique in which changes in warp and weft are used on borders or anchal .The work on borders is different from the entire work on the length of the saree.This makes it look contemporary and good.
Katruwan- The katrawun or cutwork style is a handloom style that uses extra added weft to craft a particular pattern or design on the fabric. It is distinct from other types of Banarasi sarees.
Minakari- Minakari is an age-old beautiful art which had later been used on sarees. It is made with the use of colorful resham threads and can be made on any fabric of Banarasi saree. It is such a style that earns the most gorgeous looks to the saree.
Phekwa-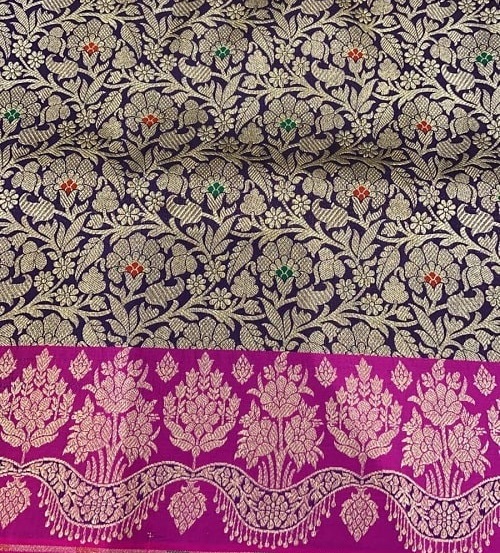 This is a weaving style where single silk yarn or zari is used with a multiple warp and weft technique. Also, it is done on satin or silk fabric creating different surface textures by interlinking threads to each other.
Tanchoi- Tanchoi is the distinct art of weaving the silk fabric using multiple warps and wefts. The patterns of peacocks or parrot motifs and birds in flight are made. These are famous for their small and extremely fine patterns, also, extra threads are used to make it look embroidered. This can be an instant go-to choice for weddings.
Trending Colors Of Banarasi Silk Saree That Most Brides Opt For
With the wide range of fabrics and designs available in Banarasi sarees, apart from the traditional red banarasi saree for weddings, most brides go for different color variations for their wedding, like yellow, green, ivory, purple, pink, etc. Plain silver saree and fine golden work is also in trend among brides. You can get these sarees from Albeli- top rated Banarasi saree manufacturer in Varanasi.
Maintenance Of Banarasi Silk Sarees To Enhance Its Longevity
This wouldn't be exaggerating to say that Banarasi saree is a must-have in your wardrobe if you love to wear sarees on different occasions. But these sarees are to be especially taken care of, so that they do not lose their aura, lying in your wardrobe for long times.
Here are some tips to carefully handle these gorgeous sarees at your home:
Do not leave your Banarasi sarees packed or hung in your wardrobe for long times. These should be aired sometimes not to get permanent creases or rough texture.
Try not to wash your sarees at home. These can be better dry washed so that their fabric doesn't get rubbed.
While ironing your saree, the temperature should be taken care of and kept at low. Although, steam ironing would be better to skip trouble.
The saree should be kept in a saree pouch to prevent it from getting damaged.
Try not to spray perfume directly on your saree which may lead to non washable stains.
Buy Banarasi Silk Saree For Brides
Now that you have all the essential information about the elegant Banarasi silk sarees, nothing should stop you from purchasing one for your wedding. You can visit one of the best Banarasi saree shops in Varanasi and satiate yourself with the most graceful collection of banarasi silk sarees that you may have seen ever.