The Banarasis are unparalleled fabrics, renowned for their dazzling textures, magnificent brocades with an etched appearance, and exquisite zari embellishments that have been liberally soaked in centuries of tradition. Since they were once only produced on handlooms, they have grown to be an important part of the Indian handloom industry.
Banarasi brocade production calls for the flawless blending of traditional and contemporary artistic designs and patterns with highly skilled weaving techniques that have been passed down through generations.
Albeli's rich Banarasi weaves feature vivid colours and intricate tapestry-like motifs all over the length of the delicate silks, which you can't take your eyes off.
Cultural Importance Of Banarasi Weaves
Banarasi sarees originated in the holy city of Varanasi, and since then, they have undergone numerous changes in terms of fabrics and patterns. A number of methods, like hand weaving, hand embroidery, and printing, are used to create the sarees. The intricate designs and patterns on the sarees frequently take inspiration from traditional Indian motifs and symbols, such as those that feature flowers, animals, and deities.
Banarasi sarees are admired for their beauty, artistry, and cultural significance and are a significant component of Indian culture. They are renowned for their elaborate and decorative patterns, which are frequently made with natural silk, gold, and silver threads, as well as other luxury textiles. Each Banarasi saree takes several weeks or even months to make, and the procedure requires a great level of skill and labour intensity.
In India, banarasi sarees are seen as a mark of elegance and prestige and are frequently worn during weddings, festivals, and religious celebrations. Banarasi sarees aren't just renowned in India for traditional dress; they're also becoming more well-known abroad as a fashion statement and cultural icon. Women in South Asia don them to celebrate and honour their ethnic backgrounds.
Trending Banarasi sarees for brides
Every woman looks fantastic in banarasi sarees, regardless of age. Pure banarasi silks are not an option only to wear to other's weddings but you can also flaunt them on your own special day. Modern-day brides are frequently opting for this spellbindingly beautiful piece as their wedding attire.
To give you an idea of the versatility of these exquisite delicacies, here is a list of currently popular bridal banarasi sarees among new-age brides.
[Know Must Have Banarasi Sarees for Indian Beauties]
A stunning red Katan Banarasi saree
Katan is pure silk which is known for its soft and glossy texture. Katan Georgette, Summer Silk, or Silk Georgette, is a variant of Katan Silk fabric. A red Katan Banarasi saree embodies both tradition and modernity and its royal appearance is complemented by its stunning appearance. You can also opt for red banarasi saree in different fabrics as you please.
You can style a red bridal banarasi saree in the following ways:
A red saree with a golden design with a border in contrast, for example, will look good with a gold choker set, which will also give the outfit a touch of modernity. You could also put your hair up in a bun and embellish it with red flowers to improve the look.
Wearing it as a lehenga is another option to dress up this lovely outfit. So you may just use the pallu to cover your head while accessorizing with meenakari jewellery. You can add that much-needed bridal look with a teeka and a hoop nose pin. For the lehenga style, you can also wear a second dupatta with your hair loose.
Organza Banarasis embellished with zari and silk
A saree made of organza silk is more than just a traditional weave. It is hand-crafted from handloom and embodies grace, luxury, and unmatched refinement.
An organza banarasi saree needs to be draped with additional care because of the fabric. The secret is to emphasize the saree's fall to make your outfit look better. Here are some pointers on how to properly drape an organza saree.
An organza saree widens at the turns the more you fold or pleat it. Recall minimizing the number of pleats for a gorgeously streamlined profile.
Do not fold or pin up the pallu; instead, let it hang gently over your shoulder.
Tanchoi Banarasi Saree
Tanchoi textiles are produced using brilliant colours and a weaving method that makes use of a number of silk strands. Figures of flying birds paired cocks, and floral sprays are common in Tanchoi saree patterns. Flowers and flower-filled baskets are embroidered all over the body of the saree.
Tanchoi silk sarees are also embellished with stunning floral, geometrical, and paisley patterns inspired by Chinese and Indian designs, which give them a fittingly traditional and refined appearance for a wedding outfit.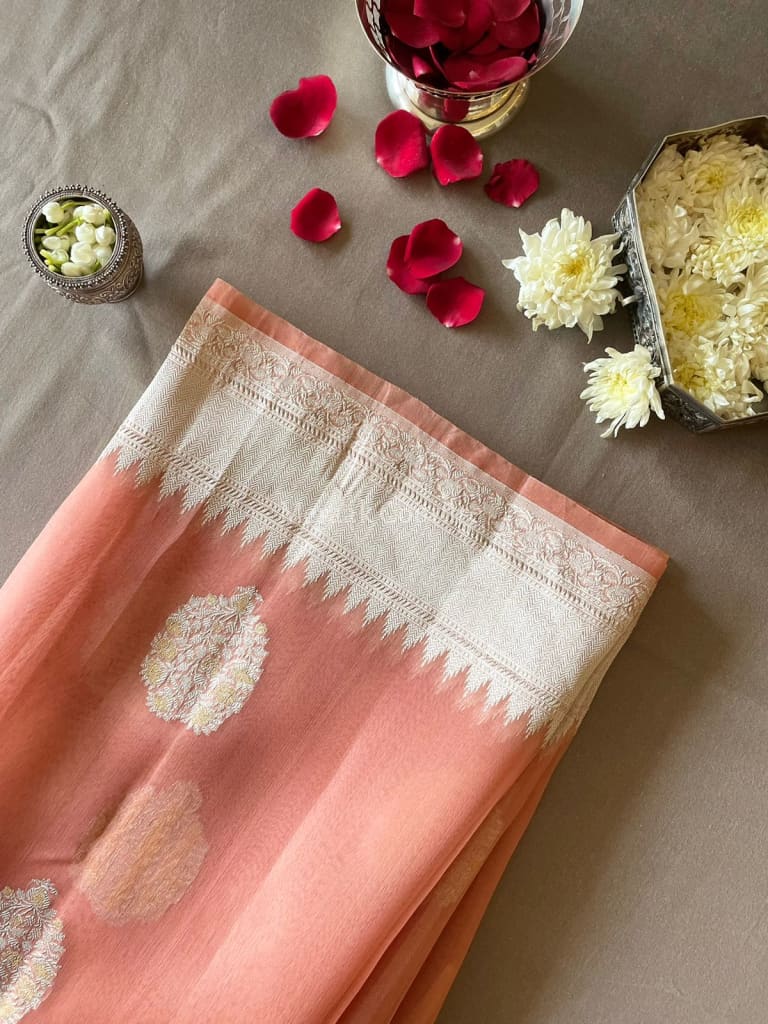 Jangla Banarasi Saree
The Jangla Banarasi saree has leaves and other botanical designs and motifs. It is covered in elaborate designs and dense patterns inspired by 'Jungle' inspired lifestyles. It is a popular and traditional Banarasi saree that most brides-to-be choose for their wedding day which gives them a perfect classy look.
You can buy a jangla banarasi saree in pure Katan fabric or any other fabric of your choice. If your saree has heavy designs on it, try to have minimal jewellery that will complement your bridal look.
Pink, gold, and ivory combination
Pink is a great pick if you don't want to wear red but also prefer not to wear any unusual colours like green, blue, or ivory. Pink is one of the most popular lehenga colours among brides because of the charismatic exuberance it imparts. Gold and ivory are the basic colours that complement almost every shade of pink. Also, you can experiment with your looks with some ideas such as:
Pair a blouse of a different colour.
Get a dupatta of contrasting colours. You can also try having two dupattas in different colours.
Creating a perfect gradient effect by combining multiple shades of pink in the overall saree including the dupatta.
[Read Adorable Kora Banarasi Sarees With Silver Work]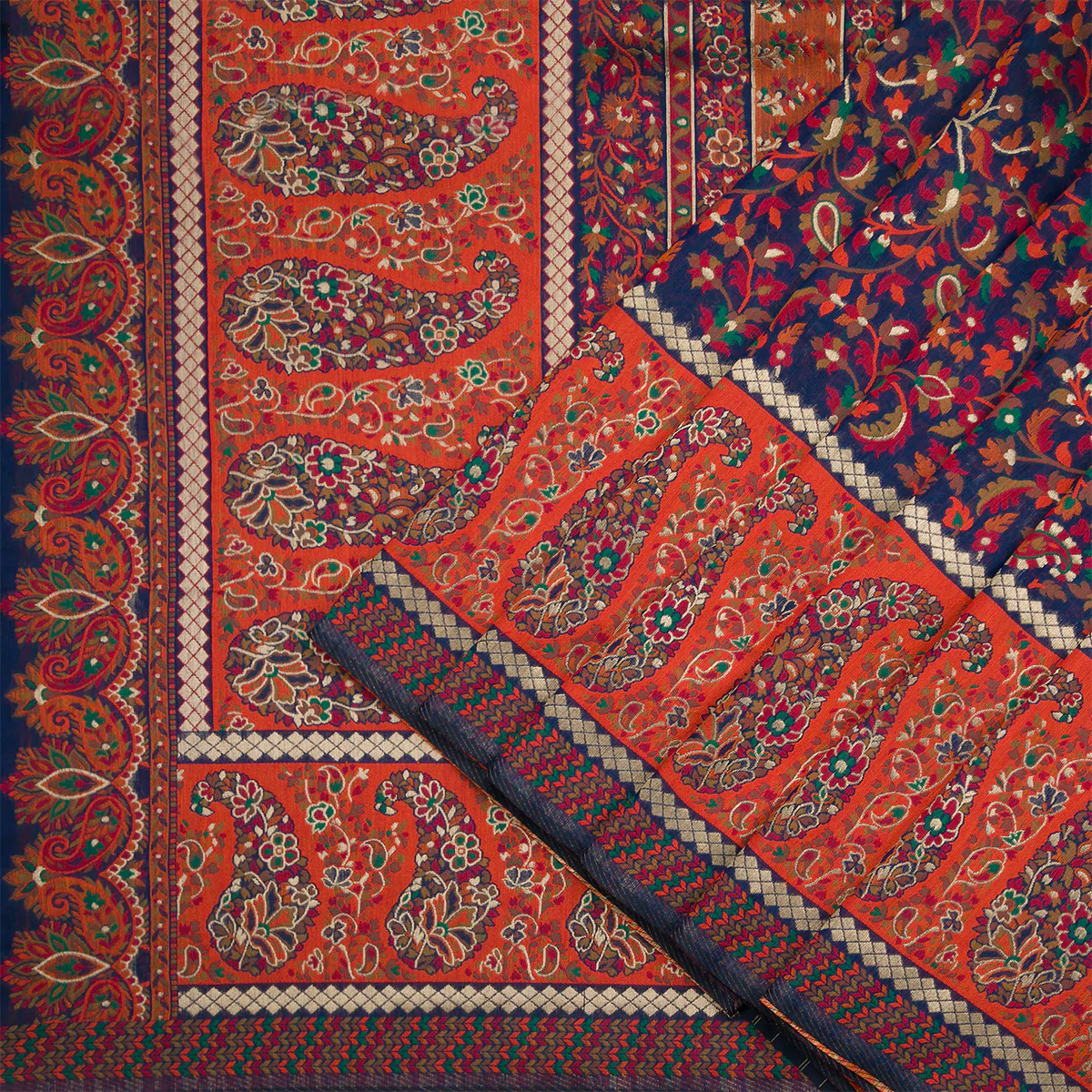 Final thoughts
A banarasi saree significantly upscales your look, no matter what colour it is. There have been brides, including Deepika Padukone and Anushka Sharma, who have worn banarasi sarees at their wedding ceremonies.
It's impossible to deny the fact that new-age brides frequently choose Banarasi sarees over expensive lehengas as their wedding attire due to the elegance and charm these sarees possess.
You now recognize the pride that modern women feel when donning a banarasi saree. You can steal the spotlight on your big day in such regal attire. Without a second thought, get one for yourself now!