Do you often find yourself standing in front of your closet and wondering what to wear? Is it becoming more challenging by the day to figure out your outfit for the event? Well, if you nodded in affirmation, you are probably not alone. This is every woman's story; therefore, we are here to help. If you are wondering how to continue reading further to know more.
While there are several outfits that women across the globe wear, sarees are something very close to our hearts. How can we miss mentioning the evergreen Banarasi sarees when we talk about sarees? Banarasi sarees are those ethereally spectacular attires whose beauty never goes out of style. If you choose to flaunt a Banarasi saree on any occasion, there isn't much need for accessorizing or styling. The innate charm and elegance of these sarees are enough to make you shine, no matter the occasion or place.
When we speak of India, we simply cannot miss out on our beautifully traditional clothes. One of the most embraced attire in our nation is the saree. And what rules the handloom saree world is the elegance personifying the Banarasi saree. These mesmerizingly gorgeous sarees are every woman's first choice for their unparalleled elegance and refined charm. What largely attributes to the beauty of these ravishing drapes is the fine-quality silk used for crafting them. The finish this hand-woven silk offers to these sarees is unmatched and tasteful.
Did you know that Banarasi sarees originated several centuries ago in Banaras? Yes, you read it right! Centuries. And even today, they are just as relevant and adored. Weaving Banarasi sarees is a true art form and a beautiful one. By employing native weaving techniques, these delicacies take days to complete. The heart-winning designs, embroideries, and motifs are to die for. A Banarasi saree does not need much introduction, and neither do you need to think twice before choosing to flaunt one. Be it a wedding, festive celebration, or formal affair; this attire can be styled in any way you like it!
Are Banarasi Sarees Worth The Hype?
Banarasi sarees rule the handloom world and the hearts of women. The refined elegance that takes center stage when a woman adorns it is unbeaten. There is a reason why banarasi sarees remain a wardrobe mainstay decades and decades after their origin. Whether a wedding or a formal affair, a Banarasi saree is what you should select. The heavy embroideries, the traditional touch, and the endearing motifs make them gorgeous. If you are ever confused about what to wear, choosing a Banarasi would be truly rewarding.
Banarasi sarees are those exceptionally gorgeous drapes that show traces of evolution. Since banarasi saree origin till today, they have gone through multiple stages of evolution. One can make out just by looking at these beauties. Banarasi sarees showcase the passion of skilled weavers and artisans who take days and days to finish crafting one such beauty. The eye-pleasing and intricate designs are the specialty of these sarees and also make them truly unique and timeless.
The vibrant Indian culture and Banarasi sarees go hand in hand. Believe it or not, these delicacies are essential to our rich culture. The colorful hues, timeless designs, embroideries, and Mughal-inspired motifs make a lovely mix. Banarasi sarees are available in various colors, designs, needlework, and ranges. These magnificent beauties get chosen over multiple new and emerging fashion trends, and their history is proof!
Banarasi Sarees and Their Unparalleled Charm
Banarasi sarees are undeniably one of the most gorgeous and traditional attires worn by Indian women. These lovely drapes, when appropriately styled, enable a woman to express her beauty the best. As a woman, you can style these sarees in countless ways that resonate with your style and taste. No other outfit or fashion trend matches the charm and elegance of Banarasi sarees. Even after centuries of their origin, these handloom queens are still trending. Have you wondered why? The earthy and conventional touch associated with these sarees is what the new-age woman craves. And nothing offers it like a Banarasi saree!
Banarasi Sarees and Unique Styling Ways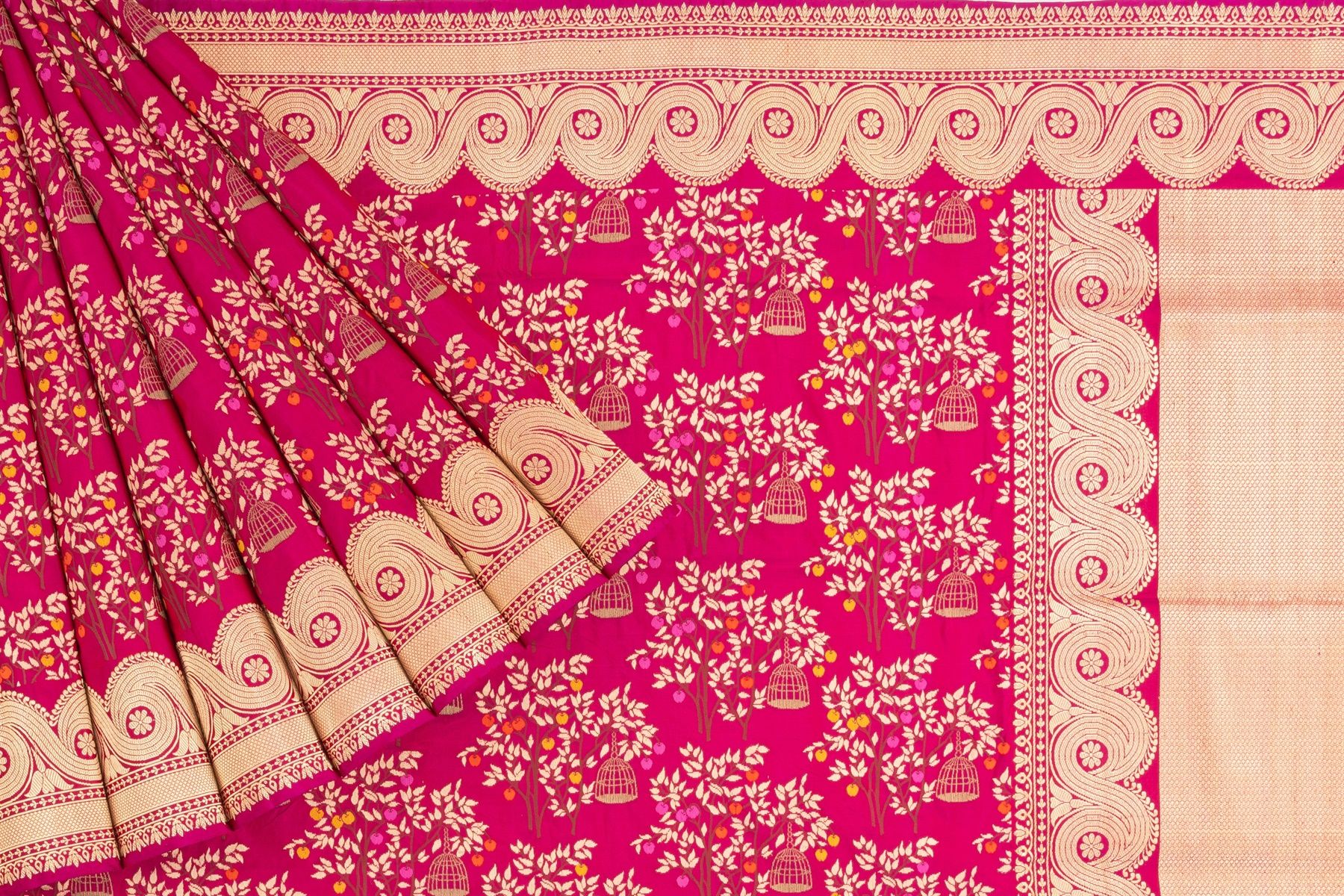 Nothing celebrates and appreciates a woman's body like a saree, and we are sure your favorite is none other than the Banarasi. Banarasi sarees have their roots in Banaras but are worn across the country in different ways. You will find women adorning themselves in these beauties in several parts of our nation uniquely. Nothing looks off about a look when styled to make you look beautiful and feel good about it.
We will now throw light on the unique ways in which you can style your Banarasi saree and look elegant as ever:
Monochromatic Banarasi Saree Look: Banarasi sarees are so innately heavy and embroidered that they hardly need any external help. If you love dressing subtly and do not want the beauty of your saree to be outshined, we suggest a monochromatic look. Style your Banarasi saree with a same-shade blouse and flaunt a classic and subtle look. Nothing comes close to the beauty of a classic look, and this monochromatic look is proof!

Contrasting Banarasi Saree Look: Other than monochromatic looks, some women like to go all out with their looks. If you fall in this category, style your Banarasi saree with a contrasting-color blouse and flaunt a tastefully unique look. A contrasting-color blouse enhances the elegance of the overall look and adds a pop of color to it. This way, you enjoy the best of both worlds!
[Read What Are Trendy Colour Combinations in Banarasi Saree?]
While these are two basic Banarasi saree looks, they can be styled in several other ways. You just have to feel comfortable and beautiful in them no matter what or how you style them. Many women prefer to add accessories along with their Banarasi sarees to enhance their look further. You can even style it with a waist belt, scarf, jacket, and more. It all depends on your taste! All in all, a finely-donned Banarasi saree look never disappoints. Try it for yourself! Albeli is a well known brand of Banaras where you can shop for beautiful banarasi at factory price.