Well, enough has been said about Banarasi sarees. Banarasi sarees are a glorious part of our rich Indian culture. These sarees relish a lovely space in the heart of every woman across the globe. Even though the culture of Banarasi sarees started centuries ago, they remain prevalent in our modern world. These finely-designed attires tell a million stories of their origin, evolution, and popularization. When one sets eyes on these delicacies, one cannot help but be mesmerized by their unparalleled charm and beauty.
Several types of sarees are worn in our country, but none even comes close to the elegance Banarasi sarees exude. Banarasi sarees undeniably rule the saree world. What is thought-worthy is even centuries after their origin, they are still adored and fondly appreciated. These beauties are popular among conventional types and even modern-day women. Banarasi sarees have come a long way. Having gone through centuries, they have experienced several beats of modernization and what we witness today is a mix of modern and conventional touches.
Banarasi sarees, owing to their refined elegance and tastefulness, are widely chosen for weddings and other auspicious celebrations. These beauties, even today, are crafted using native weaving techniques and speak volumes of their history. The intricate embroideries and designs are heart-winning and remind one of our prestigious cultures. One cannot help but feel connected to the roots of our culture. The beauty of these attires is such that they are even chosen as a bridal outfit and are a part of bridal couture.
[Know 12 Timeless Banarasi Sarees For Memorable Wedding]
Other than high-scale celebrations, Banarasi sarees also get selected as everyday outfits. You'd be surprised to know that Banarasi sarees are of multiple kinds. From Katan, Chanderi, Georgette, Tussar, Tissue, and Organza. There are numerous types and options to choose from. Not only are these sarees comfortable, but they are also perfect for casual wear. When in doubt, go with a Banarasi saree! Such is the unbeaten magnificence and grandeur of these beauties. Even the subtlest Banarasi sarees look ethereal.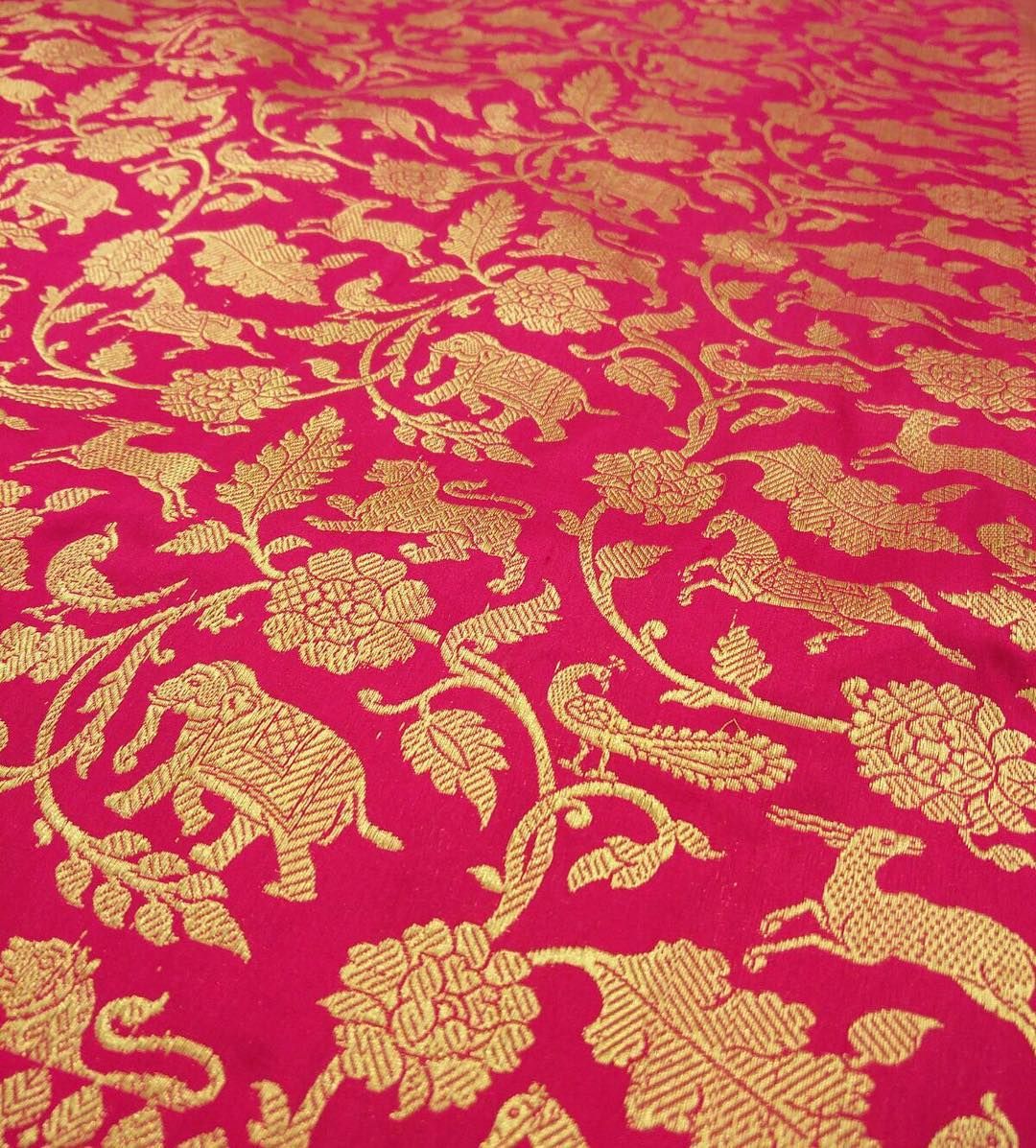 Let us now pin down the best and most comfortable Banarasi sarees that will make for a perfect companion for casual wear:
Lilac Georgette Banarasi Saree:
One of the best colors that scream casual and relaxed is lilac. Our first suggestion is a lilac Georgette Banarasi saree. The Georgette fabric in itself is very cool and free-flowing. The soft touch and light feel of the fabric is genuinely lovely and offers the wearer a tasteful look. Lilac is a beautiful color and elegantly complements the casual vibe. Additionally, it is seamless to accessorize a Georgette Banarasi look up or down, as per your preference. You can flaunt this beauty at various occasions, including office meetings, intimate celebrations, and others.
Lime Green Linen Banarasi Saree
Lime green is another favorite as a casual hue. The color is so subtle and cool in itself. When one sets eyes on it, one cannot help but smile. If you seek a Banarasi saree perfect for casual wear, we suggest a lime green Linen Banarasi saree. This saree makes for an endearing combination of casual and sophisticated. The best part about this saree is it can be styled with various blouse colors. You can choose it according to your taste. A few suggestions for blouse colors include white, black, and hot pink.
Yellow Georgette Banarasi Saree
Do you often wonder what to wear to work? If yes, here is yet another amazing option for you. Yes, a Banarasi saree is a great attire, but if you want to keep your look minimal, you can style a yellow Georgette Banarasi saree. Yellow is a gorgeous color and screams sunshine and all things cool. As discovered, Georgette Banarasi is a lovely and soft fabric. If you aim to flaunt a subtle and casual look, you can go with this one. In addition, to accessorize the look, you can consider styling oxidized jewelry pieces. That will, without a doubt, amp up your overall look!
Pink Banarasi Cotton Saree
We cannot miss the Banarasi Cotton fabric when speaking of casual wear Banarasi sarees. Cotton, as we all know it, defines cool and relaxed. Cotton is the fabric we all choose when we want to flaunt a casual and laid-back look. Even though sarees, in themselves, are extravagant, they can still look subtle. Flaunt a pink Banarasi Cotton saree and look exceptionally beautiful. If "less is more" has a definition, this is it.
Sky Blue Banarasi Cotton Saree
Banarasi Cotton fabric is the fabric you should choose for various occasions. Whenever you need to look dressy as well as relaxed, this fabric is the most suitable one. A sky blue Banarasi Cotton saree is soothing to the eye and comfortable for the wearer. The comfort offered by Cotton and the unparalleled charm of Banarasi makes a lovely combination.
[Read What Are Trendy Colour Combinations in Banarasi Saree?]
How to care for Banarasi sarees for casual wear?
You need to keep several things in mind for Banarasi sarees for casual wear. Banarasi sarees are those evergreen beauties whose charm stays intact even after years. Here are a few invaluable tips that will help you keep them elegant forever:
Do not wash your Banarasi sarees by hand or machine. It is best to get them dry-cleaned.
It is suggested to keep Banarasi sarees in Cotton or muslin bags. Avoid hanging them on metal or steel hangers as they may catch rust and ruin the design completely.
Do not expose Banarasi sarees to direct sunlight. Doing so may cause the design to get ruined.
If you prefer to iron Banarasi sarees at home, always cover them with a cotton cloth while ironing.
It is also advised not to keep Banarasi sarees folded the same way for a long time. It is best to take them out every once in a while, spread them for air, and then fold them differently. This will prevent moisture and cuts.
Final Thoughts

Banarasi sarees are a superb choice for weddings and celebrations and are also perfect casual wear. These delicacies are numerous and can be worn to flaunt a cool look. Albeli already have there 2023 wedding collections in it banarasi saree store in Varanasi, you can visit or contact them for latest collections of banarasi sarees and suit fabric.