The Banarasi saree is a masterpiece of art and culture among the variety of Indian traditional clothing. It has become a representation of grace and elegance thanks to its complex designs, lavish silk, and ageless charm.
The Rani Pink Banarasi saree shines out like a unique type among the wide variety of Banarasi sarees. The colour itself—that deep, rich pink—has a unique charm that's hard to ignore. It's the kind of hue that catches everyone's attention and makes you feel regal instantly. And the intricate patterns woven into the fabric of the Rani pink Banarasi saree add an air of sophistication to your look.
In this blog, we will learn more about the rani pink colour and its significance in Indian culture and also discover how to create a stunning look in a rani pink banarasi saree and where you can flaunt it.
[Know What Are Trendy Colour Combinations in Banarasi Saree?]
Significance of Rani Pink colour in our culture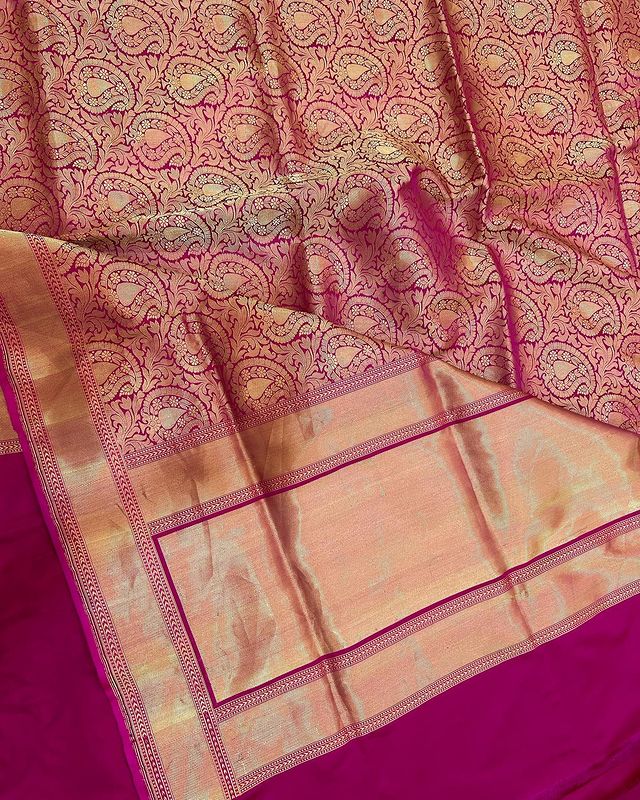 The term "Rani pink" comes from the Hindi word "Rani," which means "queen" in English. And the reason they call it that is that this colour is all about elegance, grace, and feeling like royalty. Imagine the charm of queens from back in the day—that's the vibe it brings.
Rani Pink isn't your regular pink – it's a deeper, richer shade that screams grandeur and joy. This colour can be mostly found at big events like weddings, festivals, and cultural gatherings. It's like a symbol of good times and special moments.
Colours can totally change how we feel. Rani Pink has this cool mix of boldness and soothing vibes. Wearing a Rani Pink Banarasi saree is like wrapping yourself in a colour that brings out your inner strength and makes you shine like a queen.
[Understand The Expansion Of Banarasi Saree Over The Years]
Rock your Rani Pink Banarasi saree look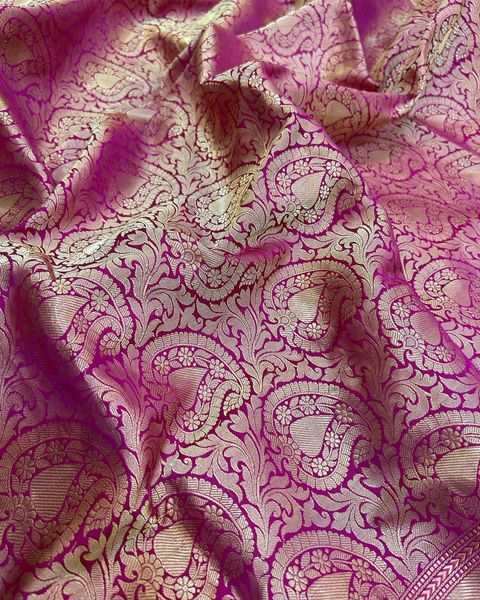 Now, that you've known about the significance of the Rani pink colour and that you can wear it on many occasions, let's look at how we can create a stylish look with Rani pink banarasi saree.
Style it in a Traditional way
Add a dash of tradition to the timeless appeal of a Rani Pink Banarasi saree. Pair it with a contrasting blouse that features elaborate zari or embroidered work. To make the saree the focal point of the outfit, keep the accessories to a minimum.
[Read Tips to Style Banarasi Saree in 5 Attention Seeking Looks]
Try a Modern Fusion
Experiment with fusion styling by wearing your Rani Pink Banarasi saree with an elegant off-the-shoulder blouse or a modern jacket. Any gathering will draw attention to this diverse blend of vintage and contemporary components.
Beautiful Zari Border
The Rani Pink version of the Banarasi saree featuring exquisite zari embroidery will have an amazing look. For a hint of richness, choose a saree with a wide zari border. As you delicately drape the saree, allow the zari designs along the border to sparkle.
Statement Accessories
Add some eye-catching jewellery to your Rani Pink Banarasi saree ensemble. You can feel like the queen you are by adding a regal touch with the help of a choker necklace, jhumkas, and a maang tikka.
[Expert Tips For Styling Jewellery With Banarasi Sarees]
Half-Up Half-Down Hairstyle
A half-up half-down hairstyle will help you look more elegant. This timeless hairstyle updates your overall appearance while enhancing the traditional feel of the saree.
Confidence is Key
The real secret to rocking your Rani Pink Banarasi saree is to wear it with confidence. When you feel good, you look good. Let your inner queen shine through, and you'll effortlessly steal the spotlight.
[Read Popular Styles Of Handwoven Banarasi Saree Among Youngsters]
Occasions to Flaunt Rani Pink Banarasi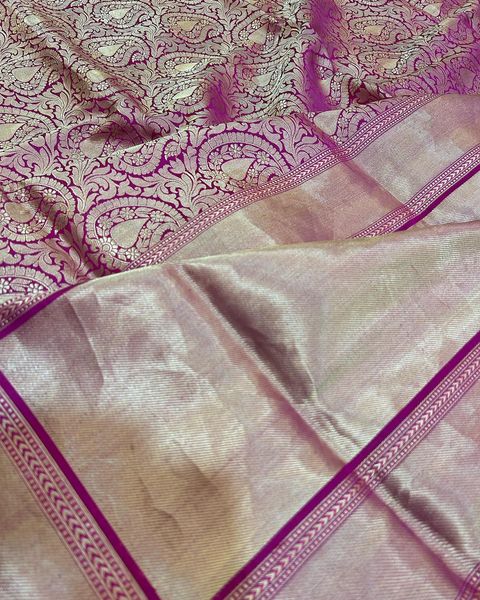 You can don the charming Rani Pink Banarasi saree look on various occasions. Its shade makes it a versatile piece of banarasi saree that can be flaunted at a range of events, such as:
Weddings and Receptions
For weddings, especially evening affairs, the Rani Pink Banarasi saree is an absolute showstopper. Its royal hue and elaborate designs will exude an aura of regal charm, making it a great choice for brides, bridesmaids, and guests alike. The saree's innate elegance aligns perfectly with the grandeur of wedding celebrations.
[Stunning Banarasi Saree Bridal Look For D-Day]
Festivals and family celebrations
Festivals like Diwali, Eid, Navratri, and Durga Puja call for attire that reflects joy and vibrancy. The Rani Pink Banarasi saree's celebratory shade complements the festive spirit, making it an excellent pick for such occasions.
[Timeless Banarasi Silk Sarees For Women For Festive Dressing]
Cultural or Traditional Events
You can don your Rani Pink Banarasi saree at various cultural events, dance performances, and traditional gatherings. This coloured saree will impart a unique look to you.
[Khaddi Banarasi Saree: A Fantastic Combo For Your Next Event]
Cocktail Parties
The Rani Pink Banarasi saree might be your go-to option for cocktail parties if you're looking for a blend of elegance and modern style. Choose contemporary blouse styles to add a dash of fashionable charm.
Final Thoughts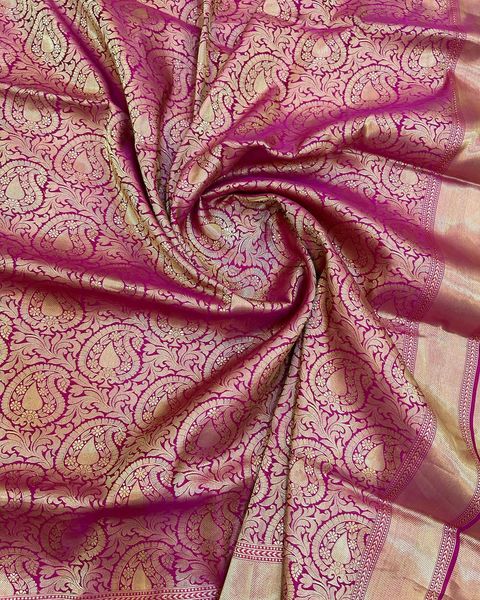 Rani Pink Banarasi saree seamlessly transitions from traditional events to contemporary gatherings, making it a versatile choice for a myriad of occasions. When draped with confidence and paired with the right accessories, the Rani Pink Banarasi saree lets you radiate elegance and captivate hearts wherever you go.
You can explore Albeli's collections of Banarasi sarees in various colours including Rani pink, for any event you want. Get every type from light to heavy sarees with a traditional or modern touch right here exactly the way you want. Start browsing now, or visit our store in Varanasi.