Haven't we all grown up watching our mothers and grandmothers adorning themselves in gorgeous Indian attires? We are sure that you have, just like us all, watched them getting dressed up in tasteful Banarasi sarees!
And at that moment, all of us thought that one day, we would also embrace these one-of-a-kind mesmerising drapes. Yes, such is the beauty of handwoven Banarasi sarees that leaves everyone enchanted and amazed.
Ever since "vocal for local" became trending, the interest of the youth and youngsters began drawing towards Indian culture and its beautifully unmissable aspects. It is safe to say that Banarasi sarees are what truly define our vibrant culture.
The sheer look of these timeless beauties is enough to make people fall in love! Ever since the pandemic hit, the attention of people, especially youngsters, has positively been focused on everything that endorses "made-in-India." And that has widely impacted us all.
When considering the colourful Indian culture, one simply cannot miss Banarasi sarees. These fine delicacies are literally what dreams are made of. The ultra-rich texture, the intricate details, and the spectacular Banarasi weave combine to craft these lovely delicacies.
Now, there is not just one type of Banarasi saree. There are countless, and they can be distinguished based on their fabric, weaving techniques, style, embroideries, and more. A few of these types are wildly popular among youngsters these days and are a must-have in your wardrobe! In this blog, we will discuss what Banarasi sarees you need to have in your closet this season!
[Read about 9 Must Have Banarasi For India Beauties]
The Classic Cotton Banarasi Saree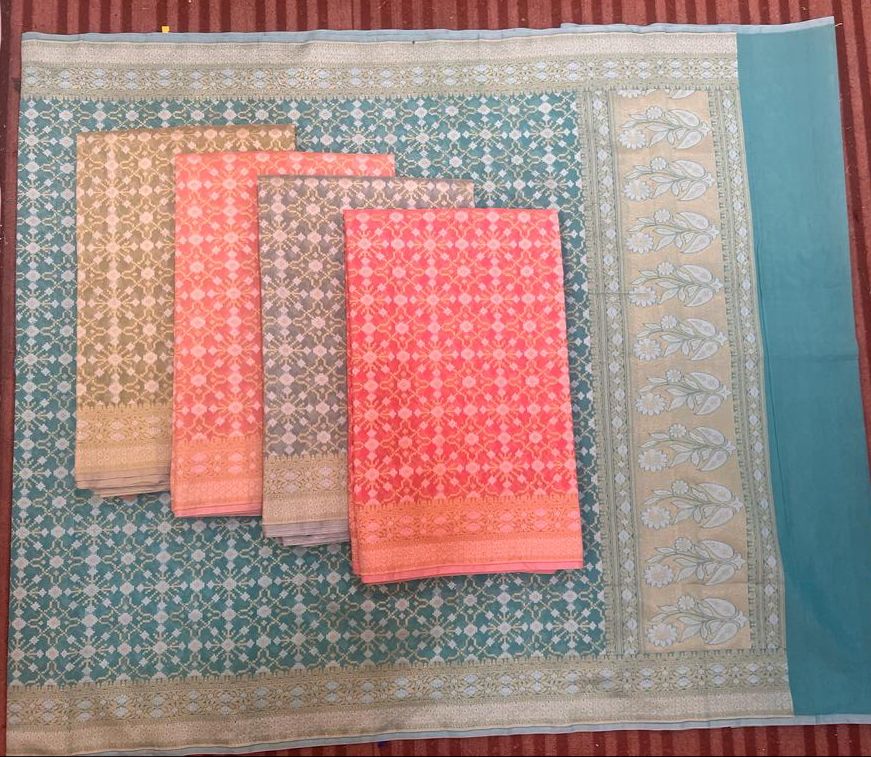 Nothing is more beautiful and looks more relaxed than the classic cotton Banarasi saree. This type of sarees is so soothing yet elegant that they top our list! The subtle, cool-on-the-eyes, soft feel of such sarees makes them a number one choice for youngsters.
These sarees are available in countless summerish colors, including peach, lemon, yellow, blue, and mauve. The immensely soft feel of these sarees and the comfort that they offer is unparalleled. In addition, it is a breeze to style these gorgeous sarees. Easy to handle, free-flowing, and soothing - what more do we youngsters seek? Also, Cotton Banarasi sarees offer the wearer the best of both worlds - the lustre of Silk and the relaxed touch of Cotton.
The Timeless Tissue Banarasi Saree
There is something glamorous about tissue Banarasi sarees. Their shiny and one-of-a-kind texture can identify all these sarees. The glossy and sheen surface of such sarees sets them apart from the other traditional types. The use of golden and silver threads in weaving these beauties enhances their shine and luster even more.
Tissue Banarasi sarees are widely popular among youngsters, especially in pastel hues. These sarees offer the perfect amount of glamour and tastefulness to the wearer. They can be styled for various occasions, including weddings, celebrations, and high-society events!
[Read about Banarasi Grace and Celebration]
​​​​​​The Shimmery Satin Silk Banarasi Saree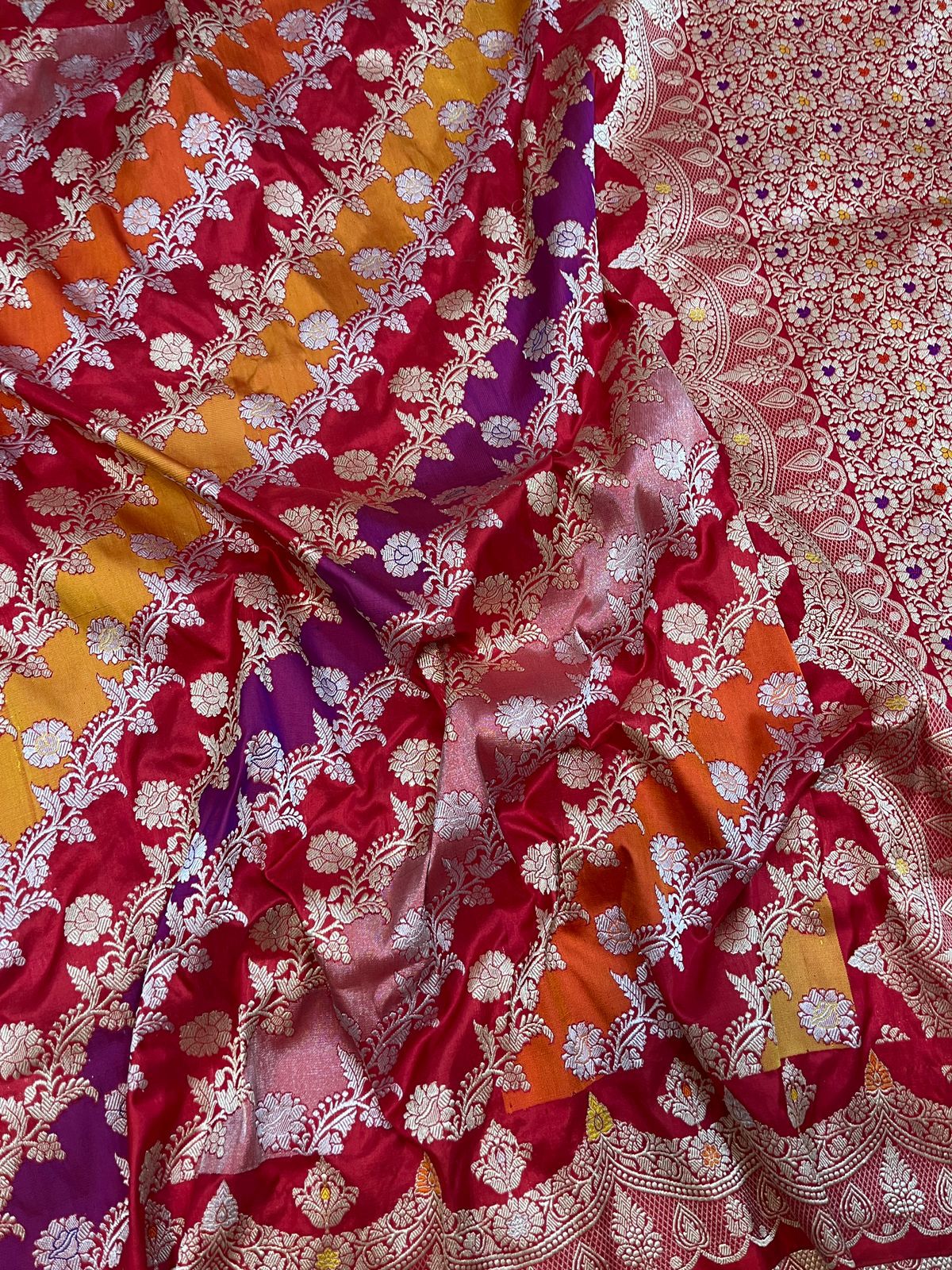 Hey there! Are you wondering which saree you should flaunt at your college farewell? If you nodded in affirmation, here is a perfect solution. Opt for a glossy, shiny, yet chic saree at this event. Style a shimmery satin silk Banarasi saree.
A satin silk Banarasi saree is a tasteful mix of the satin weave and Silk. The glossy, soft, and luxurious look and feel of this fabric are beyond beautiful. You can opt for this fabric and play with unique metallic colors for an unforgettable look. Try styling with a blouse made with a different weave to further augment the elegance of your overall look!
The Comfortable Crepe Silk Banarasi Saree
Have you never worn a saree before and are terrified of handling them? If you sail in this boat, do not worry! Yes, most sarees can be difficult to handle and uneasy; however, not all feel that way.
Crepe silk Banarasi sarees have gained widespread popularity in the last few years. The crepe silk fabric is luxurious and has a smooth texture and sheen. The best part about such sarees is they are easy to handle and can be pleated easily. Such sarees are woven using high-twist yarns. The gold zari buta border is a staple in these beauties.
The Oh-so-gorgeous Organza Banarasi Saree
If you seek a gorgeous and modern saree look, the organza Banarasi saree is an ideal choice. The transparent, uneven, and shiny texture of such sarees makes the wearer look effortless and tastefully adorned.
The organza Banarasi weave is a top favourite among youngsters as it has a contemporary look and feel. Their elegance and sophistication are unmatched and make them ideal for younger generations. These stylish drapes have a lovely appeal and can be styled in countless ways for weddings, cocktails, parties, and other celebratory events.
Katan Banarasi Saree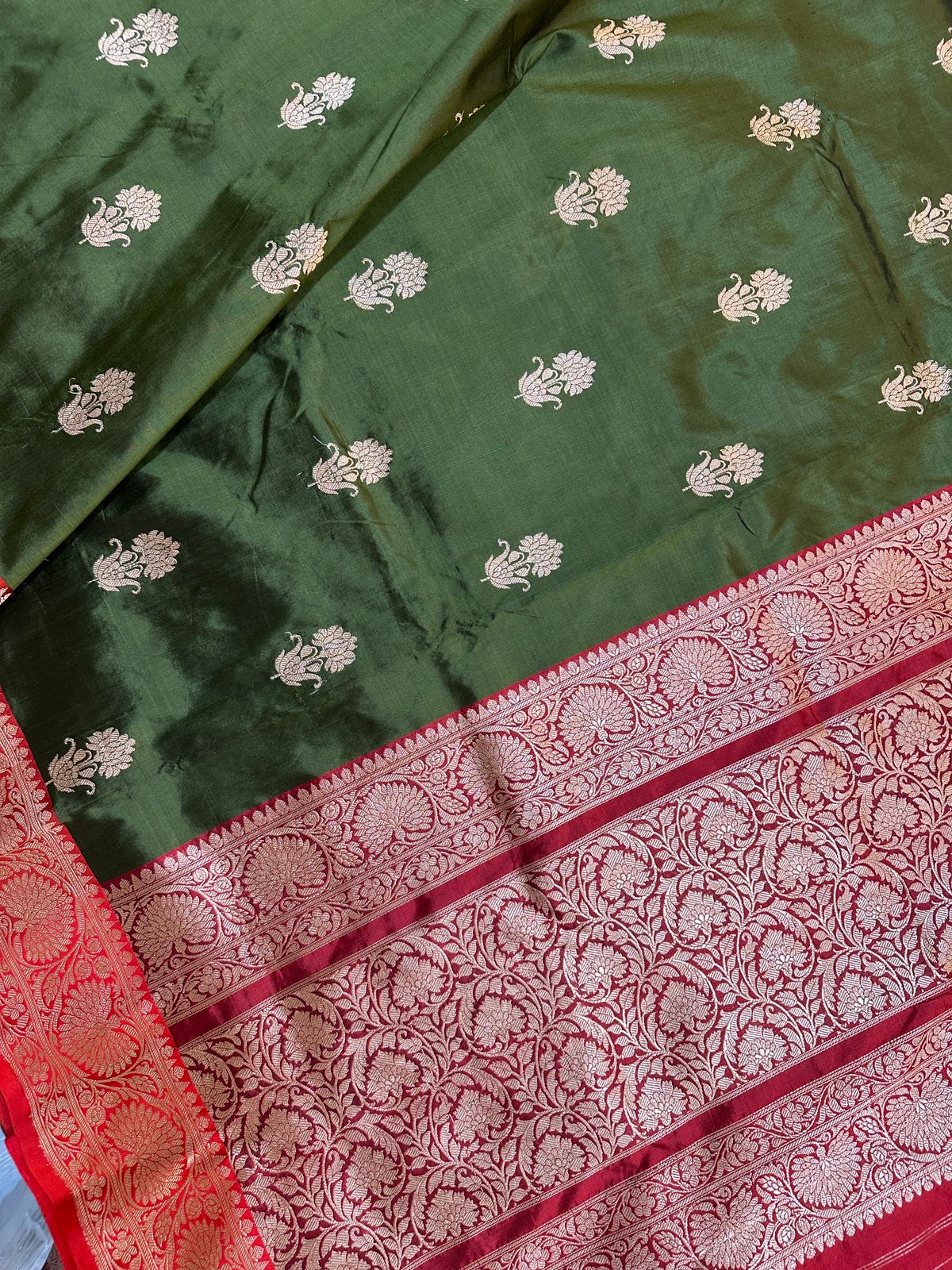 While listing down Banarasi sarees, how can we miss the royalty-exuding Katan Banarasi sarees? There is something so undeniably regal about these draperies that one cannot help but fall for them.
The utterly-rich texture, vibrant colours, and tasteful embroideries of these sarees make them perfect for weddings and festive celebrations. The weave of these sarees is so rich that there is hardly any need to style or accessorise them.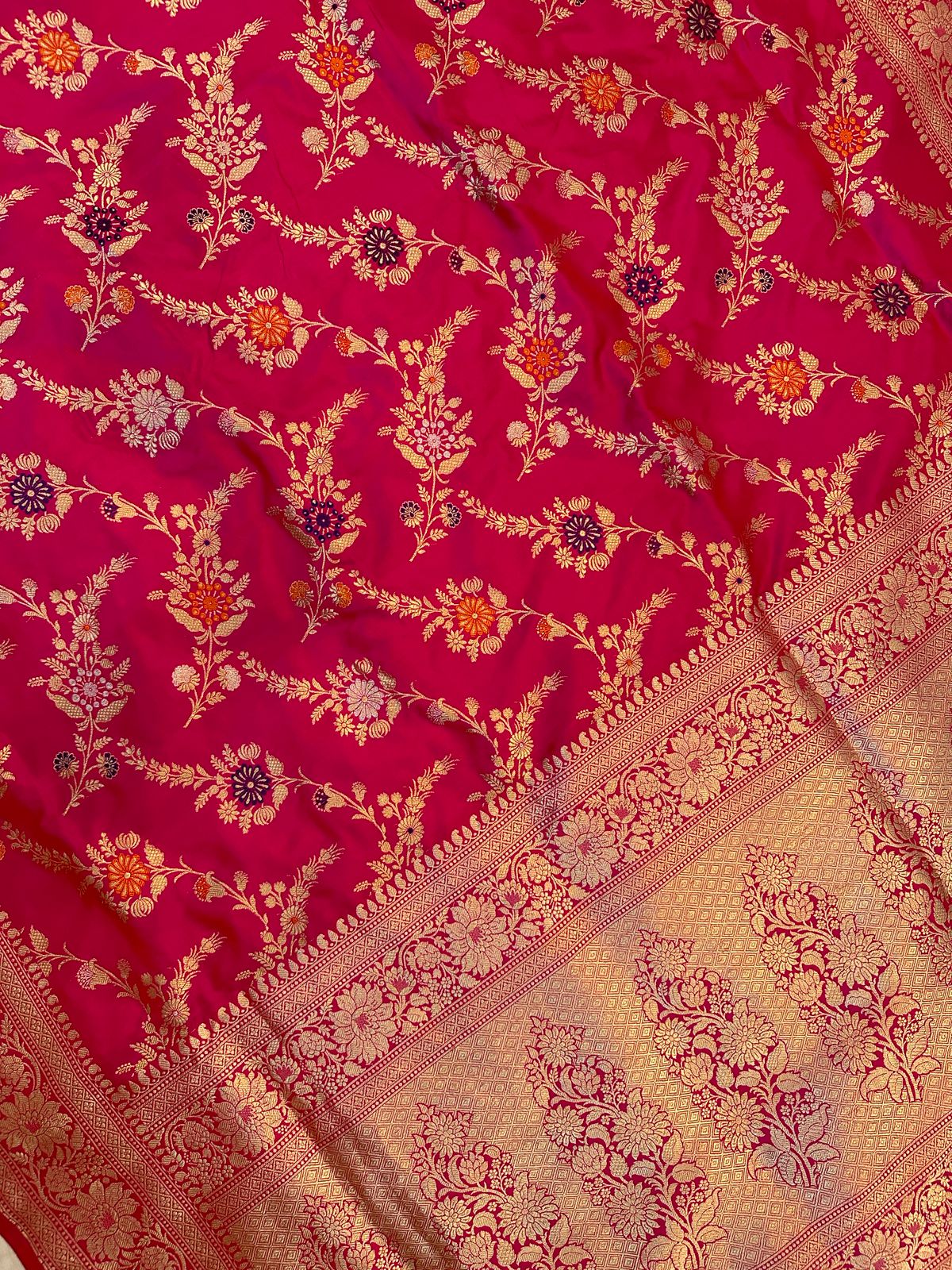 Other than these Banarasi saree types, youngsters can style countless others. These include Georgette Banarasi, Chanderi silk, and Tanchoi Banarasi sarees.
If you are wondering which Indian attire to flaunt at the next event, you must choose the evergreen Banarasi sarees! They are elegant, finely-crafted and make one feel close to the roots.
Final Thoughts
Banarasi sarees are gaining popularity, not just in India but also all across the globe. These supremely beautiful attires deserve to be in your closet and be flaunted on various occasions. Banarasi sarees are those magnificent drapes that defy age. So, regardless of age or event, anyone can style these beauties as per their taste, style, and preferences. You can explore best banarasi saree collection from Albeli, a banarasi saree shop in Varanasi.