Don't we all own such outfits that never go out of fashion? No matter the occasion, time, or era, you can never go wrong with them. Yes, you guessed it right. We are talking about the coveted banarasi sarees.
The history of the banarasi weave goes way back in time. Since the beginning of time, our country has embraced this gorgeously rich fabric and clothing pieces. The one to gain popularisation among these are banarasi sarees.
These tasteful and timeless delicacies are a treat for the eyes and a match made in heaven for all saree lovers.
The earliest findings of banarasi sarees were found in the 14th century. Yes, these beauties relish a massive history. Because of their unparalleled grace and charm, they are adored across the globe.
The best part about banarasi sarees is they can be styled in multiple unique ways. So, if you have a banarasi saree collection in your wardrobe, passed down from your grandmother, it is time to give it a new touch.
Yes, banarasi sarees indeed lend the wearer a traditional look, but it is not always essential to style them conventionally. We will now look at tips to enhance your banarasi saree look.
Banarasi Silk Sarees - Styling Tips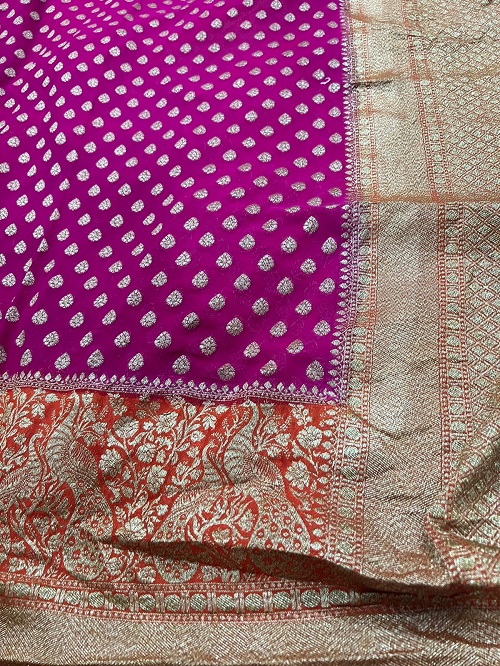 Let us now look at a few styling tips that help create your dreams' stylish and fabulous banarasi saree look. So let us dive right into it.
The traditional way: If you have a big fat Indian wedding on your calendar this wedding season, take our advice and do things the conventional way. Opt for a handloom-rich banarasi saree for the wedding in any bright colour and wear it conventionally. Style a seedha pallu for your look, and finish with statement jewellery pieces. Style your hair in a sleek bun and complete your look with a bindi to add a chic factor.
The Open Pallu: Do we hear wedding bells? A summer wedding? Even better. Flaunt comfort and style as you embrace a banarasi silk organza saree for the occasion. Opt for spellbindingly chic drapery for the event and flaunt in an open pallu style. You can go with a modish yet decent blouse. Maybe a strappy or backless one. Pair with equally modern and stylish jewellery pieces. Do not forget to keep your sunglasses in your matching shoulder bag.
The Bohemian Style: Calling all boho-lovers out there! Social outings and high teas are a part of every socialite's platter. They are frequent, so it can be hard to style them in new ways. Here is a pro tip. Go with a Tussar banarasi saree and spend your time in the lap of comfort and charm. Style your saree like a scarf around your neck and complete your look with silver oxidized earrings to look all things boho. This look will make a cool and voguish statement!
Tighten Your Belt: Another great way of styling banarasi sarees is by styling them with a belt. You can choose a tassel-enriched or embellished belt and pair it with your royal banarasi saree. You can do so at a night function when you need to look all glamorous and sparkling with elegance. Silver statement jewellery pieces such as a pearl choker and chunky earrings would look like a knockout with this look. Leave your hair down for the evening and get showered with compliments for your look!
Dhoti Style: You can style your tissue/linen banarasi saree in a dhoti style for indo-western-themed functions. If a cocktail party is where you must be, style your saree in a dhoti style and enjoy everyone's undivided attention. This dhoti style perfectly combines a chic and contemporary look. You can again opt for oxidized jewellery to go with the look and dress like never before. Believe us; this will be an excellent touch for your otherwise traditional look.
Lehenga Style: Last but not least, the lehenga style is a tasteful way of styling your banarasi saree. You can augment the beauty of your look by pairing your lehenga-style banarasi saree with a matching or contrasting (if you dare) banarasi dupatta. Some traditional jewellery pieces would look lovely with this look. To further enhance the conventional look, a hand-embroidered potli bag, along with a quaint maang tikka, would be a great touch. We love how it sounds!
[Know The Trendy Colour Combinations in Banarasi Saree]
Banarasi Sarees - What To Add Along?
Now that we know how a banarasi saree can be styled, it is essential to understand what goes with the look and what does not. Wrong accessorizing can turn out to be a bummer for the whole look. Here are some helpful tips that may come in handy while styling the banarasi saree in your closet.
If a gorgeous blue banarasi saree is collecting dust in your closet, it is time to take it out in the sun, ladies! Confused about what to pair along with it? Since blue banarasi sarees are heavily rich, there is no need for over-accessorizing. Just some petite Polki earrings and a statement ring would look lovely.
In the case of a parrot green banarasi saree, you have many options regarding the colour of the blouse. You can opt for the same colour as your saree; blue or pink would look great. If your saree has gold work, opt for large gold studs, a gold ring and maybe even a gold choker necklace and bleed royalty.
Imagine a hot pink banarasi saree with silver zari work. We already love the sounds of it. You can style this beauty with a plain hot pink blouse. Opt for an off-shoulder one or maybe even a V-neck one. What would magnify the beauty of this look would be a fragrant gajra. Yes! A garja. Go for it, my ladies!
Saving the best for the last. This will blow your mind. If you wish to enhance the elegance of your look and take it to another level, take a cue. Style your magenta purple banarasi saree with a (hold your breath) jade blue velvet blouse. Yes, you read that right. This look will create fireworks, believe us! The combination of these bright colours would make you look every bit royal and stylish.
[Read Why Should One Shop Red Banarasi Silk Saree For Wedding]
There you go! Take cues from these valuable tips and own your banarasi saree like no one else. Each of these would leave jaws dropping around you as you walk in!