Karwa Chauth, a celebration of love, devotion, and tradition, is just around the corner. It's that special day in Hindu culture when married women fast from sunrise to moonrise for the long life and well-being of their husbands. And, of course, it's also a time when women put their fashion game on point. What better way to do that than by adorning the timeless Banarasi sarees?
Let's explore the different types of Banarasi sarees for Karwa Chauth and some captivating looks for this auspicious occasion.
[Choosing the Perfect Purple Banarasi Saree: A Shopper's Guide]
Significance of Banarasi Sarees for Karwa Chauth
Banarasi sarees are considered auspicious and are often worn during important ceremonies, including weddings. They symbolize the sanctity and longevity of the marital bond, making them the perfect choice for a day like Karwa Chauth, which celebrates the union between spouses.
Karwa Chauth is a day when married Hindu women embrace tradition and adorn themselves with the finest of clothing and jewellery. Banarasi sarees have intricate weaving, vibrant colours, and zari work, being the epitome of elegance and tradition for generations, become a natural choice for this occasion most often.
By choosing a Banarasi saree for Karwa Chauth, you will not only honour the tradition but also connect to its rich, regal aura.
[Why Is Banarasi Saree Expensive? Let's Find Out!]
Trending types of Banarasi Sarees for Karwa Chauth
So, now let's have a look at trending types of Banarasi sarees for Karwa Chauth that you can flaunt on this auspicious occasion making it more special.
Pure Silk Banarasi Saree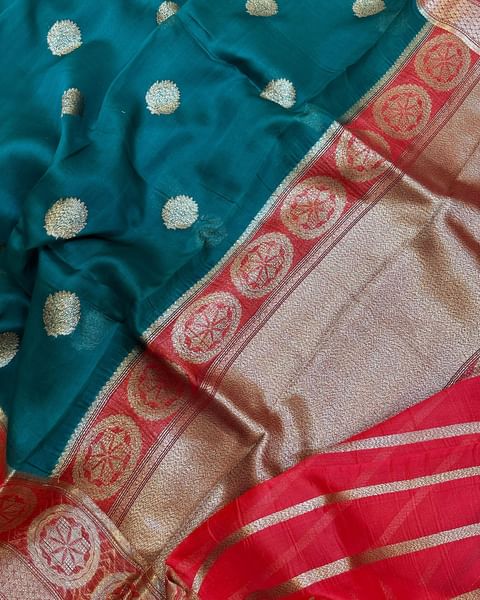 There's a reason why pure silk Banarasi sarees are the reigning queens of the fashion world. These sarees exude an air of regal opulence like no other. The rich texture and intricate zari work create a visual masterpiece that leaves everyone spellbound.
When choosing Banarasi saree for Karwa Chauth, consider getting vibrant colours like deep red, maroon, or lush green to symbolize the auspiciousness of the occasion. The sheer weight and grandeur of a pure silk Banarasi saree make it an ideal choice for this celebration of love.
[How Is Banarasi Saree Made In Varanasi From Scratch?]
Organza Banarasi Saree
For those looking to infuse a contemporary twist into their Karwa Chauth ensemble, the organza Banarasi saree is a splendid choice. These sarees are celebrated for their lightweight and sheer quality, which add a touch of modernity to the traditional Banarasi look.
Soft pastel shades like blush pink, serene mint, or ethereal lavender can make you feel like a modern-day princess. The organza Banarasi saree offers a perfect blend of tradition and modernity for women who seek a unique style statement.
[What is Organza Silk Fabric? Explained in detail]
Georgette Banarasi Saree
Comfort and style are often the top priorities for women celebrating Karwa Chauth. In this regard, the georgette Banarasi saree is a shining star. These sarees drape gracefully so that you can comfortably participate in various Karwa Chauth rituals without compromising on style.
Rich jewel tones like royal blue, emerald green, or deep wine can add an extra layer of sophistication to your ensemble. The georgette Banarasi saree is the embodiment of timeless beauty and practicality.
[Khaddi Banarasi Saree: A Fantastic Combo For Your Next Event]
Half-and-Half Banarasi Saree
It's not necessary that you choose one colour saree always, right?. Get a half-and-half Banarasi saree for Karwa Chauth, a trend that's taking the fashion world by storm. These sarees seamlessly blend two different hues, creating a stunning contrast that's perfect for the festive occasion.
Whether it's a combination of gold and deep red or silver and midnight black, these sarees offer a captivating visual appeal.
[Discover The Banarasi Sarees Suitable For Casual Wear]
Brocade Banarasi Saree
If you're planning to celebrate Karwa Chauth with an evening get-together, the brocade Banarasi saree is your go-to choice. These sarees feature intricate patterns that shimmer in the light, adding an element of mystique to your look.
Dark, enigmatic shades like black, navy blue, or deep purple can elevate your elegance quotient. The brocade Banarasi saree is an excellent option for those looking to make a grand entrance as the moon finally rises.
Fascinating Looks for Karwa Chauth
Now, we will throw light upon the looks that you can achieve from wearing types of Banarasi sarees and styling them well on this special occasion.
The Red Radiance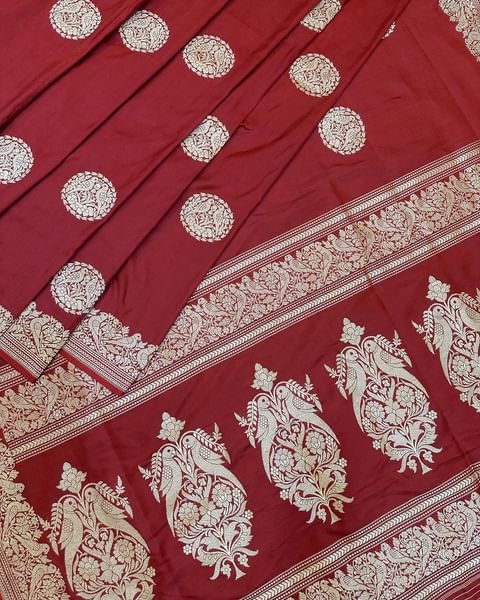 Red Banarasi sarees have always been the top choice for Karwa Chauth. They symbolize love, passion, and the essence of this sacred day. Pair your red saree with heavy gold jewellery, including a statement necklace, chandelier earrings, and bangles.
A classic bun adorned with fresh flowers completes the look, making you feel like a true Indian bride. The red radiance look is timeless and captivating.
Pastel Princess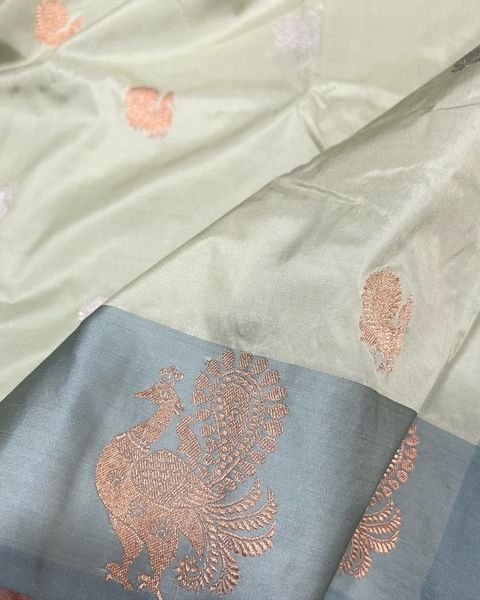 If you're seeking a softer, appearance, consider a pastel coloured Banarasi saree. Pastel colours symbolize grace and serenity. Add a delicate maang tikka, subtle makeup with rosy hues, and loose waves to create a romantic aura. This look channels the inner pastel princess in you and radiates a sense of delicate charm.
Minimalistic Charm
Sometimes, less is more, and simplicity reigns supreme. Embrace the 'minimalistic charm' look by choosing a Banarasi saree with subtle motifs. Keep your makeup understated, with a focus on a flawless base and a hint of shimmer on your eyelids.
Tie your hair into a sleek bun, and adorn yourself with a single statement piece of jewellery, such as a Kundan necklace or jhumka earrings. This look exudes understated elegance and sophistication.
Floral Fusion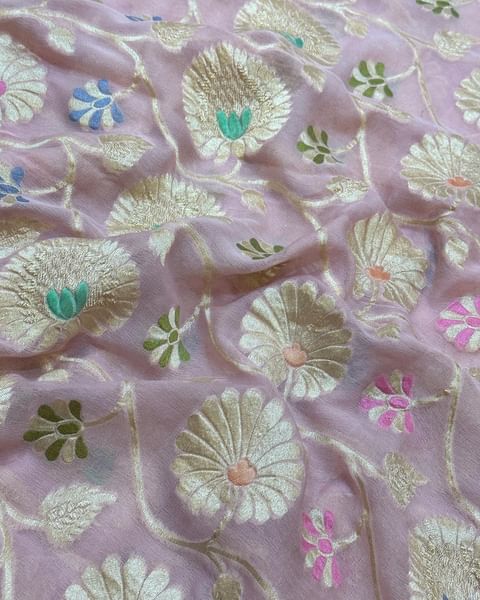 Floral motifs on Banarasi sarees are all the rage in contemporary fashion. Blend tradition with a touch of the garden goddess by selecting a floral Banarasi saree.
Complement this look with a floral bun adorned with fresh flowers and a matching flower garland. The 'floral fusion' look is a vibrant and vivacious choice for the modern woman.
Final Thoughts
Banarasi sarees, with their timeless appeal and exquisite craftsmanship, are the perfect choice to make you feel like a queen on this Karwa Chauth. Whether you opt for the classic red silk or experiment with pastels and contemporary styles, Banarasi sarees will never go out of fashion.
Explore Albeli's collections of gorgeous Banarasi sarees for Karwa Chauth available in multiple colours and designs ranging from traditional to modern and heavy to light in our banarasi saree shop in Varanasi.
This Karwa Chauth, top the trend with Albeli's exquisite Banarasi sarees and make a statement with your favourite look.
May your love and style shine as brightly as the moon on this auspicious night!