There is something about Banarasi sarees and their undeniable charm. Originating from the city of Banaras (present-day Varanasi), these appealing fineries are the top choice of every woman. These graceful sarees are widely adored not only in India but across the world.
They are the embodiment of charm and lasting beauty. It is hard to miss when one walks past these mesmerizing beauties. Banarasi sarees are available in elegant and rich colors. One can make a special day memorable by adorning themselves in these timeless beauties.
Speaking of colors and designs, there are many options to choose from elegant colors, heart-winning designs, and spectacular textures. A pure silk handloom Banarasi saree is the perfect attire for weddings, functions, festivities, and even farewell soirees. So many women across the length and breadth of our nation choose these magnificent attires for their big day.
The richness of these lovely draperies is unparalleled. They have been worn in our country since the beginning of time. They are passed down as family heirlooms from generation to generation.
Young women and girls today choose these exquisite delicacies in elegant and subtle colors. Pastel hues are trending these days and are every bit spellbinding and magnificent.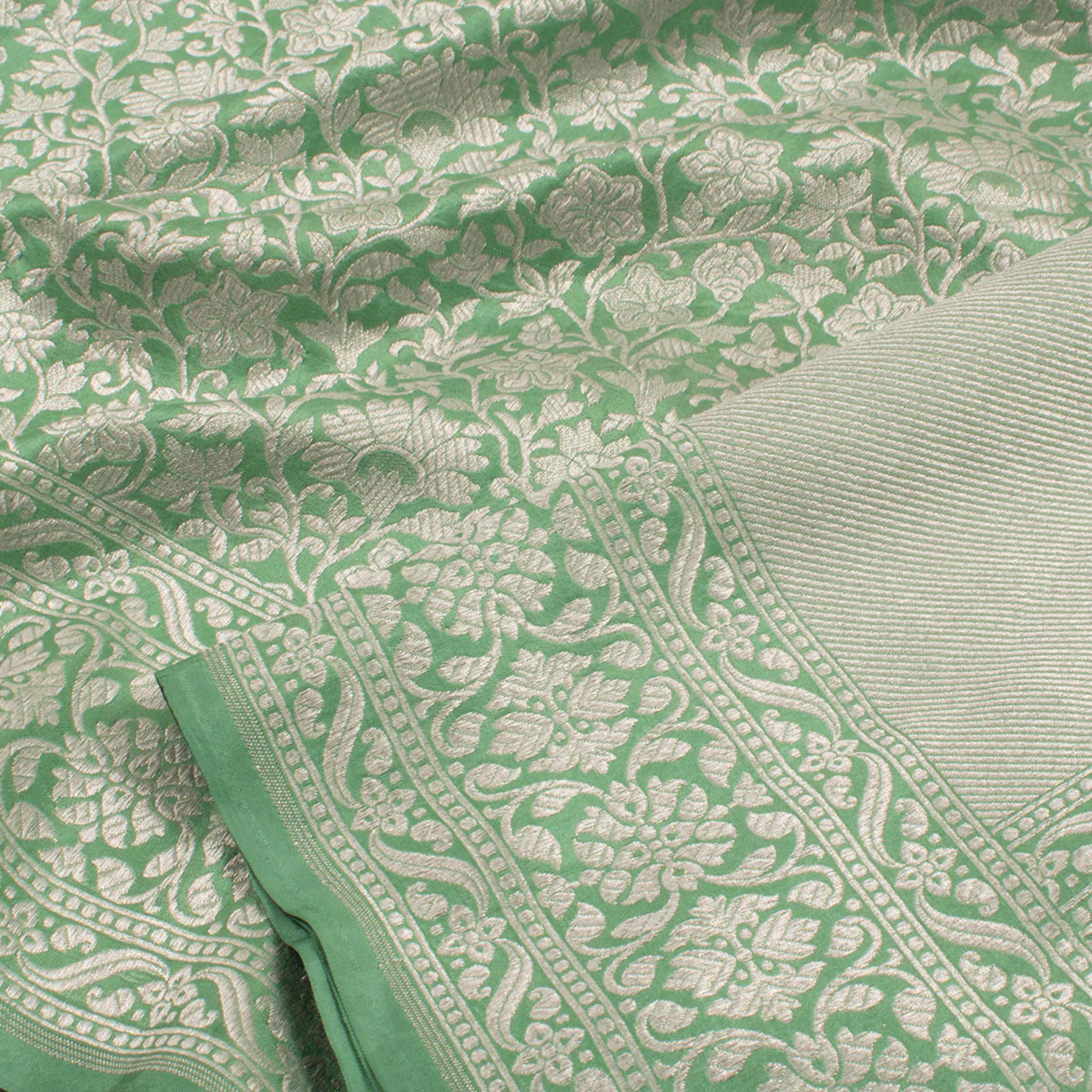 Pastel Banarasi Sarees
Banarasi sarees are available in endless designs, textures, and colors. Among these colors, pastel hues are fondly appreciated for their subtleness and elegance. They are tasteful, sublime, and refreshing.
The overall aesthetic of a pastel Banarasi saree cannot be beaten and is charismatic. The spellbinding charm and eternal grace of these fineries make the perfect attire for any wedding, festive celebration, or other occasion. No matter the time of the day, these delicacies look stunning.
Pastel Banarasi sarees personify comfort, class, and style. These elegant pastel draperies are soothing to the eye and can be worn for fancy occasions and daily wear. There are several pastel shades of these sarees available.
You can opt to style a pastel pink Banarasi saree with an equally subtle blouse for anniversaries or farewell soirees. A pastel yellow Banarasi saree would be well-suited for a Haldi ceremony, while a rich bottle-green Banarasi would look spectacular for cocktails or engagement parties.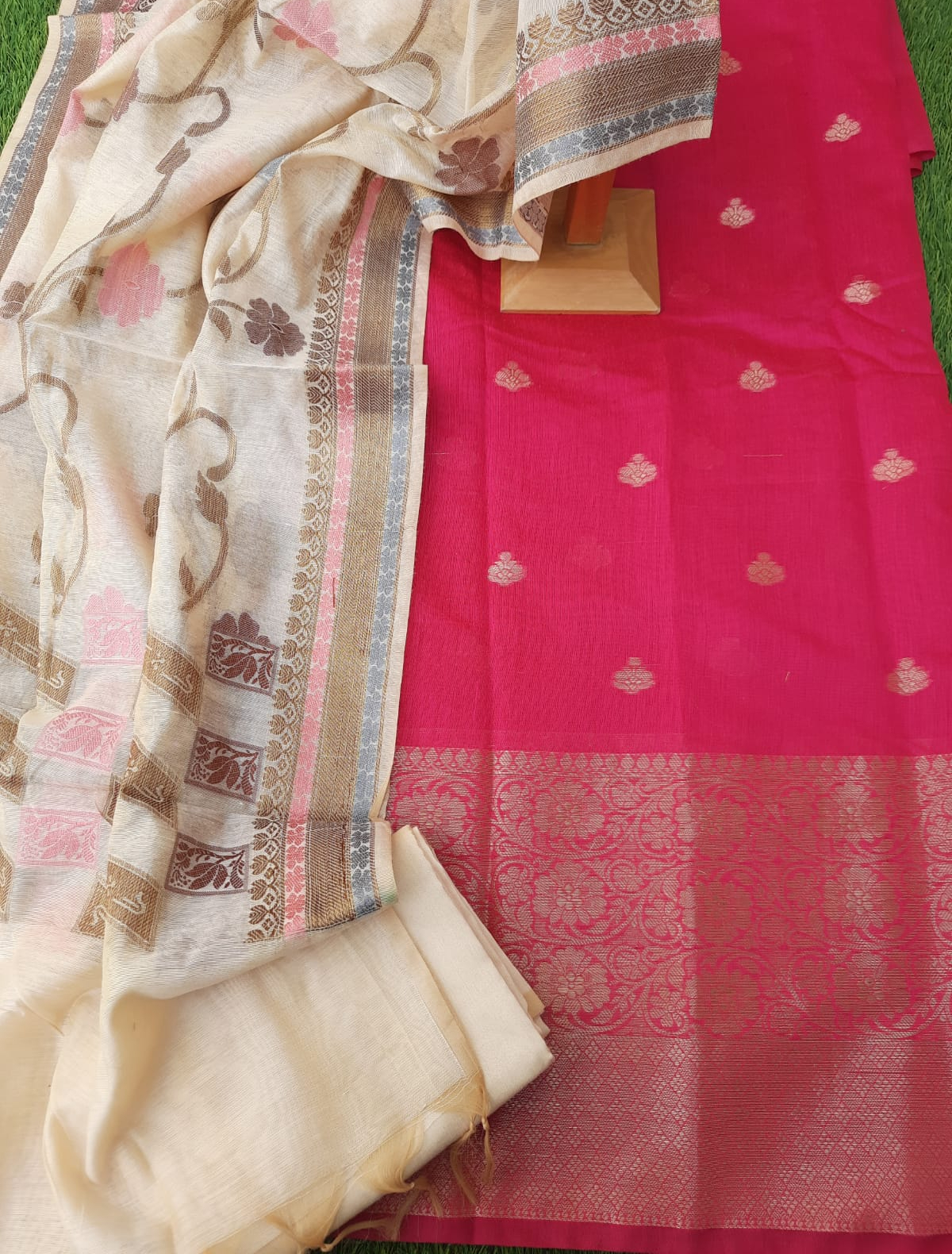 Must-Have Pastel Colors This Season
As one of the most-favored Banarasi sarees in our nation, these fineries are available in many shades. Here is a list of all must-have pastel Banarasi sarees that will make you look stunning. Take styling cues from here next time you girls want to doll up for a wedding, farewell, or engagement.
Let's now shortlist the best recommendations for you.
Pastel Onion Pink Banarasi Saree
Onion pink had to make it to this list. A pastel onion pink Banarasi saree would be an exquisite fit when you want to look stylish yet elegant. The grace and regality that the color exudes are unmatched, and the Banarasi texture is the perfect combination.
Choose a saree that showcases self-work in the same color. For a monochromatic look, style it with a similar color-tone blouse and finish off with gorgeous accessories. To add a pop of color, pair it with a bright-colored blouse such as golden or black.
Pastel Sea Green Banarasi Saree
Sarees make everyone look slighter mature. Opt for chic colors and pastel shades to flaunt a tasteful look. You can choose a pastel green or sea green Banarasi saree for your school or college farewell soiree.
Pair this beauty with a stylishly-cut blouse and complete your look with chic jewelry pieces. If your saree showcases beautiful work, flaunt it with an open pallu and a back-less or strappy blouse.
Pastel Purple/Lavender Banarasi Saree
Look magnificent and effortless as you doll up for an engagement party. Pastel purple/lavender is making a comeback, which is the season's color. Something about this color is so subtle yet deep and rich.
Opt for a plain lavender Banarasi saree with a golden border. Style this beauty with a golden blouse and matching tasteful choker and earrings. Flaunt a messy ponytail hairstyle with this look and enhance the overall aesthetic of your appearance.
Pastel Yellow Banarasi Saree
For day functions and ceremonies like Haldi or ladies' Sangeet, a pastel yellow Banarasi saree would be well-suited. Choose a subtly-designed pastel yellow Banarasi for such occasions. The color is so rich in itself and radiates beauty.
Style it with a pink or orange blouse to add color to your look. Choose elegant accessories to complete your look.
Pastel Green Banarasi Saree
Look tastefully dolled up as you flaunt a pastel green Banarasi saree look. The soothing color is a top choice among girls and young women. Opt for a monochrome look by styling a same-shaded blouse.
Add a defining touch to your look by styling a golden belt with your saree. Flaunt statement stud earrings with this look, and do not forget your sunglasses. The perfect day-wedding look!
Pastel Peach Banarasi Saree
Nothing can beat the regality of peach, especially when it is pastel peach. Style your pastel peach Banarasi saree with golden work with an embellished blouse and add to its beauty. Flaunt this sheer beauty of attire with a multi-colored embroidered work blouse.
This look will turn out to be fireworks. The perfect combination of class and chicness. Another way of flaunting your pastel peach Banarasi saree is by styling it with a classic black blouse. This way, all the attention is on your saree!
All these pastel Banarasi sarees embody pure elegance and charm. These mesmerizing beauties are perfect for young women and girls, and their beauty is unmatched. When in doubt, opt for an elegant Banarasi saree in any pastel shade.
Final Thoughts
Banarasi sarees are those attires whose lasting beauty cannot be matched. Because of their unparalleled grace and charm, they remain a wardrobe mainstay. Whether older, married, or young women, these delicacies are loved by all.
Do yourself a favor and buy yourself a spellbindingly beautiful pastel Banarasi saree today and style in diverse ways.