Karwa Chauth, a beautiful Indian festival, is a day of love, devotion, and fasting. It's a day when married women pray for the longevity and well-being of their husbands.
To celebrate this day, women dress up in their finest traditional attire, and one of the most beloved choices for this special occasion is a Banarasi Saree.
This Karwa Chauth, opt for a Red Zardosi Banarasi saree. This is a trending type of Banarasi saree this season and red is the best colour to don on this special occasion, no doubt.
In this blog, we'll know everything about Red Zardosi Banarasi saree, and how to style them so you can make a unique statement this Karwa Chauth.
[Why Is Banarasi Saree Expensive? Let's Find Out!]
Red Zardosi Banarasi Saree: A Timeless Choice
A Banarasi saree is the epitome of traditional Indian fashion. Among all the colours, red holds a special place in the hearts of Indian women.
It signifies love, passion, and commitment, making it a perfect choice for a festival that celebrates the bond between husband and wife.
Zardosi's work, a centuries-old embroidery technique, involves using metallic threads to create beautiful and elaborate designs.
When you combine the rich, red hue of a Banarasi saree with the intricate Zardosi work, you get a masterpiece that truly stands out.
The golden or silver threads used in Zardosi work add a touch of luxury and elegance to the already stunning Banarasi saree.
[Beautiful Kora Banarasi Sarees For Upcoming Functions]
Significance of Karwa Chauth Attire
Karwa Chauth is a day filled with traditions and rituals. Married women observe a day-long fast, refraining from eating or drinking, to pray for the well-being and long life of their husbands.
The attire they choose for this day is not just about fashion; it's a symbol of love, commitment, and devotion.
Wearing a Red Zardosi Banarasi Saree on Karwa Chauth is a way of expressing the deep love and respect a wife has for her husband.
The red colour symbolizes the love and passion in the relationship, while the Zardosi work represents the commitment and intricacies of a marriage.
[Read Different Traditional Durga Puja Banarasi Sarees For 2023]
The Elegance of Red Zardosi Banarasi Saree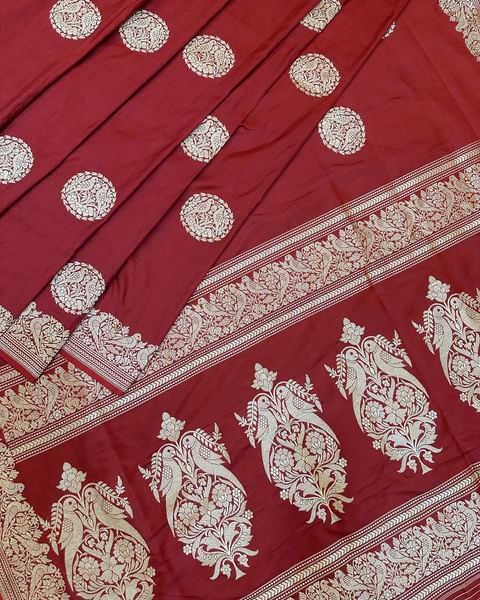 Banarasi sarees are renowned for their fine craftsmanship. The weavers painstakingly create these sarees by hand, weaving intricate designs and patterns into the fabric.
The motifs used often have deep-rooted cultural significance, making these sarees a piece of living history.
The Zardosi work on the Red Banarasi Saree takes it to a whole new level. The metallic threads are used to create delicate patterns and motifs, such as flowers, peacocks, and paisleys.
These designs not only add beauty to the saree but also tell a story of tradition and heritage.
The richness and opulence of a Red Zardosi Banarasi Saree make it a perfect choice for Karwa Chauth. The sheen of the fabric and the intricate embroidery capture the essence of this festival beautifully.
[Know The Look To Create From Rani Pink Banarasi Saree]
How to style your Red Zardosi Banarasi Saree?
One of the great things about the Red Zardosi Banarasi Saree is its versatility. You can style it in various ways to create the perfect look for Karwa Chauth. Here are some tips for a captivating appearance:
Accessories: Choose traditional gold or silver jewellery to match the Zardosi work. Statement necklaces, earrings, and bangles can enhance the elegance of the saree.
Footwear: Choose comfortable yet stylish footwear, like juttis or traditional sandals, to complement the saree.
Hairstyle and Makeup: Classic hairstyles like bun or loose curls work well with the saree. Use traditional makeup to complete your look.
Deep red lipstick, kohl-rimmed eyes, and a bindi can add to the traditional charm.
[Learn Fascinating Banarasi Saree Patterns: Classic To Modern]
How to care for Your Red Zardosi Banarasi Saree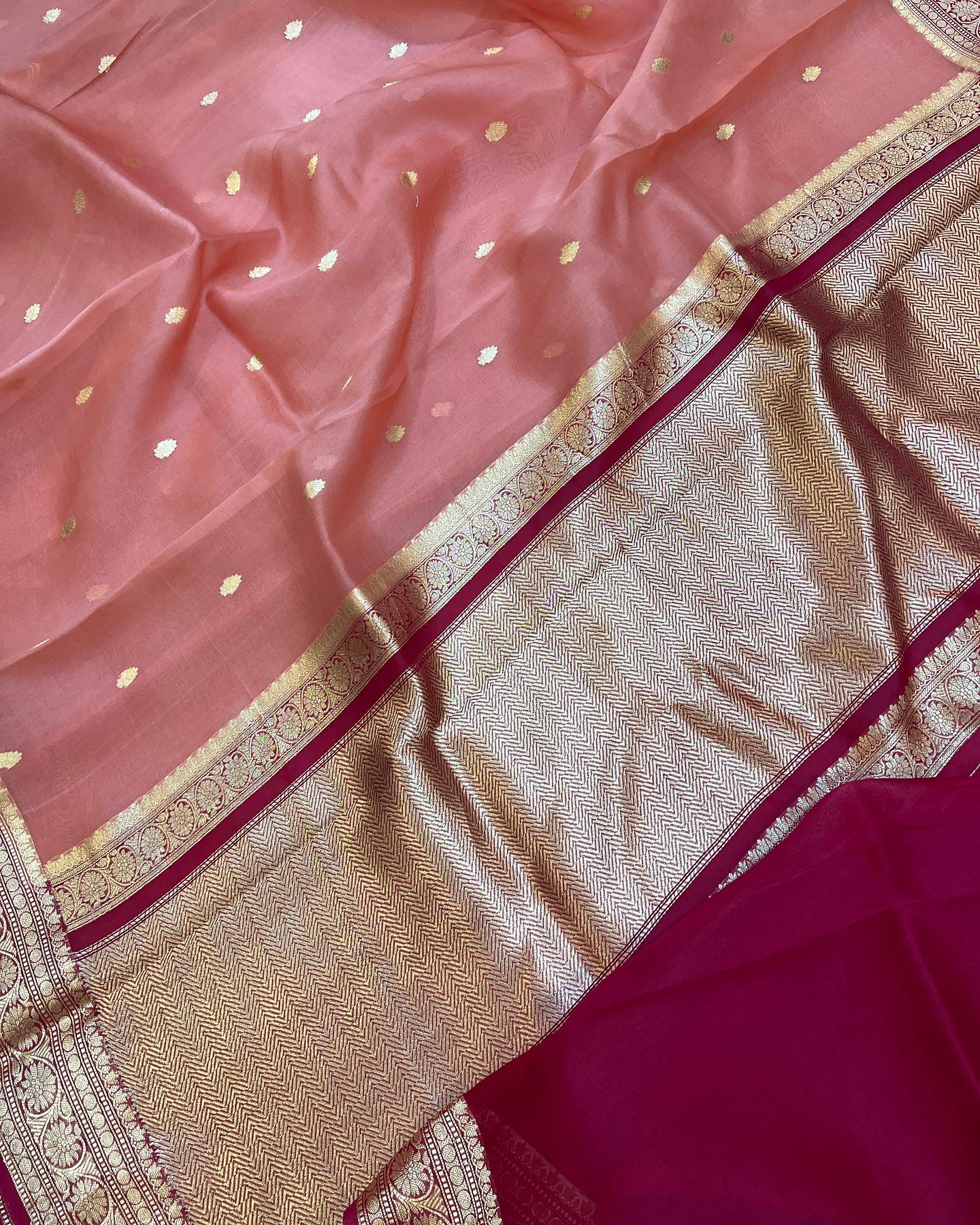 Once you've found your perfect Red Zardosi Banarasi Saree, it's important to take good care of it to preserve its beauty for years. Here are some tips:
Dry Cleaning: Always opt for professional dry cleaning to keep your saree in pristine condition.
Storage: You should store your saree in a cool and dry place. Avoid hanging it for too long, as the weight can damage the delicate fabric.
Avoid Direct Sunlight: Protect your saree from direct sunlight, as prolonged exposure can fade the colour.
[Expert Tips For Styling Jewellery With Banarasi Sarees]
Where to Find Your Perfect Red Zardosi Banarasi Saree?
Shopping for a Red Zardosi Banarasi Saree can be an exciting experience. When shopping for your saree, it's essential to be cautious and ensure the authenticity of the product.
Ask for recommendations, read reviews, and choose a reputable seller to make sure you're getting a genuine Red Zardosi Banarasi Saree.
You can find these sarees at various places, including Albeli, a banarasi saree shop in Varanasi.
As the leading manufacturer of pure Banarasi sarees, we offer a wide range of Banarasi sarees, making it easier to explore various options and compare prices.
You can find your perfect Red Zardosi Banarasi saree in unique design and style right here.
So, this Karwa Chauth, drape yourself in a beautiful Red Zardosi Banarasi Saree from Albeli and celebrate the love and togetherness that this beautiful festival represents.