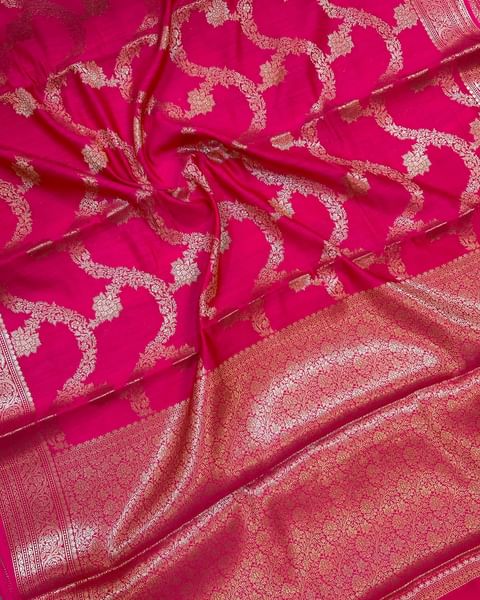 Durga Puja is the auspicious occasion for worshipping and seeking blessings from Goddess Durga. It's a big and vibrant festival celebrated mainly in West Bengal and other parts of India. This festival is all about honouring the goddess Durga, who is a symbol of strength and courage. Women usually wear nine different sarees on all nine days of Navratri.
Are you thinking of donning a banarasi saree this Durga Puja? Excellent idea. Wearing an Indian saree has cultural significance during puja, but wearing a Banarasi saree is more about regality and auspiciousness.
So, which type of Banarasi saree have you thought of? No ideas yet? Don't worry! We will give you plenty of ideas for different traditional Durga puja banarasi sarees in this blog. First, let's learn a little more about the significance of Durga Puja.
Do you know about the Auspicious day of Durga Puja?

Durga Puja is a six-day Hindu festival in Ashwinmas according to the Hindu calendar, celebrated from the fifth day of Sharad Navratri till the tenth day (Vijayadashmi), which is also celebrated as Dussehra in most parts of India. On Dashami, Maa Durga sets off on her journey back to her heavenly abode.
The day marks the victory of good over evil when Goddess Durga killed Mahishasura. She is also worshipped as the ultimate source of creation in the world.
Durga Puja usually falls in September or October and marks the start of the winter season in India. It's a time of joy, family gatherings, and elaborate decorations. People set up beautifully crafted idols of Goddess Durga and her children's idols (Ganesh, Saraswati, Lakshmi, and Kartik) in large pandals.
These days, people wear new clothes, participate in prayers and rituals, and visit various pandals to admire their artistic creations. Kolkata is especially famous for its grand Durga Puja celebrations, where you can witness the cultural richness and creativity of the region.
Don a Durga Puja Banarasi saree and feel the feminine strength from within, along with welcoming Goddess Durga and getting her blessings.
[Elegant Banarasi Sarees Perfect for Every Occasion]
Traditional Durga Puja banarasi saree: Red and White
Traditionally, a red and white Banarasi saree is the main costume for women during Durga Puja. The saree is pure white or creme coloured and has a broad border and pallu in red with intricate designs on it. Women in Bengal and Assam especially follow this traditional dress code on Durga Puja and other auspicious occasions. But why is this a traditional dress code for Durga Puja?
[Unlock the allure of traditional heavy banarasi sarees]
Significance of a red and white Durga Puja Banarasi saree
The colour red signifies strength and power, while white signifies purity. Wearing a red and white banarasi saree on Durga Puja symbolises that every woman is a goddess and possesses such feminine strength and auspiciousness that it can block any negativity from entering the soul. Red is the colour attributed to femininity since ancient times and is also said to be the favourite colour of the goddess; hence, every woman dresses like this on this auspicious day.
[Why do Bengali Brides Wear Only Red Banarasi Saree At Wedding: Know The Ritual]
Maroon Banarasi silk saree with Golden Zari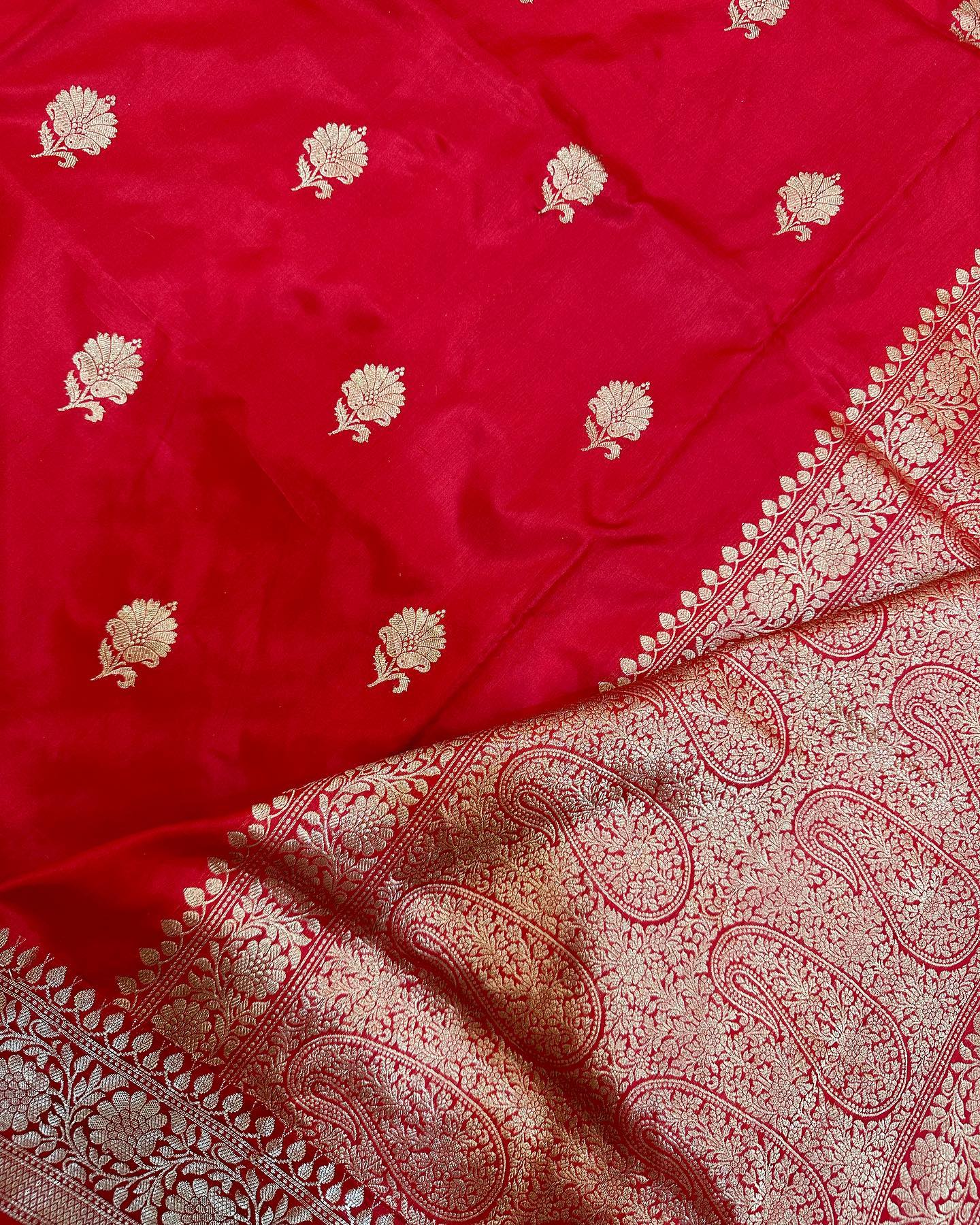 There is no such rule as wearing only a red and white saree on Durga Puja. If you want to try a different colour that's also traditional, a maroon Banarasi saree can be your choice. A maroon Banarasi silk saree with fine golden zari on its border and pallu is the best choice after the white and red combination.
Kadhua Banarasi saree in Rangkat pattern
For a different traditional look, what's better than a Kadhua woven Banarasi silk saree in a Rangkat pattern? Kadhua is one of the most intricate and traditional weaving techniques, which elevates the look of Banarasi silk. On Durga Puja day, you can don this saree in the beautiful Rangkat pattern, where different colours on the pattern make the day more joyful and charming.
Pure White Banarasi silk saree with Resham embroidery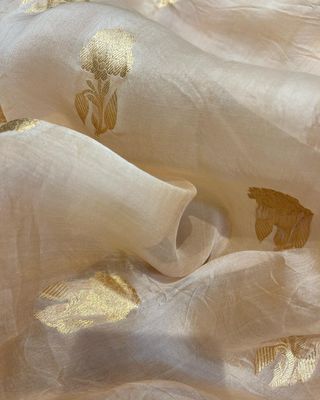 If you don't want a vibrant look and want a simple yet elegant Durga Puja banarasi saree, we can suggest that you opt for a pure white banarasi silk saree with light resham embroidery all over the saree. Just imagine the elegance this saree look imparts. But why just imagine? You can search for it online and decide whether it suits your style or not.
Orange Organza Banarasi Saree with Butti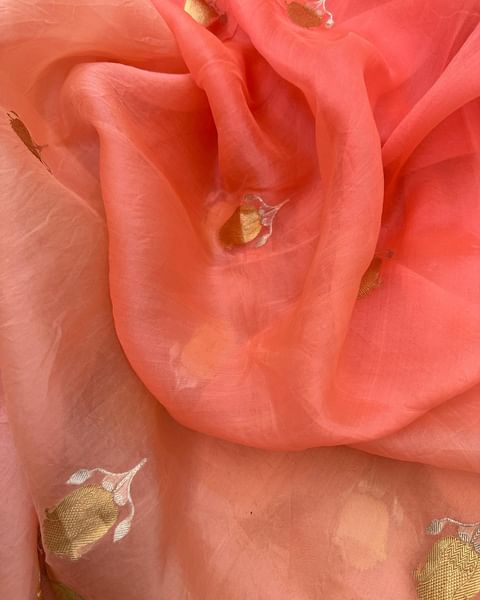 Silk is the softest and prettiest fabric for any saree. However, it's also expensive and requires high maintenance. If you are not up for that, here's a suggestion for a lighter material instead…that's Organza. Organza Banarasi sarees are lightweight, comfortable to carry for long hours, and a little less expensive than pure silk, of course.
And the best thing is that they're on trend. You can also go for Banarasi organza silk, which is a mix of both fabrics and also of comfort and luxury.
For Durga Puja specifically, if you want to go for a different colour apart from traditional red and maroon, you can opt for an orange Organza banarasi saree with beautiful buttis all over the pallu.
[What is Organza Silk Fabric? Explained in detail]
Final Thoughts
In a world that's rapidly evolving, holding onto traditions becomes even more meaningful. Choosing a traditional Banarasi saree for Durga Puja will not only grab everyone's attention at the event but also let you feel more divinity from within.
Apart from the traditional red and white combination, if you want to opt for something different, we have suggested different banarasi sarees for Durga Puja as well; however, this is not the limit of suggestions. If you want to get more inspiration for Durga puja banarasi saree ideas, you can visit Albeli and find the ideal saree you are looking for.
So, whether you're looking for a regal and traditional Durga Puja banarasi saree or a different one, you can find it at Albeli. Visit our banarasi saree shop in Vararani or explore our banarasi saree collections online on our website to get a gorgeous banarasi saree for Durga Puja.