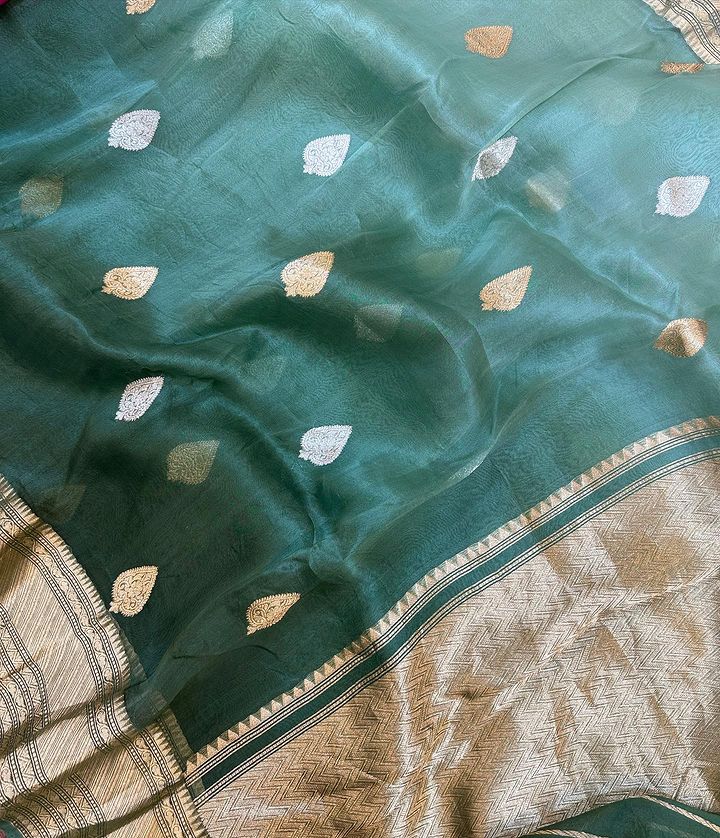 Kora is the second name for comfort and classiness combined together. Kora banarasi sarees are lightweight and breathable that you can carry for long hours without stressing out while also retaining your fashionable appearance at the event you're attending.
In comparison to other silk, Kora silk has a considerably duller smoother and thin texture. There are two types of kora silk: delicate and coarse. Kora banarasi sarees are in huge demand across the world.
[Know How Is Banarasi Saree Made In Varanasi From Scratch?]
Why are Kora banarasi sarees preferred so much?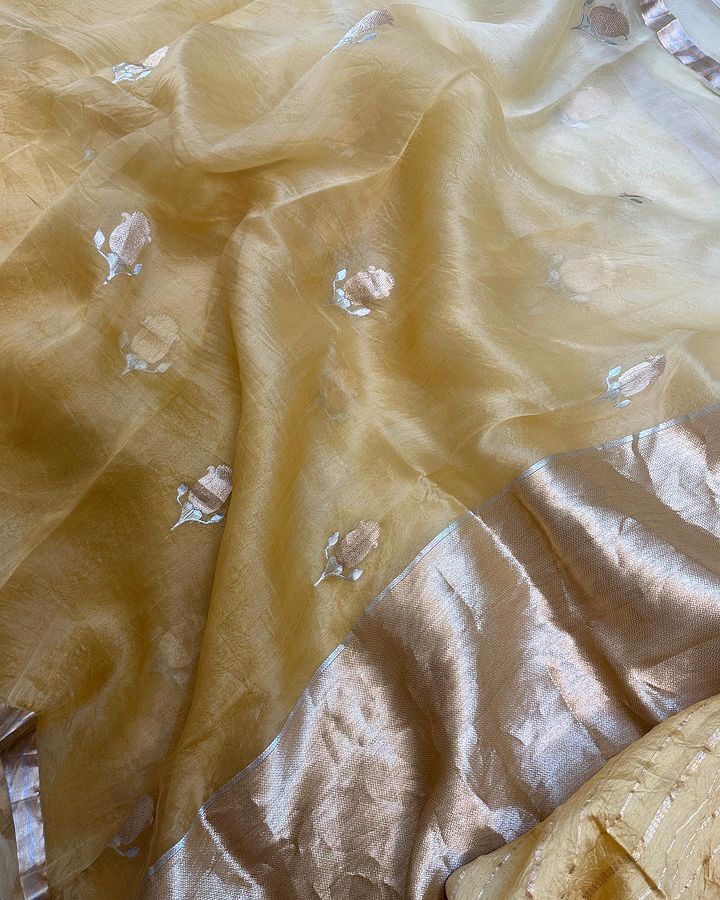 Kora Banarasi sarees are charming and highly preferred banarasi sarees and here's why. These sarees are made from a special fabric called Kora, which is super delicate and see-through. Organza, or by its original name, Kora, stands as one of the most enchanting fabrics since its origination.
This fabric is weaved in a simple way, and the word "Organza" comes from an old word "Organzine," which means strong silk threads twisted together. True to their name, Organza sarees, or Kora silk sarees, exhibit strength and resilience while boasting a translucent texture due to their distinct weaving pattern.
Now, what makes Kora Banarasi sarees stand out? Well, they are pretty strong and durable even though they look so delicate. They have a unique texture because of how they're woven, giving them a sheer look. This makes them perfect for special occasions where you want to look elegant and stunning. Their combination of strength, elegance, and traditional artistry makes Kora Banarasi sarees a top choice for people who want something both beautiful and long-lasting.
[Know Must Have Banarasi Soft Silk Sarees]
Types of Kora Silk Banarasi Sarees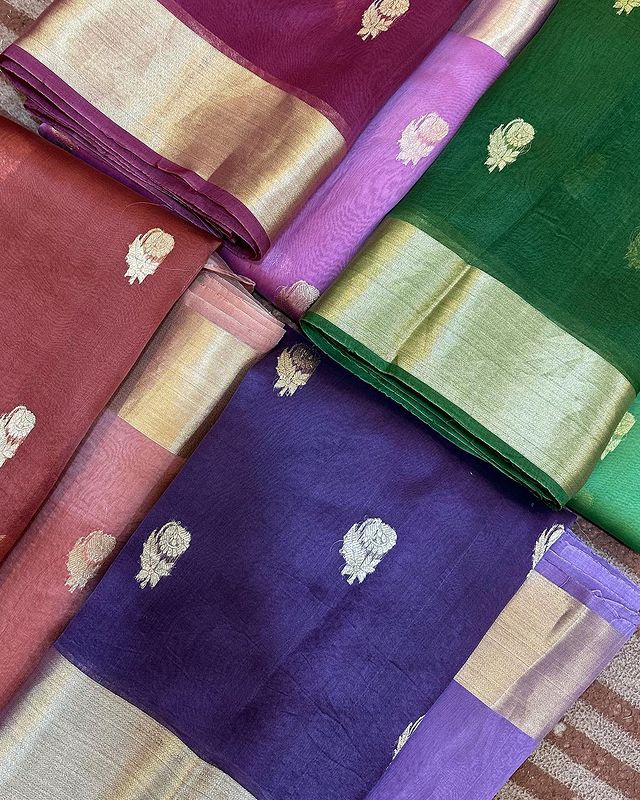 Kora Silk Banarasi sarees come in different designs and each type has its own charm. Let's check it out:
Plain Kora Sarees
Sometimes, less is more. Plain Kora sarees embrace simplicity in its purest form. These sarees highlight the inherent beauty of the Kora fabric itself, allowing its sheer texture to create an elegant, sophisticated aura. Perfect for occasions where you want to radiate grace without overpowering the scene.
Printed Kora Sarees
Printed Kora sarees bring vibrant designs to life on the delicate canvas. These prints can range from intricate florals to geometric patterns, letting you express your personality through your attire. They strike a beautiful balance between the gentle charm of Kora fabric and the playfulness of patterns.
Embroidered Kora Sarees
Embroidered Kora sarees are a masterpiece of craftsmanship. Skilled artisans intricately sew captivating designs onto the fabric, creating a visual symphony. These sarees are a testament to the fusion of tradition and creativity, turning you into a walking canvas of elegance.
Woven Kora Sarees
Woven Kora sarees are a result of expert hands weaving magic with coloured threads. These sarees showcase intricate patterns and motifs woven seamlessly into the fabric. Each thread contributes to the creation of a unique, timeless piece that narrates the story of Indian heritage and artistry.
Kora banarasi saree with zari border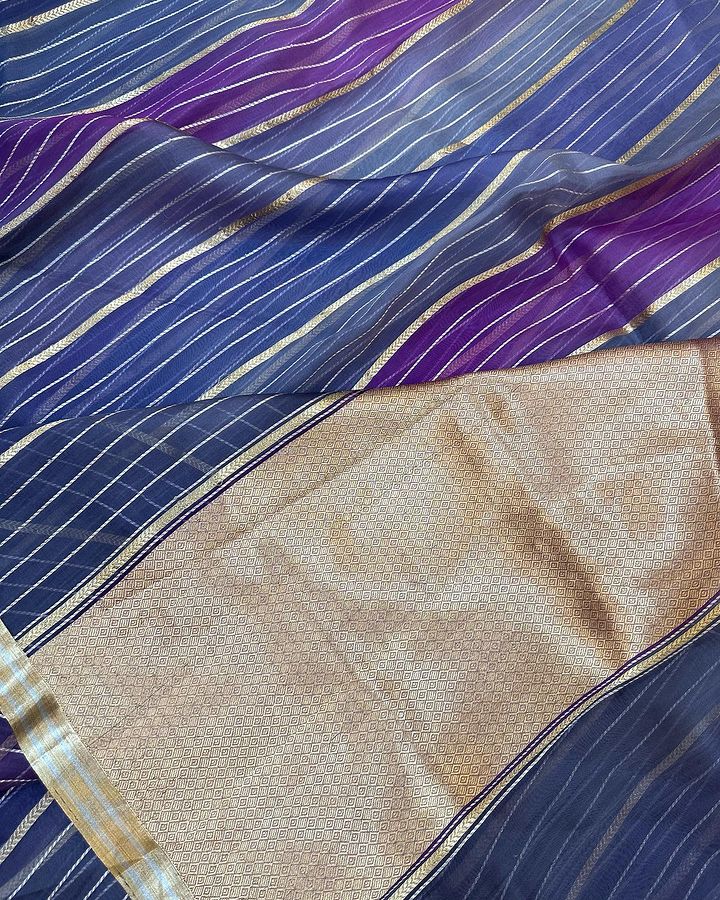 One of the most enchanting aspects of Kora Banarasi sarees is the lavish use of zari work. Zari, which is gold or silver thread, is meticulously woven into the fabric to create intricate patterns, borders, and motifs.
The zari work is usually done by hand, and it takes a lot of care and skill. The craftsmen use small needles to carefully weave the zari threads into the fabric. This adds a touch of sparkle and richness to the saree, making it perfect for special occasions like weddings or festivals.
[Explore adorable kora banarasi sarees with silver work]
Kora resham banarasi saree
Kora silk is a light and almost transparent fabric, which makes the saree comfortable to wear. Resham, on the other hand, refers to colourful silk threads that can be in various shades like red, blue, green, and more.
In this type of saree, the main body is made from soft kora silk. What makes it unique is the use of resham threads. Skilled artisans weave these colourful threads into intricate patterns on the saree. These patterns might include flowers, geometric shapes, or other lovely designs that add a splash of colour and beauty to the saree.
Therefore, you have a range of Kora Banarasi saree types, each perfect for different occasions like weddings, daytime parties, casual parties, social gatherings, and so on. There's a Kora Banarasi saree for every occasion waiting to make you shine!
[Stunning Banarasi Silk Sarees For Ethnic Collection]
Final Thoughts
The decision of what to wear for forthcoming events becomes thrilling as you get ready. Kora Banarasi sarees are a stunning option for any occasion thanks to their alluring combination of heritage, craftsmanship, and elegance. The exquisite Kora fabric, embellished with dexterous zari embroidery, produces a spellbinding look that perfectly embodies Indian workmanship.
So, when looking for a look that showcases your cultural history and sophistication, think about giving in to the appeal of Kora Banarasi sarees. These sarees will make you the centre of attention at any event because of their classic appeal and elegant atmosphere, which will make you radiate beauty and charm everywhere you go.
Albeli offers a range of gorgeous kora banarasi sarees in different styles and designs that you can choose for various different occasions be it a wedding, a party or a celebration, or your own wedding or reception in there banarasi saree shop in Varanasi. Just start exploring our collections or visit us in person to have a wide range of options in front to choose from, you won't be able to help falling in love with our sarees!