There's something truly magical about a Banarasi saree that captures the essence of Indian tradition and elegance.
These sarees, handwoven with intricate designs, have an enduring charm that passes through generations. But, as we all know, acquiring one of these exquisite pieces can sometimes put a strain on your wallet.
In this blog, we'll explore how can we do budget-friendly Banarasi saree shopping, ensuring that you not only find a beautiful saree but also stay within your budget.
[Know What Is A Decent Banarasi Silk Saree Price In Banaras?]
Research and Learn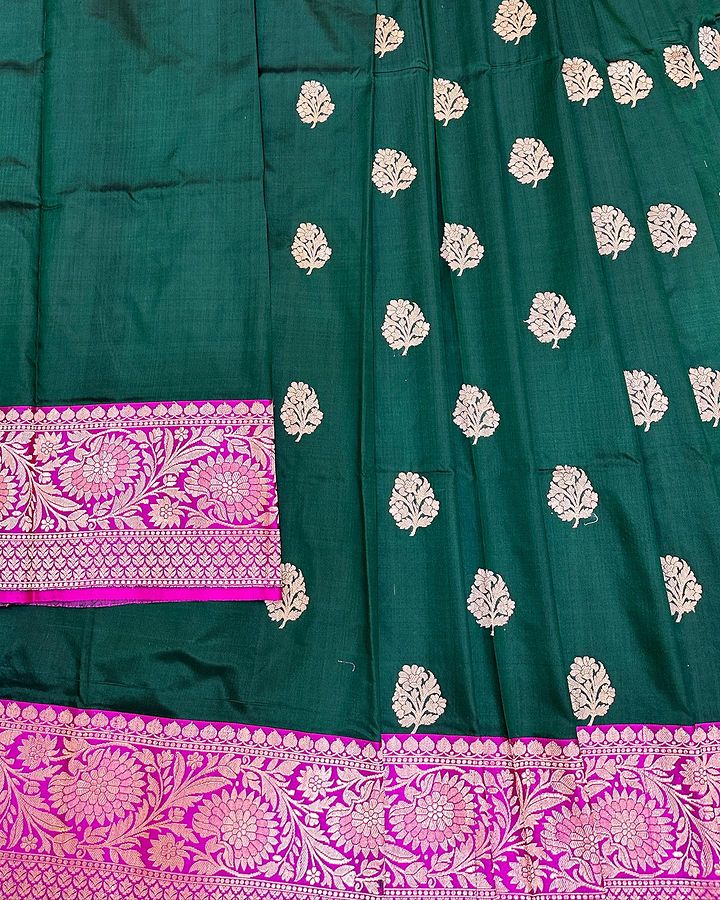 To truly master the art of budget-friendly Banarasi saree shopping, it's crucial to know the factors affecting its price.
Beyond just knowing the types of Banarasi sarees, like pure silk, art silk, organza silk, and georgette silk, you should also familiarize yourself with the various weaving techniques and patterns.
Understanding these things will not only help you appreciate the artistry but also identify quality within your budget.
[Learn about Kadhwa: Most Intricate Handloom Weaving Style]
Set a Budget
Decide how much you're willing to spend and stick to it. Knowing your budget range will guide your shopping journey, ensuring you don't get swayed by extravagant options.
Once you have a clear budget in mind, it's time to go shopping. Having a defined budget will help you make informed choices and avoid overspending.
Remember, the goal is to find a beautiful Banarasi saree that fits your budget.
[Know about Meenakari And Banarasi Weave: An Exceptional Masterpiece]
Visit Local Markets
Local markets in Banaras and other saree manufacturing hubs are like treasure troves for budget-friendly Banarasi saree shopping.
The streets of Banaras are lined with small stores and showrooms that offer a wide range of Banarasi sarees at competitive prices.
This is where you can discover beautiful banarasi sarees without emptying your wallet.
Keep an Eye on Discounts and Sales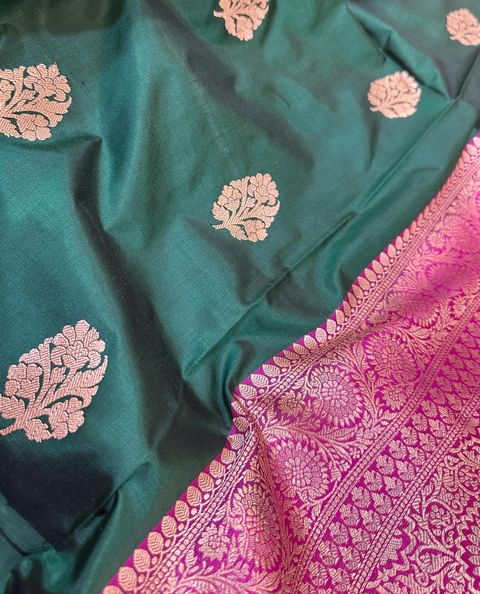 Timing your Banarasi saree shopping can make a significant difference. Many stores and online retailers offer discounts during festive seasons or special occasions.
Plan your shopping trip accordingly to take advantage of these offers and snag a beautiful Banarasi saree at a discounted rate.
Festive seasons and special occasions often bring with them great deals and discounts. Keep an eye on sales announcements from your favorite stores and be ready to pounce when the prices drop.
[Discover The Banarasi Sarees Suitable For Casual Wear]
Consider choosing Art Silk
While nothing quite matches the luxurious feel of pure silk, art silk is a budget-friendly alternative that offers a similar look and drape.
These sarees mimic the beauty of silk without the hefty price tag. They're not just affordable but also easier to care for, making them practical for everyday wear.
Art silk Banarasi sarees are an excellent choice for those who want to experience the beauty of Banarasi craftsmanship without breaking the bank.
They come in a variety of designs and colours, allowing you to find one that suits your style.
[Banarasi Sarees For Karwa Chauth: Let's Set the Trend!]
Explore Online Marketplaces
Online platforms open up a world of possibilities for Banarasi saree lovers. You can browse through a vast selection, compare prices, read customer reviews, and even find exclusive online discounts.
Just make sure to choose reputable sellers to ensure authenticity. Online shopping provides convenience and access to a wide range of Banarasi sarees.
Take advantage of this and explore different online marketplaces to find the best deals. Read reviews from other buyers to ensure you're making a smart purchase.
[Choosing the Perfect Purple Banarasi Saree: A Shopper's Guide]
Try Unstitched or Semi-Stitched Sarees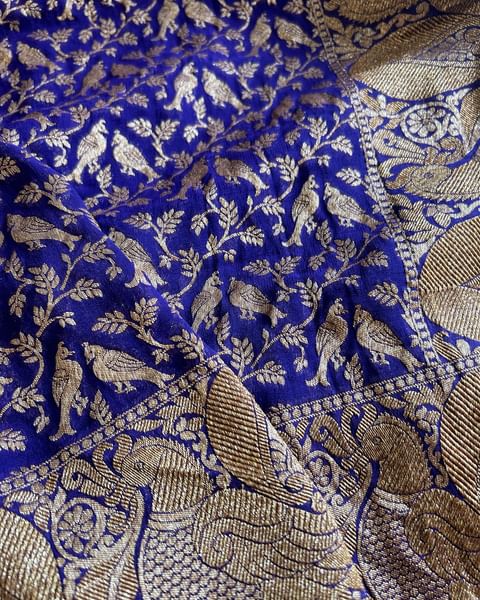 Unstitched or semi-stitched Banarasi sarees are budget-friendly options that allow for a bit of personalization.
With these, you can choose your preferred blouse and petticoat fabric, adding a touch of uniqueness to your ensemble.
This way you can customise your Banarasi saree and tailor it to your preferences. You can select the colours and materials for your blouse and petticoat, creating a look that's uniquely yours.
Bargain Wisely
Be bold about bargaining, especially in local markets or smaller stores. Be fair and reasonable in your approach, and you can walk away with a great deal.
Bargaining is a common practice in many markets, so don't hesitate to give it a try. Just remember to be polite and respectful when negotiating, and you'll increase your chances of getting a better price.
Check for Authenticity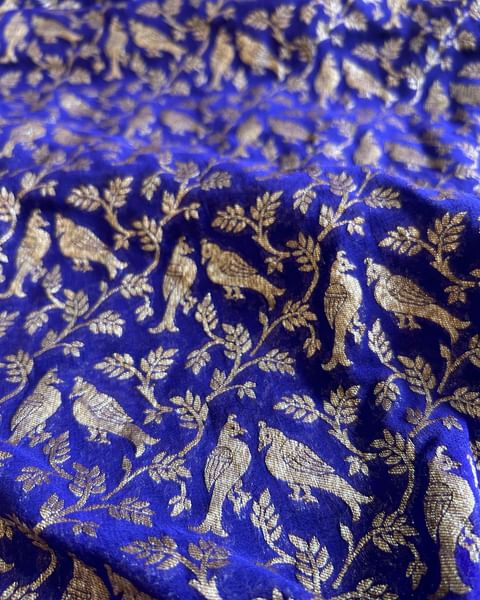 Authenticity is paramount when purchasing a Banarasi saree. Look for the "GI" tag, which certifies the saree as a genuine Banarasi product.
Additionally, inspect the saree for hallmark features such as intricate weaving patterns and a rich, substantial feel.
[The Flawless Fusion Of Zari Art and Banarasi Brocade]
Consider Second-hand or Vintage Sarees
If you're open to the idea, second-hand or vintage Banarasi sarees can be hidden treasures.
These sarees, often available at a fraction of the cost of new ones, may boast unique designs that are no longer in production. It's a sustainable and budget-friendly option for the eco-conscious shopper.
By considering these options, you not only save money but also contribute to sustainable fashion by giving a pre-loved saree a new lease on life.
[Learn 5 Occasions to Gift a Banarasi Saree]
Conclusion
Banarasi sarees have a reputation for being expensive, you now have the knowledge and tools to navigate the world of budget-friendly Banarasi saree shopping.
With the help of these insights, you can have a budget-friendly Banarasi saree shopping.
Lastly, for budget-friendly Banarasi saree shopping, you can visit Alebli in Varanasi. We offer a wide variety of gorgeous Banarasi sarees in the best quality and affordable pricing.
You can explore a vast range of options with us and choose the one that reflects your personality!