There is no doubt that Banarasi sarees are the queen of Indian sarees. The enriching designs, the elegance, and the regalness they exude are mesmerizing. Over the last few decades, they have gained widespread popularity and, more so, as a bridal attire option. A banarasi saree can be described as an elaborate attire made using quality silk with gold or silver thread work. One can find a mix of Indian and Persian designs throughout the length. Additionally, these sarees can be styled in multiple ways due to their versatility.
[ Read the Guide To Buy Classic Banarasi Silk Saree ]
Bengali's Love For Banarasi Silk Sarees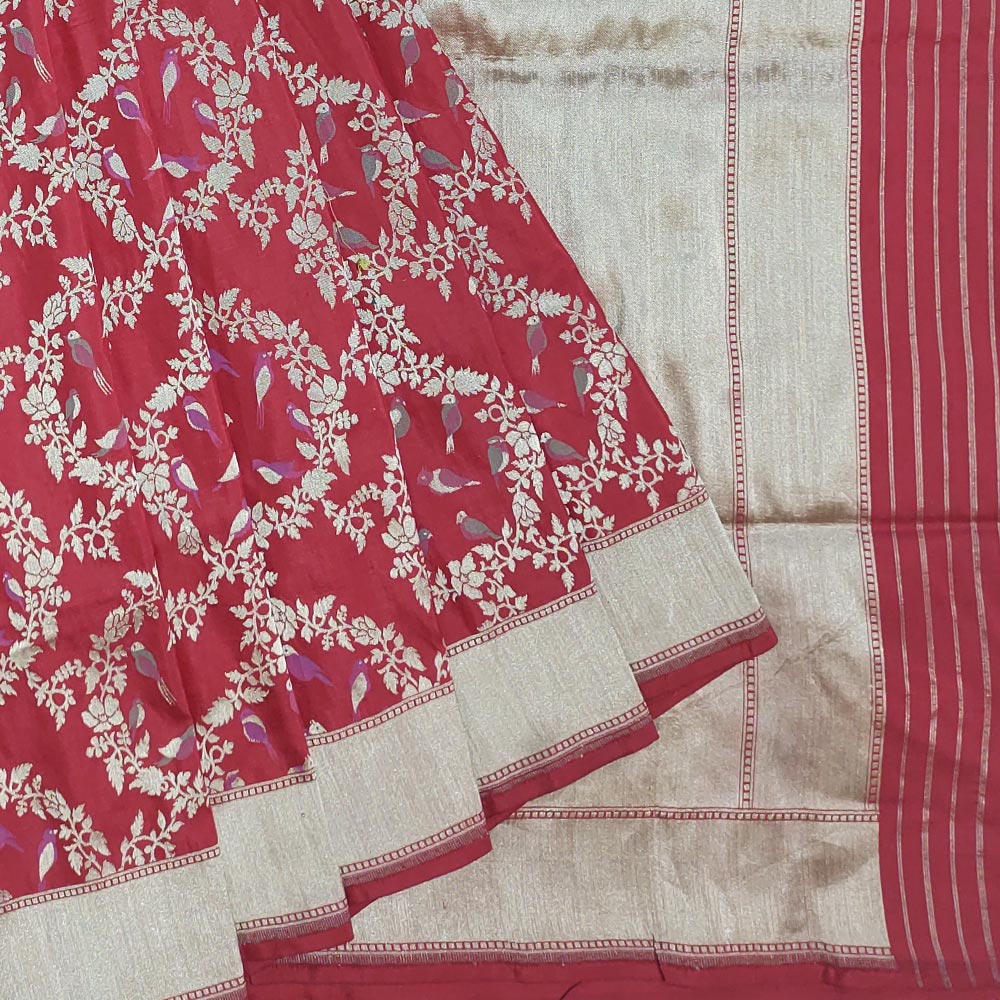 Bengalis' love for banarasi silk sarees has been rapidly increasing, and they are known to choose them for various occasions. Be it Durga Puja or a wedding; they place their trust in the royal-looking banarasi silk sarees. Banarasi silk sarees have roots in Banaras (now Varanasi) and have easily become a favorite in many cities, including Delhi, Pune, Bengal, and Kolkata. A Bengali wedding is truly incomplete without a banarasi saree for a Bengali bride.
The tradition of wearing a banarasi silk saree on the wedding day has become a ritual for Bengalis. It is safe to say that Bengalis have significantly contributed to this admiration and have found a new place in the hearts of Bengalis. West Bengal and Kolkata have easily become the spots where one can find women embracing a bridal Bengali banarasi saree on her wedding day. When it comes to weddings, they do not give it a second thought as it is a given.
Although the original town of banarasi sarees is Banaras, the Bengalis have given these the true respect and admiration they deserve. They have enriched the culture of banarasi sarees with their appreciation and eternal love for it. And it is safe to assume that for decades to come, this partnership will remain the same.
Other Banarasi Saree Options to Explore for Bengali Brides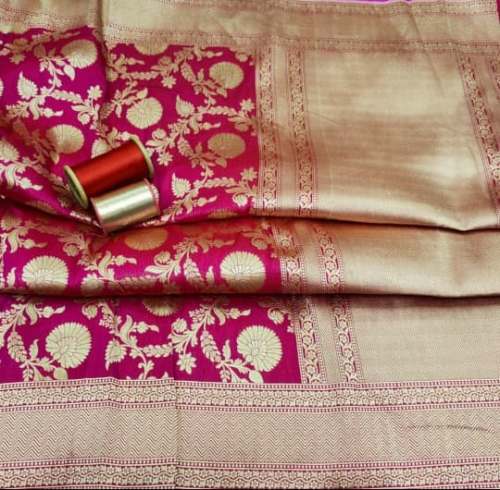 When deciding what to wear on D-day, the Bengalis have it sorted. For years, they have chosen a banarasi saree for a Bengali wedding. Banarasi sarees have a magical touch that looks beautiful when paired with equally elegant gold jewelry. The intricate embroideries and the designs are awe-striking and can easily make the wearer steal the spotlight.
There is nothing more beautiful than a Bengali bride on her wedding day adorning a red and white banarasi saree for a Bengali bride. Styled with a matching dupatta, neatly plated, and exquisite jewelry - what more does one need to make everyone's heart skip a beat?!
However, not everyone wants to go the traditional way or stick to the cliche, so here are some useful tips on color combinations that one can try out on their big day.
The unmatched beauty of Maroon and Yellow Combination: This is easily the most-picked color combination after the classic red and white. The sheer elegance and magnificence that the enriching Maroon brings to the table are perfectly complemented by the subtle yellow that also adds a pop of color. Choose this trendsetting combination, add gold jewelry, and feel like the prettiest bride ever.
The classic Maroon Banarasi with Silver Brocade: Yet another striking pick. A maroon banarasi saree crafted with silver brocade motifs. The matching overhead dupatta with silver design work and matching gold jewelry will offer you a glamorous look.
The Royal-Blue Banarasi: These days, Bengali brides choose to ditch the classic colors such as red, white, yellow, and maroon and go with vibrant colors such as pink, blue, and orange, among others. A royal blue banarasi saree with gold work would look stunning. Paired with gold jewelry, it will offer a look that will steal hearts.
Red blouse with Yellow Banarasi: Give your bridal look a twist and pair a rosy-red blouse with a gorgeous yellow banarasi saree. The charm of a yellow saree is enhanced perfectly by the majestic red blouse. If you are a bong bride-to-be, pick a gorgeous yellow banarasi enriched with a red border and chanderi work.
[Know the Trendy Colour Combinations in Banarasi Saree]
What Makes The Perfect Bengali Bridal Look
We have already discovered the love between Bengalis and banarasi silk sarees. It is their go-to when it comes to weddings and other special occasions. But did you know that some other elements also hold importance in making the perfect Bengali bridal look? Many accessories adorned by a Bong bride on her big day that have their significance.
So, if you are someone who dreams of going all-out with the traditional Bong look on her big day, do not miss out on these eye-catching elements that will enhance the aesthetic appeal of your overall bridal look.
The bridal crown: Also known as Topor, it is a white crown worn by Bengali brides. This is an essential element in a Bengali bridal look. Also known as mukut, it signifies new beginnings. You will find a Bong bride wearing this crown on her head and will also have a veil attached to it.
The Bridal Tiara: Also known as Shonar Mukut, it is a very delicate accessory and adds an elegantly traditional touch to the overall look of the Bong bride. Some brides choose this over the Topor.
Forehead Adornments: Matha Patti and Tikli are the forehead adornments that a Bengali bride adorns to complete her look. These perfectly enhance the Chandan Bindi designs that are traditional to a Bengali bridal look.
Nose-ring: Also known as a Nolok or Nath, it is a curved nose-ring that is large and attached to the ear. It is another essential element of a Bengali bridal look and completely transforms the face.
[Explore 12 Timeless Banarasi Sarees For Memorable Wedding]
Final Thoughts
Looking for the perfect bridal saree for your Bengali wedding? Find yourself at the right place. At Albeli, you will find the most beautiful and elegant collection of banarasi silk sarees that are perfect for adorning on your big day. You can check out our website or visit us at our store in Varanasi. We will be pleased to assist you in finding a gorgeous banarasi Bengali wedding saree. We promise to leave you amazed with our stunning banarasi Bengali saree collection.